5 Reasons People Connected with NIH Researchers at the SfN Exhibit Booth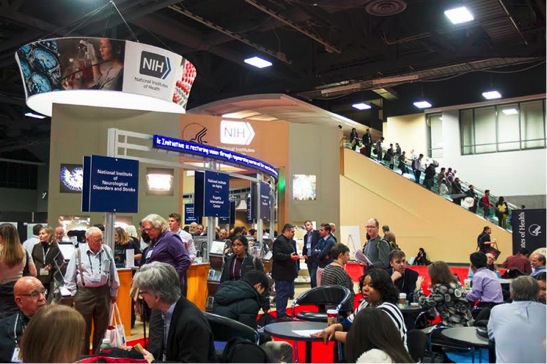 Recently, more than a dozen of our Institutes and Centers (ICs) came together to tell a story of interconnected, cross-discipline science at one of the largest medical meetings in the world, the 31,000-attendee-strong Society for Neuroscience (SfN) Annual Meeting in Washington, DC. The NIH Exhibit Booth was a hive of activity with PIs, senior scientists, clinicians, postdocs, and postbacs from 13 ICs and other institutions gathered to share experiences around a combined exhibition booth. They exchanged knowledge and ideas hoping to inspire the next generation of cross-collaboration scientific successes.
With more than 600 exhibition booths on the conference floor, what were some of the reasons for visiting our booth?
1. Be inspired by people who truly share your passion and commitment.
Our researchers are accessible and always eager to meet with people who share their excitement and drive to explore the unknown. The booth provided the opportunity for one-to-one face time with NIH staff. 
2. Learn about world-class resources.
From the booth, participants could access and order NIH publications, and find out about online resources that could facilitate their research. They could also participate in demos to help test and improve new tools.
3. Showcase your research and receive feedback from experts.
Investigators could present elements of their own research findings to receive real-time on-the-spot feedback from NIH experts.
4. Network, build partnerships, and spark future collaborations.
You never know when the stranger you meet at a science conference could be the collaboration that enables you to uncover your next scientific finding! Our booth attracted people from renowned institutions and facilitated expanded networks and new partnerships.
5. Stay current on the latest findings, techniques, and technologies.
The booth featured presentations by NIH staff on the latest developments in health research. We encouraged SfN participants to come early, take a seat, and ask challenging questions!
---
Related Blog Posts
This page was last updated on Wednesday, July 5, 2023