The Training Page: NIH Does Fitness
FROM THE FELLOWS COMMITTEE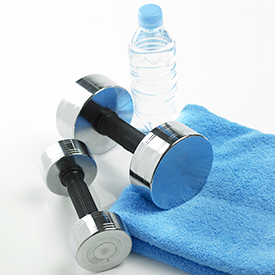 Being a trainee can be tough at times. We need to be able to balance an overwhelming number of tasks including lab meetings, research, writing, keeping up to date with the literature, mentoring, teaching, and attending conferences. While we all know that time for fitness and wellbeing should be prioritized, they are often the first to fall by the wayside when time is limited. To help you with that, the NIH "takes its own best advice" by turning to a fitness and wellbeing program to promote and cultivate health, happiness, and productivity across its campuses.
Fitness and wellbeing can be many things to different people, so you should choose activities that work for you. "You should always make sure your fitness activities are fun!" said Shuntrice Holloman, program specialist[HS([1] for the NIH Fitness and Wellbeing Program. "You can do fun activities like taking a dance class, hiking, [or] bowling. If you're not enjoying your physical activity, it is likely you will be inconsistent."
For busy individuals looking for an opportunity to participate in fitness activities at NIH, the Recreation and Welfare (R&W) Fitness Center offers free "Fitness for You" classes monthly. The Fitness Center can bring customized fitness classes to your organization based on what would be a good fit for your office. In addition, the Fitness and Wellbeing Program partners with institutes and centers to promote other wellness and fitness activities. For example, in September, The Fitness and Wellbeing Program partnered with the National Center for Complementary and Integrative Health (NCCIH) to observe "National Yoga Month" through lectures and yoga sessions.
Besides physical wellbeing, opportunities also exist at the NIH to cultivate a more holistic view of wellness. For example, the Office of Intramural Training and Education's Mindfulness Meditation Group offers two hour-long weekly drop-in sessions for novices and experts alike to slow down and connect with yourself. These sessions are gaining in popularity.
At the NIH campus in Baltimore, postbaccalaureate fellow Kevin Stieger recently established a mindfulness meditation group. Like many of us, Stieger felt anxious and overwhelmed in college. "I didn't really know what mindful meditation was, but I thought I wanted to try it out," he said. "Through meditation, I've since gotten better at recognizing negative emotions like anxiety and stress. Instead of reacting and letting them take over, I can experience them as a feeling and let them pass. My goal is for people to come by and learn the basic principles of mindfulness meditation so that they too can start their own practice and have a group to discuss their experiences."
Make your fitness goals S.M.A.R.T.! S.M.A.R.T. means your fitness goals should be specific, measurable, attainable, relevant, and timely.
Specific: Your goals should be clear and easy to understand. A common goal is to "get healthy." There are many ways to "get healthy" such as starting an exercise program, stopping smoking and losing weight.
Measurable: A goal to "lose weight" is not enough. How you track your weight loss is measureable such as losing one pound per week.
Attainable: Goals should be set high, but they must also be realistic. For example, if you are new to running, having a goal to run a marathon in two months will set you up for failure and pain.
Relevant: Set goals that are important to where you are currently. Do not set a goal that someone else is pressuring you attain.
Time-bound: Make sure each goal has a specific time frame for completion. This allows you to easily determine if your goal has been achieved.
"Fellows may not be aware of the wide range of fitness and wellbeing activities we offer to NIH staff," said Holloman. "It is one of our goals to bring more awareness to our program and services."
Be creative this New Year! Try a free "Fitness for You" class or any other wellbeing activities offered at NIH. Remember fitness and wellbeing should be tailored and relevant to your goals.
---
For more information, visit the Wellness@NIH website. To join the NIH Wellness LISTSERV to get updates on upcoming activities and fitness tips, go to https://list.nih.gov/cgi-bin/wa.exe?A0=wellnessnih.
This page was last updated on Friday, April 8, 2022