Announcements
DEMYSTIFYING MEDICINE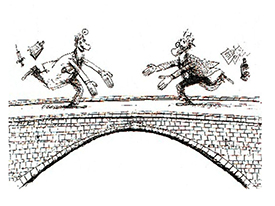 The NIH- and FAES-sponsored course "Demystifying Medicine" is designed to excite the interest of Ph.D. and M.D. students, fellows, researchers, and others in bridging the gap between amazing advances in basic science and the challenges of clinical disease. There are no formal requirements to attend as many of the weekly sessions as desired. The format involves a translational physician, a basic scientist, and usually a live patient who puts a human face on the disease.
January 9: "New Viral Diseases, Universal Vaccines, and Removing Agents from the Blood Supply" (Anthony S. Fauci, MD, NIAID; Robert Allison, MD, MPH, CC)
January 16: "Is Leukemia Curable?" (Terry Frey, MD, NCI; Nirali Shah, MD, NCI)
January 23: "Sexually Transmitted Diseases: Situation Getting Worse…and Also Better" (Thomas Quinn, MD, NIAID and the Johns Hopkins Bloomberg School of Public Health; Douglas Lowy, MD, NCI)
January 30: "Why Is HIV Still a Biologic and Epidemiologic Challenge Worldwide?" (John Coffin, PhD, Tufts and NCI; John Mellors, MD, University of Pittsburgh)
February 6: "The New Frontier: Immunotherapy of Cancer" (James Gulley, MD, PhD, NCI; James Hodges, PhD, MBA, NCI; will include a patient, too) Note: Lecture will be held in Building 1, Wilson Hall
February 13: "Does Inflammation Cause Cardiovascular Disease? If So, How?" (Alan Remaley, MD, PhD, NHLBI; Nehal Mehta, MD, NHLBI)
February 20: "The Microbiome in Man, Animals, and Disease: Where Do We Stand?" (Yasmine Belkaid, PhD, NIAID; Barbara Rehermann, MD, NIDDK)
February 27: "The Great Neglected Diseases" (Alan Sher, PhD, NIAID; Thomas Nutman, MD, NIAID)
March 6: "Diabetes and Artificial Sweeteners" (Phillip Gorden, MD, NIDDK; Kristina Rother, MD, NIDDK)
March 13: "Brave New World: Imaging from the Cosmos to the Molecule" (John Mather, PhD, NASA; Jennifer Lippincott-Schwartz, PhD, MS, HHMI, Janelia Research Campus)
March 20: "The Challenge of Malaria: The World's Number One Killer" (Peter Crompton, MD, MPH, NIAID; Photini Sinnis, MD, Johns Hopkins Bloomberg School of Public Health)
March 27: "Amyotrophic Lateral Sclerosis (Lou Gehrig's Disease): Are We Making Progress?" (Bryan Traynor, MD, PhD, MMSc, NIA; Mary Kay Floeter, MD, PhD, NINDS)
April 3: "Compulsive Disorders: Mechanisms and Management" (Antonello Bonci, MD, NIDA; Veronica Alvarez, PhD, NIAAA)
April 10: "Use of Induced Pluripotent Stem Cells (iPSC) for Regenerative Medicine" (Kapil Bharti, PhD, NEI; Pamela Robey, PhD, NIDCR)
April 17: "The Opioid Epidemic: How, Where, and What Can Be Done?" (Nora Volkow, MD, PhD, NIDA: Walter Koroshetz, MD, NINDS)
April 24: "Prenatal Genomics and Fetal Gene Therapy" (Diana Bianchi, MD, NICHD; Alan De Cherney, MD, NICHD)
May 1: Topic to be named (Francis Collins, MD, PhD, Director, NIH)
May 8: "Bridge Building," Careers for PhD and MD Fellows (Michael Gottesman, MD, OD/NCI; Win Arias, MD, CC)
---
NIDCR SYMPOSIUM: "AUTOTHERAPIES: ENHANCING OUR INNATE HEALING CAPACITY"
Thursday, January 25, 2018, 8:00 a.m. to 12:00 noon
Lipsett Amphitheater (Building 10)
Videocast and archived: https://videocast.nih.gov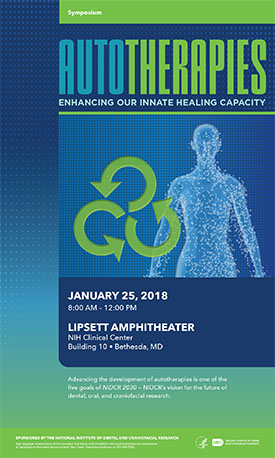 The National Institute of Dental and Craniofacial Research (NIDCR) will convene this scientific symposium, "Autotherapies: Enhancing Our Innate Healing Capacity." Advancing the development of autotherapies is one of the five goals of NIDCR 2030, NIDCR's vision for the future of dental, oral, and craniofacial research. Autotherapies are treatments based on the body's natural ability to heal and protect itself. For example, immunotherapy harnesses the body's immune cells to fight cancer and is now in clinical use. In the dental, oral, and craniofacial arena, autotherapies could be used to selectively signal the body to repair and regenerate tissue, trigger immune responses, and restore a natural microbial balance. These strategies might also help to heal damaged or diseased tissues in other parts of the body, prevent or treat infections, fight cancer, treat autoimmune conditions, and enhance overall health.
In his opening remarks, NIH Principal Deputy Director Lawrence Tabak, will provide an overview of the topic and goals of the event. The symposium will feature four presentations from experts in stem-cell biology, craniofacial anomalies and regeneration, regenerative bioengineering, and cancer immunotherapy.
The symposium is free and open to the public; no registration is required. Sign-language interpretation is available upon request. Individuals who need sign language interpretation, or other accommodations, should contact Mary Daum at Mary.Daum@nih.gov or 301-594-7559. For more information, visit: https://www.nidcr.nih.gov/NewsAndFeatures/Announcements/Pages/2018-Autotherapies-Symposium.aspx
---
NIH AGENCY INTRAMURAL RESEARCH INTEGRITY OFFICER (AIRIO) HAS A NEW E-MAIL ADDRESS
The NIH Agency Intramural Research Integrity Officer (AIRIO) has a new e-mail address: AIRIO@NIH.gov. This e-mail may be used for questions on research ethics or to open a discussion and/or express concerns related to potential research misconduct. The AIRIO's office maintains the confidentiality of any research-misconduct proceeding to the extent allowed by law. You can also contact the AIRIO by calling Melissa Colbert (301-827-7745) or Pat Weitzel (301-451-7764). In the NIH Sourcebook, you can find information on the Ethical Conduct of Research and a Guide to the Handling of Research Misconduct Allegations as well as the full NIH Policy on Research Misconduct Proceedings.
---
EXTENSIVE BUILDING 10 E WING RENOVATION TO BENEFIT MULTIPLE INSTITUTES
MULTI-YEAR PROJECT TO INCLUDE PEDESTRIAN DETOURS
The original Warren Grant Magnuson Clinical Center, a massive 14-story, 2.5-million square feet, seven-million-brick structure, has been the home to countless medical discoveries at the NIH since it opened in 1953. Over several years, the F wing (the western half of the building) has been undergoing a massive interior restoration. Now that the F wing is complete, the E wing (the eastern half), gets its turn. When finished in 2021, the E wing will become the new home for over 1,500 research and administrative staff. The E wing will house 11 institutes and other organizations, state-of-the-art utilities and equipment for specialized research, a new blood bank for the Clinical Center, and new teaching laboratories for the Foundation for Advanced Education in the Sciences (FAES). The 12th floor will be devoted to a brand new Center for Cellular Engineering, which will create cell therapies to reverse many debilitating diseases.
Before the mass demolition and new construction work begins, plans are being developed to minimize the disruptions and challenges of noise, vibration, vivarium disturbances, dust control, and the most-serious noise-generating activities. Entire floors began closing in December 2017 (see schedule below). Once entirely vacant, pedestrian detours will be available on the first floor for east-to-west access for the duration of the project. Signage in the Clinical Center and the "Take Me There" app will provide routes, albeit sometimes circuitous, enabling pedestrians to still reach their destination.
Corridor- and Floor-Closure Schedule (subject to change):
December 2017: Floors 11, 12, 14
January 2018: Floors B-1, 9 (the B-1 cafeteria will remain open)
February 2018: Floors 7, 8, 10
March 2018: Floors 5, 6, 13
May 2018: Floors B-2, 1, 2, 3, 4
---
STADTMAN SEARCH SEMINARS
The public seminars associated with the Earl Stadtman Investigator search have been scheduled, and are posted at: https://ccrod.cancer.gov/confluence/display/NIHStadt. Talks will take place on multiple NIH campuses, making this a great opportunity for our trainees to see the latest science. Some seminars will also be available online (see website above). For more information about the Earl Stadtman Investigator search, please see the websites below:
Earl Stadtman Investigator Search
"Tenure-Track Opportunities at the NIH"
---
DIRECTOR'S SEMINAR SERIES
The Director's Seminar Series exclusively features midcareer and recently tenured investigators from the NIH intramural research program, those who are well on their way to establishing themselves as research leaders. Speakers are nominated by their scientific directors.
January 19, 2018: Sonja Best (NIAID), "Intrinsic Cellular Responses to Infection with Flaviviruses and the Viral Strategies to Counter Them"
February 23, 2018: Nihal Altan-Bonnet (NHLBI), "Vesicular Transmission of Viral Populations: Strength in Numbers"
March 9, 2018: Laufey Amundadottir (NCI), "From Germline Genetics to Function: Making Sense of Genome-Wide Association Studies for Pancreatic Cancer Risk"
April 13, 2018: Raja Jothi (NIEHS), "Uncovering Unknown Unknowns of Gene Regulation"
May 18, 2018: Li Yang (NCI) "Mechanisms of Breast Cancer Metastasis and Targeting Opportunities"
June 22, 2018: Jose Faraldo-Gomez (NHLBI), "Harnessing the Power of Computation to Elucidate the Molecular Mechanisms of Membrane Proteins"
---
NIH DIRECTOR'S WEDNESDAY AFTERNOON LECTURE SERIES (WALS)
The 2017–2018 NIH Director's Wednesday Afternoon Lecture Series (WALS) is underway. WALS is the highest-profile lecture program at the NIH. Lectures occur on most Wednesdays from September through June. Each season includes some of the biggest names in biomedical and behavioral research. The goal of the WALS is to keep NIH researchers abreast of the latest and most-important research in the United States and beyond. An added treat is the annual J. Edward Rall Cultural Lecture, which features top authors and other cultural icons. All speakers are nominated by the NIH community. Be on the lookout for NIH-wide e-mails announcing each lecture. For more information and updates, check the website or contact Jacqueline Roberts (Jacqueline.Roberts@nih.gov).
---
CLINICAL CENTER GRAND ROUNDS—WEDNESDAYS AT NOON
The NIH Clinical Center Grand Rounds, which is a weekly CME activity, aims to offer its audience a wide variety of topics from a diverse group of speakers to not only help them remain current on the latest advances in medicine, but also assist them as they continue to grow professionally. All physicians, clinicians, biomedical researchers, nurses, and other health-care professionals within and outside the NIH community are welcome to attend.
This page was last updated on Friday, April 8, 2022