News Briefs
New Scientific Director for NIMHD: Anna María Nápoles, Ph.D., M.P.H.
Nápoles Is NIH's First Latina Scientific Director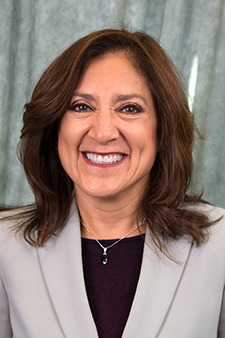 The National Institute on Minority Health and Health Disparities (NIMHD) announced the appointment of Anna María Nápoles as the scientific director (SD) of its Division of Intramural Research, making her the first Latina named to an SD position at NIH. Before coming to NIH, Nápoles was a professor and behavioral epidemiologist in the Division of General Internal Medicine, Department of Medicine, at the University of California at San Francisco (San Francisco), where she worked from 2001 until her move to NIH.
NIMHD supports intramural and extramural research on minority health and health disparities. One of the greatest challenges is reducing the profound disparity in the health status of the country's racial and ethnic minority, rural, low-income, and other underserved populations. Through the NIMHD's leadership, over the past decade, health disparities research has become a recognized scientific field of study.
Nápoles has been at the forefront of developing methods for an underserved community to be engaged in translational research to improve its own health. Her work involves building the capacity for the community to deliver culturally suitable, evidence-based, behavioral interventions. She brings more than 25 years of experience in research on patient-clinician communication, cancer-control health disparities, psycho-oncology, and community-based models of research in racially, ethnically, and socioeconomically diverse populations. She has served as a scientific advisor to many NIH- and non-NIH-funded research projects, advising on the use of advanced qualitative and quantitative methods for studying complex sociobehavioral processes that affect the health of underserved populations. After NIH conducted an extensive national search for this appointment, Nápoles began her appointment on November 13, 2017.
"Her breadth of knowledge and notable scientific contributions are exactly what NIMHD needs to meet the challenges of the ever-evolving health-disparities environment for all racial and ethnic minorities," said NIMHD Director Eliseo J. Pérez-Stable. "Anna is the embodiment of one of the NIMHD intramural research program's major objectives, which is to add to the diversity of individuals and research disciplines in the NIH intramural program."
In her new role, Nápoles is using the robust basic-science environment at NIH to focus on population health with an emphasis on social, behavioral, and clinical research. She will also oversee the executive direction and scientific leadership for the entire intramural research program at NIMHD. In addition, she will continue her own research—using lay health workers and mobile health applications—on the effectiveness of stress management and physical activity interventions for underserved cancer patients.
Nápoles holds a bachelor's degree in psychology from Pomona College (Claremont, California) and a master's in public health and a Ph.D. in epidemiology from the University of California at Berkeley (Berkeley, California). In 2003 and 2005, she received the Rising Star in Cancer Research Award from the Redes En Acción Network, and she is a 2016 Susan G. Komen Scholar.
This page was last updated on Friday, April 8, 2022