Training
FROM THE FELLOWS COMMITTEE
New Opportunities to Get Involved With Felcom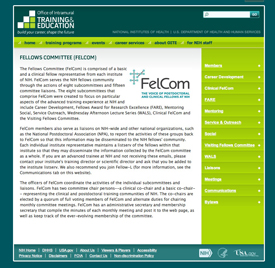 Here at Felcom we take a break from our monthly meetings over the summer and begin again in the fall when everyone is gearing back up for new semesters. So now is the perfect time to introduce ourselves to those who are new or unfamiliar with Felcom. Felcom is the Fellows Committee here at NIH, and it is dedicated to improving the experience of every fellow on all NIH campuses.
The committee is made up of representatives from each institute or center as well as chairs and members of various subcommittees (Career Development, Service and Outreach, Visiting Fellows' Affairs, Social Events, and others). We also have liaisons to several important NIH-wide committees (such as ethics, animal use, and childcare) and national organizations (such as the National Postdoctoral Association). The liaisons report on the committee activities to Felcom.
We're incredibly lucky to have the support of both the Office of Intramural Training and Education (OITE) and the Foundation for Advanced Education in the Sciences (FAES). OITE offers outstanding career resources and management courses; FAES offers biotechnology workshops as well as more than 100 courses each year through its Graduate School at NIH. We encourage all fellows to check out the websites for OITE (https://www.training.nih.gov) and FAES (https://faes.org) and take advantage of the excellent training opportunities. After all, we can't stay at NIH as postdocs forever.
Now is a great time to get involved in Felcom. We currently have several positions available, including liaisons to the Training Directors' Committee and to the Childcare Board as well as an exciting new Outreach Officer position. All of these are leadership positions, and as every prudent postdoc knows, it's important for our CVs and résumés to get nonbench experience, regardless of what we think our next career moves might be. Plus it's fun and a great opportunity to serve the NIH fellows community.
Get involved. Felcom meetings are the first Thursday of every month, 4:00 p.m., in Wilson Hall (Building 1). All fellows are welcome to attend or call in!
For more information, you can check out the Felcom website https://www.training.nih.gov/felcom) or contact the Felcom co-chairs: basic science co-chair Lucie Low (Lucie.low@nih.gov) or clinical co-chair Agnes Mwakingwe (agnes.mwakingwe@nih.gov).
Have a great holiday season!
---
Meet the Felcom Co-Chairs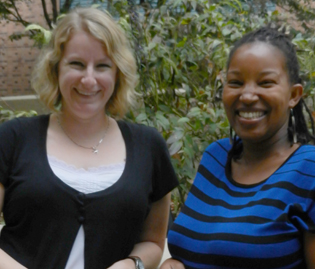 Felcom Basic Science Co-chair Lucie Low, who has been at NIH since 2012, does research on the effects of pain on brain structure and function in Catherine Bushnell's lab at the National Center for Complementary and Integrative Health. After completing her Ph.D. at the University College London (London), Low did postdoctoral training at McGill University in Montreal. When not drinking vast amounts of British tea (shipped from her homeland), she's still working out how to become an astronaut, wondering where her socks disappear to in the laundry, and teaching new skydivers how to fall out of perfectly good airplanes.
Felcom Clinical Co-chair Agnes Mwakingwe, who came to NIH in 2013, is an infectious-disease clinical fellow in the National Institute of Allergy and Infectious Diseases and does research on malaria vaccines in the Laboratory of Malaria, Immunology, and Vaccinology. She earned both her M.D. and Ph.D. (in microbiology and immunology) at the Albert Einstein College of Medicine (New York) and did a residency in internal medicine at Johns Hopkins Bayview Medical Center (Baltimore). Outside of work, she loves to hang out with her family and friends, read, dance, and try new recipes from all over the world.
This page was last updated on Monday, April 25, 2022