Intramural Postdocs Sponsored by NIGMS
PRAT Fellows Showcase Their Research at Annual Symposium
Topics ranging from energy homeostasis and the development of fluorescent probes to immune disorders, the life cycle of the human immunodeficiency virus (HIV), and nerve-cell communication drew a crowd to the Natcher Conference Center (Building 45) on June 10 for the 47th annual National Institute of General Medical Sciences (NIGMS) Postdoctoral Research Associate (PRAT) program symposium.
The symposium featured capstone presentations from five graduating PRAT fellows and two keynote speakers. Katrina Kelner, a 1982 PRAT alum who worked in the National Institute of Diabetes and Digestive and Kidney Disorders (NIDDK) and is now an editor at Science Translational Medicine, talked about peer review, reproducibility, and validity challenges in scientific publishing. Leslie Leinwand, an NIGMS and National Heart, Lung, and Blood Institute grantee and a professor at the University of Colorado at Boulder (Boulder, Colorado), discussed her research on python organs and their connection to mammalian hearts.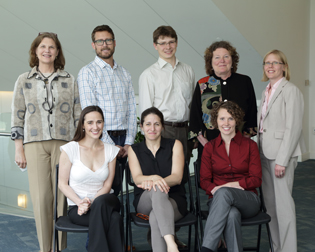 PRAT is a three-year-long postdoctoral training program that provides research experience in intramural labs, career development, and networking.
"In addition to offering opportunities for formal scientific presentations and discussions with peers who have a broad spectrum of expertise, the PRAT program has been instrumental in providing me with opportunities to participate in national and international conferences, learn more about grant mechanisms and applications, practice job interview skills, and network with scientists, editors, grant management experts, and PRAT alumni," said Carrie Lucas, a third-year fellow in the National Institute of Allergy and Infectious Diseases (NIAID). "These opportunities have been really instrumental in my postdoctoral experience and undoubtedly have helped me establish a solid foundation for launching my own lab in the near future."
When NIGMS established the program in 1965, the letter "P" in PRAT stood for "pharmacology," but in 2012 it was changed to "postdoctoral" to reflect the broadening of the scientific areas that the program supports.
As the first cohort of fellows who entered under the new name, the graduating class of 2015 is representative of the expanding scope of the program. The fellows worked in five different institutes in the fields of chemistry, neurobiology, immunology, molecular biophysics, and molecular toxicology.
"The PRAT program brings together fellows from a diverse array of scientific disciplines to learn from each other," said program director Jessica Faupel-Badger. "It's truly a multidisciplinary activity."
For more information about the PRAT Program, go to http://www.nigms.nih.gov/Training/Pages/PRAT.aspx.
---
PRAT CLASS OF 2015
Chad Brocker earned his Ph.D. in molecular toxicology from the University of Colorado Denver and is currently working at the National Cancer Institute. His research focuses on the contribution of long, noncoding RNAs to energy homeostasis, which has implications for the treatment of hyperlipidemias, type 2 diabetes, and obesity. He plans to continue working as a fellow in NCI and would like to pursue a tenure-track position in academia.
Evgeny Kiselev received his Ph.D. in medicinal and pharmaceutical chemistry from Purdue University (Lafayette, Indiana). His PRAT fellowship began at NIDDK, where he developed new fluorescent probes to track down and label P2Y14 receptors. His probes can be used to study how the receptors mediate diabetes, inflammation, and the immune response. He has since transferred to NCI to gain additional expertise in biological assays relevant to his research interests.
Carrie Lucas completed her Ph.D. in immunology at Harvard Medical School (Boston) before starting her PRAT fellowship at the NIAID. Her research focuses on identifying and characterizing the effects of PASLI disease, which is caused by inherited gene mutations that lead to hyperactive signaling in immune cells. The lab has begun treating patients with drugs that tune down the hyperactive pathway and offer a promising tailored-therapy option. Lucas plans to stay at NIH for a short time after completing the PRAT program to finish her postdoctoral research before moving on to a faculty position at a research-intensive institution.
Nadine Samara came to the PRAT program after completing her Ph.D. in molecular biophysics at Johns Hopkins University School of Medicine (Baltimore). At NIDDK, her goal is to understand how ribonuclease H cleaves RNA. This enzyme is involved in the life cycle of HIV and can be a target for inhibitors. She will be working as a staff scientist at the National Institute of Dental and Cranial Research after completing her PRAT fellowship.
Megan Wyeth received her Ph.D. in neurobiology from the University of California at Los Angeles. Her research at the National Institute of Child Health and Human Development focuses on the role of the neuropilin tolloid-like–1 protein in regulating nerve-cell communication. After the PRAT fellowship, she plans to do a short period of postdoctoral training in epilepsy research at Stanford University (Stanford, California) to augment her NIH experience.
---
PRAT 50TH ANNIVERSARY SYMPOSIUM
Friday, Nov. 6, 2015, 8:30 a.m.–4:30 p.m.
For more information: https://meetings.nigms.nih.gov/Home/Index/19247
The symposium recognized the research contributions of PRAT alumni, highlighted the role of the PRAT program in the careers of alumni, and provided an opportunity for PRAT alumni to network with each other and current fellows. This NIGMS event was open to the public and the videocast is available at http://videocast.nih.gov/launch.asp?19309.
This page was last updated on Monday, April 25, 2022