News You Can Use
Pedestrian Tunnel Under Rockville Pike
Construction Expected to Affect Commuting
This winter, construction will commence on the Medical Center Metro Crossing Project. Expected to be completed in 2018, the project adds a shallow, underground east-west pedestrian crosswalk that will connect the Medical Center Metro Station and the NIH side of Rockville Pike to the opposite side, where Walter Reed Medical Center and the rest of the Naval Support Activity–Bethesda campus (NSAB) are located. High-speed elevators and emergency stairwells will also be added to the Metro station.
The underpass should allow for safer passage of pedestrians and bicyclists crossing MD 355/Rockville Pike and improve traffic flow at the busy South Drive and Rockville Pike intersection. Additional work should improve traffic flow at the MD 355/Rockville Pike and Jones Bridge Road/Center Drive intersections.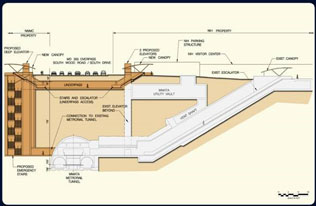 Along with several other simultaneous road-improvement projects, the Metro Crossing Project construction is expected to have a major impact on NIH staff and visitors for a long time. To help avoid the associated gridlock and other commuting challenges, the Office of Research Services, the Office of Research Facilities, and the Office of Human Resources have joined forces and relaunched a revised traffic website (http://traffic.nih.gov). Not only will the site keep employees informed about Metro Crossing Project developments and other nearby road-construction projects that affect their commutes, but it also promotes alternative commuting options and work-schedule flexibilities (http://traffic.nih.gov/Pages/workschedule.aspx).
The traffic website makes it easy for NIH employees to find information on Transhare benefits, commuter shuttles, car and van pools, and more. Employees can explore the possibilities of regular or ad hoc telework, thus reducing the number of days they need to travel to campus. Employees on alternative work schedules may be able to use other flexibilities to avoid traffic congestion and delays (https://hr.od.nih.gov/benefits/documents/AWS_Fact_Sheet.pd). For instance, flexible work schedules allow employees to commute during off-peak hours (http://traffic.nih.gov/Pages/workschedule.aspx). The NIH realizes that life in the lab makes some of these options difficult, but this website should still help to reduce traffic frustrations on your way here or home.
This page was last updated on Monday, April 25, 2022