News You Can Use
NCATS Seeks New NIH Intramural Research Collaborations
An Array of Programs to Speed Up Process for Translating Discoveries into New Drugs
Intramural scientists at the National Center for Advancing Translational Sciences (NCATS) develop, demonstrate, and disseminate new technologies that aim to speed up the process for translating discoveries into approved new drugs. (Typically, a novel intervention can take about 14 years and $2 billion to develop, with a failure rate exceeding 95 percent.) NCATS offers an array of funding programs and in-kind support services designed to help researchers translate basic scientific knowledge into interventions that improve human health. There are many ways that intramural researchers can take advantage of NCATS' expertise and tools.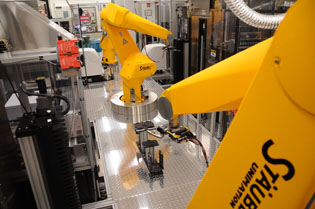 Through the NCATS Chemical Genomics Center, NIH intramural researchers can access large-scale screening capabilities and medicinal chemistry and informatics expertise to develop chemical-probe molecules that can become potential therapeutic candidates in the drug-development pipeline (https://ncats.nih.gov/ncgc). NCATS and National Institute of Diabetes and Digestive and Kidney Diseases researchers recently collaborated to repurpose an allergy drug for the treatment of hepatitis C and are now testing the drug in patients at the NIH Clinical Center (https://ncats.nih.gov/pubs/features/probe-hepatitis-c).
The Therapeutics for Rare and Neglected Diseases (TRND) program (https://ncats.nih.gov/trnd) provides collaborators with access to preclinical and clinical resources and expertise to develop new therapies for rare and neglected diseases. Researchers from NCATS and the Eunice Kennedy Shriver National Institute of Child Health and Human Development (NICHD) have advanced a treatment for Niemann-Pick disease type C and other lysosomal- or lipid-storage disorders. In these disorders, which usually affect children and are often fatal, fatty materials accumulate in the body's cells and tissues and can result in damage to the brain, peripheral nervous system, liver, and other organs and tissues.
The Niemann-Pick project is a collaboration among government, academic, and industry scientists who worked with community and patient groups. NICHD investigators are conducting a phase 1 clinical trial at the NIH Clinical Center to test the Niemann-Pick treatment in patients (http://www.nih.gov/news/health/jan2015/ncats-07.htm).
Another TRND project involves National Human Genome Research Institute scientists who evaluated a treatment for the rare degenerative muscle disease inclusion body myopathy 2, which is caused by a mutation in the gene GNE (http://www.nih.gov/news/health/sep2012/ncats-24.htm). A phase 1 clinical trial was launched at the NIH Clinical Center in 2012; a phase 2 trial is currently underway.
As part of the NIH RNAi initiative, NCATS operates a state-of-the-art RNA interference (RNAi) screening facility, which is available to intramural investigators (https://ncats.nih.gov/rnai). NCATS researchers and collaborators conduct high-throughput RNAi genome-wide screens in human- and mouse-model systems. National Institute of Neurological Disorders and Stroke collaborators used RNAi screening to reveal dozens of genes that may represent new therapeutic targets for treating Parkinson disease (http://www.nih.gov/news/health/nov2013/ninds-24.htm).
Other NCATS programs include Bridging Interventional Development Gaps, in which researchers collaborate to advance promising therapeutic agents through late-stage preclinical development toward an Investigational New Drug application and clinical testing (https://ncats.nih.gov/bridgs).
NCATS also facilitates Pfizer's Centers for Therapeutic Innovation at NIH, which pairs intramural researchers and clinicians with Pfizer resources to jointly pursue scientific and medical advances through therapeutic development of biologic compounds (https://ncats.nih.gov/cti). In addition, the Toxicology in the 21st Century (Tox21) program is testing 10,000 chemicals for their ability to disrupt biological pathways and potentially cause negative health effects. Tox21 accepts proposals for assays from any intramural researcher (https://ncats.nih.gov/tox21).
Last year, NCATS investigators collaborated with more than 180 other NIH intramural researchers. Learn more about how you can work with NCATS at https://ncats.nih.gov/workwithus.
---
Take a video tour of the NCATS labs at https://bit.ly/1J6uUyh and see firsthand how NCATS researchers work to get more treatments to more patients more quickly.
This page was last updated on Monday, April 25, 2022