HIV and AIDS: Much Accomplished, Much to Do
Says NIAID Director Anthony Fauci, One of the First to Study AIDS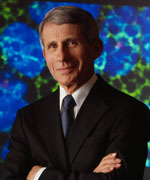 Even though more than four million lives have been saved, "it's clearly too soon for a victory lap" in the fight against human immunodeficiency virus (HIV) and AIDS, said Anthony Fauci, one of the first scientists to begin studying HIV and AIDS when the illness emerged in the early 1980s. A pioneer in understanding human immunological diseases, Fauci has led extensive basic and translational research exploring HIV and AIDS.
At the September 11, 2013, Clinical Center Grand Rounds Great Teachers Lecture, Fauci recalled his early research in the pathogenesis and treatment of immune-mediated and infectious diseases; saluted the great NIH mentors who helped him launch his career; and offered a tour de force of the current state of HIV and AIDS prevention and treatment and research efforts toward a cure.
Fauci has been the director of the National Institute of Allergy and Infectious Diseases (NIAID) since 1984 and serves as one of the key consultants to the White House and Department of Health and Human Services on global AIDS issues as well as on emerging infectious disease threats such as pandemic influenza.
He waxed eloquent about his former colleagues in NIAID's Laboratory of Clinical Investigation, leaders in immunological research: his mentor and lab chief, the late Sheldon "Shelly" Wolff; John Gallin (now the director of the NIH Clinical Center); and Charles Dinarello (no longer at NIH, but considered one of the founding fathers of cytokine biology). When Fauci began reading reports of AIDS cases, he soon made the bold decision to redirect his lab's focus from investigating fundamental questions of immunology to studying HIV and AIDS. He assembled a research team—Clifford Lane (NIAID) and Henry Masur (Clinical Center)—to investigate HIV and AIDS, and together they made breakthroughs in understanding how HIV destroys the body's immune system and in developing strategies to restore immune defenses.
Other NIH pioneers included Robert Gallo, who co-discovered HIV and identified it as a cause of AIDS, and scientists in the National Cancer Institute's (NCI) AIDS Therapy Program. The NCI team members were Robert Yarchoan, Sam Broder (later became director of NCI), and Hiroaki Mitsuya, who together developed the first FDA-approved antiretroviral therapies (ART).
Globally, about 35 million people are living with HIV infection, and 2.3 million are newly infected each year. Fauci expressed pride in research advances that have led to therapies that have prevented 4.2 million deaths. He outlined successful prevention strategies, including condom use and behavior modification, pre-exposure prophylaxis, voluntary medical circumcision for adult men, and early intervention with ART. Untreated HIV almost always progresses to AIDS.
Fauci is discouraged that it has been difficult to implement the strategies even though they are known to be effective. In the United States, for example, only 82 percent of the estimated one million HIV-infected people have been diagnosed. Of the total infected, only 66 percent receive care and 33 percent receive ART. Thanks to treatment, an estimated 25 percent of all HIV-infected persons in the United States have a suppressed viral load. But many effective treatments and preventions fail to achieve their full potential because "people are not adhering to something that works," Fauci said. "We need to link human behavior research with biomedical interventions."
Regarding the possibility of a cure for HIV, Fauci explained that if a cure is found, it must be simple, safe, and expandable to millions of people. In addition, he called for "new tools for prevention."
One of the new tools might one day be an HIV vaccine. Indeed, scientists at NIH and elsewhere are working to develop one, but they face many challenges. There is much to be learned about how HIV interacts with the immune system. Fauci explained that in classical vaccinology, "nature provides the proof of concept since most people recover from infections, even serious ones like measles and polio." Vaccinologists develop vaccines by copying "the body's immune response to the pathogen. But it's not the same with HIV" because the body is not capable of responding adequately." A vaccine presents pieces of a pathogen to the body's immune system and causes an immune reaction that primes the system to be ready in the event of a real attack.
One of the world's first HIV vaccine trial was led by Lane at NIH in 1988. Recently an HIV vaccine trial in Thailand has shown some promise, but Fauci cautioned that "it's not ready for prime time, but it's a good proof of concept."
Fauci celebrated the many advances in HIV and AIDS research, trumpeting them as "great news about the translation of basic science to effective clinical interventions." Yet there remains "much to do, both to implement what we already have and in the discovery of new interventions."
To watch an archived videocast of Fauci's talk, "HIV/AIDS: Much Accomplished, Much To Do," go to http://videocast.nih.gov/launch.asp?18075.
This page was last updated on Thursday, April 28, 2022