News You Can Use
NIH Library: Custom Information Solutions Service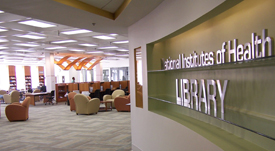 The NIH Library provides ready access to thousands of resources, so much so that it may be difficult to find the best resources for your research needs. The Library recently introduced a new service, "Custom Information Solutions," that can customize services and resources to address the specific needs of a group. Customized services include digitizing NIH-created print materials; building databases to support research projects; developing portfolio-analysis reports; and creating customized Web search tools.
The National Institute on Aging (NIA) began using the service in 2011 in connection with its work on Alzheimer disease (AD). It all began with a request to convert a spreadsheet of funding lines into a simple Web-enabled database.
Alzheimer disease research has become a global priority requiring enhanced coordination of funding strategies across both public and private funders. Supported by the "National Alzheimer's Project Act" (http://aspe.hhs.gov/daltcp/napa), NIA first worked with the Alzheimer's Association to develop a shared ontology known as the Common Alzheimer's Disease Research Ontology.
Later, NIA began working with the NIH Library to develop a database to capture and track more than 6,000 Alzheimer-related grant-funded projects from 2008 to the present across all U.S. federal agencies and three nonfederal funders. Discussions are now underway with additional organizations and countries.
As a result of months of consultations and support from the NIH Library, the NIA decided to pursue the library's proposed portfolio-analysis strategy. The first phase of this effort culminated in the July 2012 launch of the International Alzheimer's Disease Research Portfolio, or IADRP (http://iadrp.nia.nih.gov/cadro-web).
The IADRP allows users to search funded projects by principal investigator, institution, funding agency, and funding announcement. Access to such information allows program officers and researchers from around the world to:
Assess the changing landscape of Alzheimer disease research funded by different agencies and countries.
Identify specific funding gaps as well as areas of possible overlap across funding agencies.
Identify opportunities for coordination for Alzheimer disease research while leveraging critical resources.
For NIA, the funding information now available from the IADRP has been instrumental in helping to track and analyze research goals and strategic objectives.
In June 2013, the IADRP team, including NIH Library representatives James King and Terrie Wheeler, was presented with the NIH Director's Award in recognition of "the planning and implementation of an AD research initiative in response to the National Alzheimer's Plan."
"Throughout the entire process, the NIH Library has gone above and beyond to provide outstanding customer service," said NIA Senior Scientific Program Analyst Charlene Liggins. "Over the last two years, they have been truly generous with their time, knowledge, and, especially, patience."
The Library is also collaborating with the National Institute of Allergy and Infectious Diseases to develop a pandemic influenza digital archive. The archive will facilitate the ability of scientists and researchers, both within and outside NIH, to explore and respond to current issues and ideas and to acquire a deeper understanding of the disease.
The NIH Library, located in Building 10, supports the information needs of the NIH research community through a range of innovative services and resources. For more information about the library go to http://nihlibrary.nih.gov/Pages/default.aspx. For more information on "Custom Information Solutions," visit http://nihlibrary.nih.gov/Services/Pages/CustomInformationSolutions.aspx.
This page was last updated on Thursday, April 28, 2022