NIH Welcomes Google Scholars
Three Teens Are Wowed by NIH Science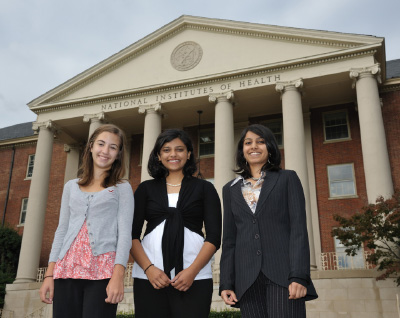 After a whirlwind tour of Washington, D.C., and a private meeting with President Barack Obama, three Google Internet Science Fair winners were welcomed and wowed by scientists at NIH in Bethesda.
The winners were among 10,000 students from 91 countries who participated in Google's first science fair, held in partnership with Scientific American, CERN, LEGO, and National Geographic. Fifteen finalists, aged 13 to 18, were invited to Google headquarters in Mountain View, Calif., and had their projects judged by a panel of experts. And three teenage girls were selected as grand prize winners and awarded scholarships, LEGO-based trophies, and a trip to our nation's capitol—and to NIH.
The winning students were Lauren Hodge (14), from York, Pa., who determined which marinades produce fewer carcinogens in grilled food; Naomi Shah (16), from Portland, Ore., who analyzed the effect of indoor air quality on asthma symptoms; and Shree Bose (17), from Fort Worth, Texas, who discovered a way to improve ovarian cancer treatments for people who have built up a resistance to cisplatin.
At NIH, the students met with several scientists and talked eagerly about their plans to earn advanced degrees and to one day become scientists themselves.
The students impressed the NIH scientists and vice versa. NIH Deputy Director for Intramural Research Michael Gottesman encouraged the teens to consider a career at NIH, too. "We try to identify talent as early as we can and recruit them back here."
The teens were whisked off to visit the labs of intramural scientists Sriram Subramaniam, a senior investigator in NCI's Laboratory of Cell Biology, and Pamela Robey, Chief of NIDCR's Craniofacial and Skeletal Diseases Branch.
"The campus was spectacular, the labs were first class, and the people just seemed so genuinely enthusiastic to meet with us," said Bose who, as grand prize winner, will get an all-expense-paid trip to the Galapagos Islands. "I definitely walked away from the entire experience even more certain of the fact that I want to go into medical research and biology and someday have the opportunity to return to NIH."
This page was last updated on Monday, May 2, 2022