Colleagues: Recently Tenured
Alexei Bagrov, M.D., Ph.D., NIA
Senior Investigator and Head, Hypertension Unit, Cardiac Function Section, Laboratory of Cardiovascular Science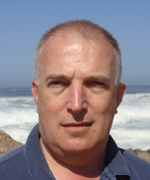 Education: Saint Petersburg State I.P. Pavlov Medical University, Saint Petersburg, Russia (M.D.); I.M. Sechenov Institute of Evolutionary Physiology and Biochemistry, Russian Academy of Sciences, St. Petersburg (Ph.D. in pharmacology)
Training: Residency in cardiology (St. Petersburg)
Before coming to NIH: Senior scientist at Sechenov Institute of Evolutionary Physiology and Biochemistry
Came to NIH: From 1992 to 1994 as a visiting associate in NIA; in October 2001 as investigator and head of NIA's Hypertension Unit in the Laboratory of Cardiovascular Science
Outside interests: Reading fiction and history books; traveling
Research interests: Hypertension affects about 25 percent of adults and is a major risk factor for cardiovascular disease. High dietary intake of sodium chloride is an important contributor to the genesis of hypertension; cardiotonic steroids (CTS) link high salt intake and high blood pressure. CTS are also important in the pathogenesis of and targets for intervention in chronic kidney disease and preeclampsia (high blood pressure in pregnancy), a major cause of maternal and fetal mortality and morbidity. We are studying how CTS interact with the sodium-potassium pump (sodium-potassium adenosine triphosphatase, or Na/K-ATPase) and lead to the development of hypertension.
Our goals are to define cause-and-effect relationships between CTS and hypertensive phenotypes; investigate how CTS contribute synergistically with other vasoconstrictors to cardiovascular remodeling; study signaling pathways that underlie the effects of CTS; and elaborate novel approaches that counteract the deleterious effects of CTS. We are focusing on translational research and exploring how the immunoneutralization of CTS and disruption of CTS-Na/K-ATPase interactions could be used for pharmacological interventions in renal failure and preeclampsia.
---
Rafael Casellas, Ph.D., NIAMS
Senior Investigator; Acting Chief of Genomics and Immunity Section, Molecular Immunology and Inflammation Branch; Adjunct Investigator at NCI-CCR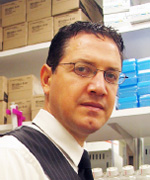 Education: Brigham Young University, Provo, Utah (B.S. in chemistry); Rockefeller University, New York (Ph.D. in molecular immunology)
Training: Postdoctoral training with Nobel Laureate David Baltimore at California Institute of Technology (Pasadena, Calif.)
Came to NIH: In January 2004
Outside interests: Playing classical guitar; reading French, English, and Spanish literature
Research interests: Our laboratory studies the molecular mechanisms by which the immune system can modify genes and generate a vast diversity of antibody binding sites. Unfortunately, because the enzymes that can accomplish these functions may modify non-immune-system-related genes, they can lead to the generation of tumors. We are trying to understand the mechanisms that minimize this side effect. By combining molecular biology and gene-targeting techniques with genomic and bioinformatic tools, we are uncovering diverse details of B-cell ontogeny such as a new pathway that shuts down transcription in response to DNA damage and the microRNA landscape that regulates bone marrow and peripheral development.
We are also interested in the processes that assemble, diversify, and provide effector functions to antibody receptors. The mistargeting of non-immunoglobulin genes (including oncogenes) results in widespread genomic instability, the formation of chromosomal translocations, and tumor development. Our goal is to understand how these activities are regulated to ensure a healthy immune response while avoiding malignant transformation.
---
Paul Hwang, M.D., Ph.D., NHLBI
Principal Investigator, Laboratory of Cardiovascular and Cancer Genetics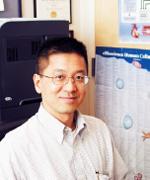 Education: University of Kansas, Lawrence, Kan. (B.A. in biochemistry and chemistry); The Johns Hopkins University School of Medicine, Baltimore (M.D.; Ph.D. in neuroscience)
Training: Residency in internal medicine at the University of California at San Francisco School of Medicine (San Francisco); clinical fellowship in cardiology at Johns Hopkins Hospital (Baltimore); Howard Hughes postdoctoral fellowship for physicians at The Johns Hopkins University School of Medicine
Came to NIH: In July 2001
Outside interests: Spending time with family and friends; would love to do more traveling and outdoor activities
Research interests: There is a strong inverse relationship between cardiorespiratory fitness and cancer incidence in large population studies. We are investigating a specific metabolic determinant of exercise capacity that could influence the formation of cancers.
We previously showed that tumor suppressor protein p53 (which is encoded by the gene TP53, one of the most commonly mutated genes in human cancers) can regulate aerobic metabolism and determine exercise capacity. This role also appears to protect against DNA damage and has implications for cancer prevention.
We are expanding on these basic observations using genetic knockouts in human somatic cell lines and mouse models. We are also investigating whether observations made in our model systems are applicable to humans through translational clinical studies. We hope what we learn about aerobic metabolism will help us develop new preventive and therapeutic strategies against cancer and cardiovascular diseases.
---
Laura Koehly, Ph.D., NHGRI
Principal Investigator, Social and Behavioral Research Branch; Head, Social Network Methods Section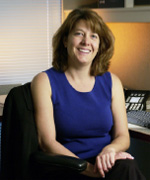 Education: University of California, Davis (B.S. in psychology); University of Illinois, Urbana-Champaign (A.M. and Ph.D. in quantitative psychology; M.S. in statistics)
Training: Postdoctoral training in the Department of Behavioral Sciences, Division of Cancer Prevention, at the University of Texas MD Anderson Cancer Center (Houston)
Before coming to NIH: Assistant professor of psychology at Texas A&M University (College Station, Texas)
Came to NIH: In June 2005
Selected professional activities: Member of the board of directors of the International Network of Social Network Analysis
Outside interests: Duckpin bowling; gardening; cooking and baking
Research interests: Families coping with cancer do better when there is an interconnected system of communication, emotional support, and behavioral encouragement. My recent work investigates how families at genetic risk of cancer, such as inherited forms of colorectal, breast, and ovarian cancer, communicate about and cope with their increased risk of cancer. I have shown that risk communication can lead to cooperative, family-centered approaches for reducing distress and improving health-promoting behaviors. Results from this research are being translated into interventions that motivate families to discuss their genetic risk of disease and mobilize related social-support resources to enhance health-promoting behaviors.
One such effort, Project RAMA (Risk Assessment in Mexican Americans), provides members of multigenerational Mexican-American households with family history based on feedback about common health conditions such as diabetes. We have found that compared with an individual-level approach, a family-based approach in providing risk information motivates more risk communication and behavioral encouragement among family members, which in turn leads to improved health behaviors. In a new project, we will evaluate whether a family genomics health educator is just as effective as a family-based approach in educating family members about their disease risk and motivating them to engage in health-promoting behaviors. In the future, I will investigate whether patterns of communication, support, and encouragement are common across diseases and vary across families from different ethnic and racial backgrounds.
---
Russell Lonser, M.D., NINDS
Senior Investigator, Neurosurgical Biology and Therapeutics Section; Chief of the Surgical Neurology Branch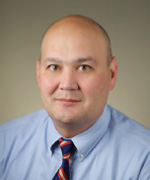 Education: Andrews University, Berrien Springs, Mich. (B.A. in economics); Loma Linda University Medical School, Loma Linda, Calif. (M.D.)
Training: Residency in neurological surgery at the University of Utah (Salt Lake City)
Came to NIH: In August 2001
Selected professional activities: Program Director, NINDS Neurological Surgery Residency Training Program
Research interests: My laboratory studies drug delivery for the treatment of neurologic disorders and investigates tumor biology and treatment. We have several clinical trials under way. In one, we are doing a prospective natural history study of patients with von Hippel–Lindau disease, a rare genetic multisystem disorder characterized by the abnormal growth of tumors in the central nervous system and elsewhere.
We are determining what factors (pregnancy, puberty, menopause, blood proteins, etc.) affect tumor growth. Surgical removal of brain and spinal cord tumors is currently the treatment of choice when these lesions cause neurological problems. A better understanding of which tumors are likely to grow and which will remain stable may guide physicians in treatment decisions and avoid unnecessary procedures.
In another trial, we are evaluating patients with a variety of neurological disorders that may require surgery. The study is designed to help us learn more about changes that cause nervous system disorders; train physicians in the evaluation and treatment of these disorders; and establish a pool of patients who may be eligible for other NINDS protocols.
---
Avindra Nath, M.D., NINDS
Clinical Director; Director of the Translational Neuroscience Center; Chief of the Section of Infections of the Nervous System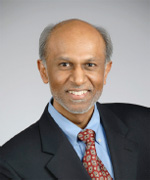 Education: Christian Medical College in Ludhiana, India (M.D.)
Training: Residency in neurology and fellowship in multiple sclerosis and neurovirology at the University of Texas Health Science Center (Houston); fellowship in neuro-AIDS at NINDS
Before coming to NIH: Faculty positions at the University of Manitoba (Winnipeg, Manitoba, Canada) and the University of Kentucky (Lexington, Ky.); Professor of Neurology and Director of the Division of Neuroimmunology and Neurological Infections at The Johns Hopkins University (Baltimore)
Came to NIH: In February 2011
Selected professional activities: Vice president, International Society of Neurovirology; chair, Section of Neuro-Infectious Diseases of the American Academy of Neurology
Outside interests: Playing golf; gardening; bicycle riding
Research interests: We are trying to understand the pathophysiology of and develop new diagnostic and therapeutic approaches for retroviral infections of the nervous system. In particular, we study how human immunodeficiency virus (HIV) can establish a reservoir in the brain and mechanisms by which viral proteins can cause immune activation and neurodegeneration. A similar approach is being used to study endogenous retroviruses and their role in the pathophysiology of neurological diseases.
Our laboratory made a key observation that complete viral replication is not necessary, but rather some of the nonstructural proteins can be released extracellularly and cause widespread neuronal injury. Using cutting-edge technology in proteomics, stem cell biology, and genomics, we have developed experimental models to identify common mechanisms of neuronal injury in these diseases.
We work with well-defined clinical cohorts and use clinical samples from patients to confirm in vitro findings, develop surrogate markers for diagnosis and prognosis, and generate hypotheses that may be tested using experimental systems. To facilitate this bench-to-bedside approach, we are establishing a translational neuroscience center that will assist in preclinical drug development and provide an infrastructure for conducting clinical trials.
---
Theodore Pierson, Ph.D., NIAID
Senior Investigator; Chief, Viral Pathogenesis Section, Laboratory of Viral Diseases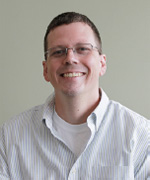 Education: Eckerd College, St. Petersburg, Fla. (B.S. in marine science); The Johns Hopkins School of Medicine, Baltimore (Ph.D. in immunology)
Training: Postdoctoral training in the Department of Microbiology, University of Pennsylvania School of Medicine (Philadelphia)
Came to NIH: In March 2005
Selected professional activities: Adjunct professor, University of Maryland, Department of Cell Biology and Molecular Genetics; editorial board member, Journal of Virology
Outside interests: Spending time with his wife and two-year-old son; trying to keep up with the marine science field, especially anything to do with the deep-sea-dwelling giant squid (genus: Architeuthis); following Indianapolis Colts football
Research interests: Flaviviruses—a group of RNA viruses that can cause dengue fever, West Nile virus–related illnesses, and other diseases—are responsible for considerable morbidity and mortality worldwide. Vaccines being developed against flaviviruses rely on eliciting a protective humoral immune response. But under some circumstances, the antibodies that develop after a natural infection or vaccination have the potential to make the disease worse. Using West Nile and dengue viruses as models, we are defining factors that govern the potency of neutralizing antibodies, their mechanism of action, and their potential for the antibody-dependent enhancement of infection thought to contribute to severe manifestations of dengue infection.
Much of our work has focused on developing quantitative models of neutralization that have provided a foundation from which to explore the genetic and biochemical complexity of factors that modulate antibody function.
We have been applying the principles identified using the reductionist approaches described above toward the study of the humoral response to flavivirus infection and vaccination. Our goal is to deconstruct human polyclonal antibody responses in order to identify the significant components.
We are developing functional approaches to map the composition and dynamics of the polyclonal response to flavivirus infection with the goal of identifying epitopes (the parts of antigens recognized by antibodies) that are important for neutralization and protection.
This page was last updated on Monday, May 2, 2022