NIH Family Members Giving Back: Diane Baker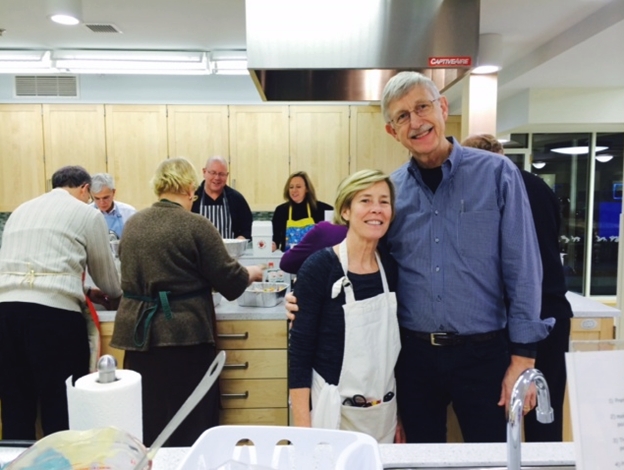 My blog usually celebrates biomedical advances made possible by NIH-supported research. But every August, I like to try something different and highlight an aspect of the scientific world that might not make headlines. This year, I'd like to take a moment to pay tribute to just a few of the many NIH family members around the country who, without pay or fanfare, freely give of themselves to make a difference in their communities.
I'd like to start by recognizing my wife Diane Baker, a genetic counselor who has always found time during her busy career to volunteer. When I was first being considered as NIH director, we had lots of kitchen table discussions about what it might mean for us as a couple. We decided to approach the position as a partnership. Diane immediately embraced the NIH community and, true to her giving spirit, now contributes to some wonderful charities that lend a welcome hand to patients and their loved ones who come to the NIH Clinical Center here in Bethesda, MD.
As a genetic counselor, Diane spent many years working with pediatric patients and their families at the University of Michigan, Ann Arbor. Now she puts this real-world experience to great use as a board member for the Friends of Patients at the NIH. This dedicated group provides a support system for patients participating in an NIH clinical trial and their families. So, when the unexpected happens to a clinical trial participant, either here or back home, the Friends are there to help. This allows patients to continue in their clinical trials and focus their energy on getting better.
A lot of Diane's volunteer work also revolves around The Children's Inn at NIH, which is a wonderful "place like home" for kids who are taking part in clinical trials. In addition to serving on the non-profit organization's Board of Directors, she frequently volunteers at the Inn in a variety of ways, including giving tours of Washington sights to kids and their families. Another of Diane's skills is cooking an evening meal for the kids and their families—quite an undertaking when you consider that typically there are 75 mouths to feed! Sometimes, I, along with my NIH staff or lab members, join her to help with chopping vegetables, boiling noodles, and other prep. The menu is nothing fancy—just some dishes that Diane, the master chef, has picked out for large scale preparation. Among the things we've whipped up so far are chicken teriyaki, Thai lettuce rolls, and, of course, mac and cheese for the kids.
Relationships that Diane has nurtured with staff at the NIH Clinical Center have also led to some rather unusual volunteer opportunities. For example, just a few weeks ago, she was among those who helped to bring a bit of much-needed fun and excitement into the lives of four teenage inpatients at the Clinical Center. The teens, three of whom had cancer that was being treated with experimental therapies, and the other who was being prepared for a stem cell transplant to cure her rare genetic disorder, got a chance to attend a U2 concert at FedEx Field in nearby Landover, MD. The tickets were compliments of U2's lead guitarist David Evans, a.k.a., The Edge, who has been a strong advocate for cancer research ever since his own daughter Sian survived childhood leukemia. This is the second time The Edge has provided tickets for patients at the NIH Clinical Center when the iconic rock band was in town.
Among the kids notified that they'd been chosen to go to the latest U2 concert was a teen named Robert, whose brain cancer treatment had suppressed his immune system, making it necessary for him to follow strict precautions to avoid infection. Any time Robert balked at the measures, his mother reminded him that he needed to stay well enough to attend the upcoming concert. "Keep your eye on the prize," she repeated. "Keep your eye on the prize."
Well, Robert got the prize. Diane and I were there as volunteers to guide him, the other teens, their families, and their caregivers through an evening that included a pre-concert on-stage visit with The Edge, a backstage meal with all the concert roadies, and prime seats for a fabulous concert. The thrill on their faces was beyond words, or maybe best captured in this U2 lyric: "It's a beautiful day/Don't let it get away." They sure didn't!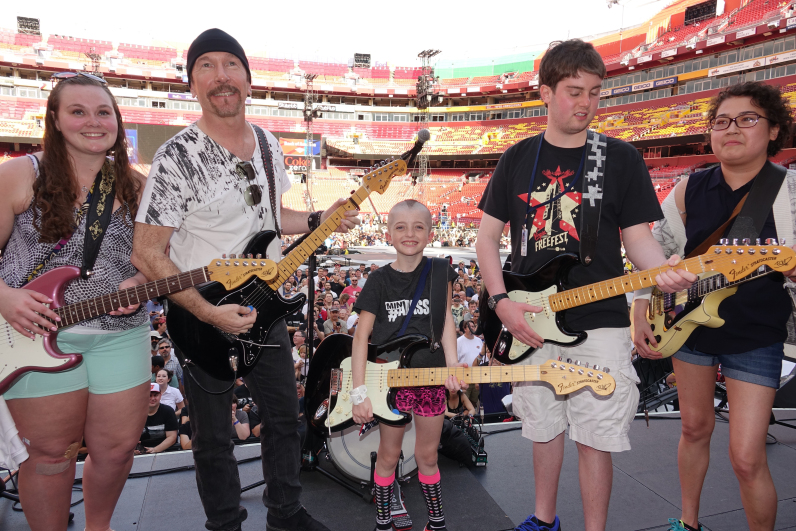 Diane has also been busy this summer gearing up for Camp Fantastic, a special getaway for kids with cancer that's set in Virginia's beautiful Shenandoah Valley. Diane volunteered to organize charity golf tournament that, in part, benefited Special Love for Children with Cancer, which is the nonprofit organization that sponsors the camp in mid-August and provides cancer families with support throughout the year. Always the one willing to give something extra, Diane says "The work of these three NIH-based charities enriches the lives of patients from around the globe."
This August, another family member will join the Camp Fantastic team: our granddaughter Abby, visiting from North Carolina, will help entertain the kids by painting temporary henna tattoos on them and herself. Looks like our family—and the world—is gaining yet another dedicated volunteer!
Links:
---
Related Blog Posts
This page was last updated on Wednesday, July 5, 2023