Meet Taezia
"Do you know what a portrait is?" Taezia asks. "That's what I'm making. Watch and learn."
Taezia, 7, a spirited girl from Springfield, Missouri, loves spending all the time she can in the art room at The Children's Inn.
"I love The Children's Inn!" she exclaims excitedly.
But as much as Taezia loves coming to The Inn, she and her mom, Tina, don't come to Bethesda, Maryland, just to have fun. They come to the NIH multiple times a year because they have to, for Taezia's sake.
Tina knew something wasn't right the first time she laid eyes on her newborn daughter and saw brown spots – one the size of a quarter – all over her little body. More puzzled than concerned, she began taking Taezia to doctor after doctor. But Tina didn't get a clear answer until visiting the children's hospital in Columbia, Missouri, where then 11-month-old Taezia was diagnosed with Neurofibromatosis Type 1 (NF1), a rare genetic disorder that causes benign tumors to grow either on the skin or internally. Taezia's tumors are confined to the inside of her body, and she also suffers a host of additional issues as a result of her NF1, including scoliosis, attention deficit and hyperactivity disorder (ADHD), soft bones and neurological problems.
When Taezia was 4 years old, an MRI showed a myriad of tumors crowding her organs and wrapping themselves around her spine. Without emergency surgery, Taezia would lose her ability to walk and become paralyzed from the neck down. Doctors knew they couldn't remove the entire tumor, but their goal was to "debulk" it enough to preserve Taezia's ability to walk and move around.
While the surgery was initially a success, the tumor grew back to its previous size in only three months. Doctors were at a loss.
"I have NF1," Taezia says. "I have tumors in my back. It's hard because you can die from it. And get paralyzed. It's painful. My back hurts, and it's sad because I miss all the good things like dress-up days in school."
Disheartened but determined, Taezia's mom looked for other options for her daughter and eventually learned about a clinical trial at the Center for Cancer Research at the National Institutes of Health.
One year into a clinical drug trial conducted by the National Cancer Institute's Pediatric Oncology Branch, Taezia's situation has stabilized, and her tumors have even shrunk — a tremendous success for Taezia, her family and the NIH researchers working hard every day to help patients like Taezia.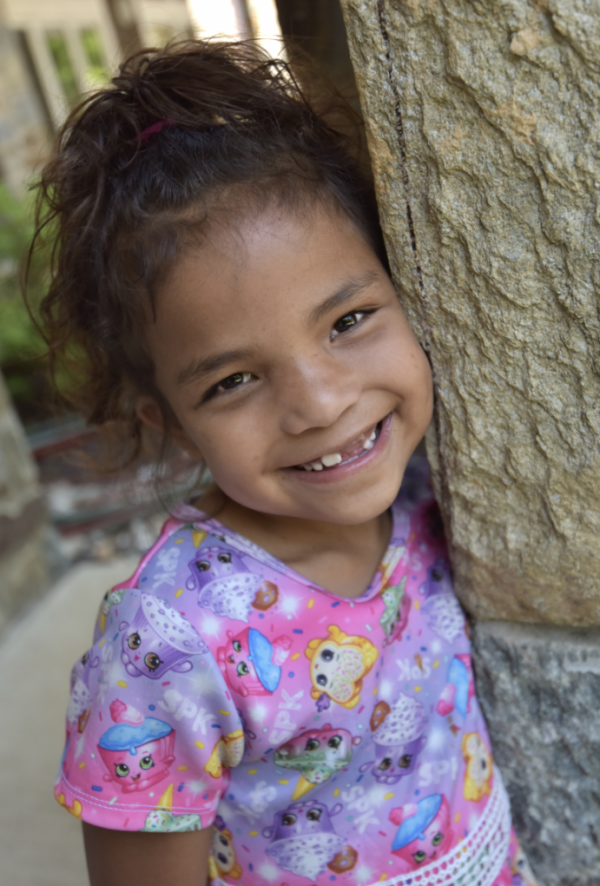 "We are consistently working on finding better therapies for tumors related to NF1 such as plexiform neurofibromas," says Dr. Widemann, chief of the Pediatric Oncology Branch in the Center for Cancer Research. "This trial is very exciting, for the first time we have seen shrinkage of tumors in most patients. This is a step in the right direction, but there is a lot more we have to learn."
Without the free lodging and support of The Children's Inn, Tina doesn't know how she would have been able to visit the NIH from her home in Missouri so that her daughter could take part in the clinical trial. Previous lengthy hospital stays have been financially and physically draining for the single mom of four.
At The Inn, Tina and Taezia are just steps away from the Clinical Center, and all of their needs are covered at no cost: lodging, trips to the grocery store and even groceries through grocery assistance cards – a financial relief that Tina says she is forever grateful for.
The Inn also is the reason why Taezia looks forward to coming to the NIH for regular checkups.
"I tell my friends I go to this place far away, and it's lots of fun," Taezia says. "I like the art room, the game room, the playground."
Above all, Taezia enjoys spending time in The Inn's art room where she likes creating crafts for her siblings, especially her oldest sister and her parakeet, Button.
"She's in heaven when she gets here," Tina says about her daughter. "I'll be exhausted, but she just wants to go, go, go!"
Taezia and her mother have stayed at The Inn five times since January 2016 and will continue to come to The Inn every six months for Taezia's checkups.
"I hope that her tumors will continue to shrink and that one day, she won't have to worry or think about any of this anymore," Tina says. "And I hope we're helping other kids too."
---
Related Blog Posts
This page was last updated on Wednesday, July 5, 2023