Remembrances: Mike Beaven (1936-2017)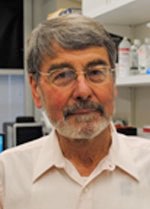 Michael A. Beaven died unexpectedly on Saturday, April 8, 2017, at age 80. Mike was an expert in mast cell biology and beloved friend and colleague of many. He had worked at the NIH since 1962.
Mike's work spanned the roles of mast cells in immunological processes, their activation via FceRI as well as stem cell factor, TLR ligands, and adenosine, the mechanisms for mast cell inhibition by glucocorticoids, and the signaling mechanisms used by these cells, including via phospholipase D, BTK, PI 3-kinase, and PTEN. He was encyclopedic within his field, and his scientific contributions were far-reaching. However, his contributions were further enhanced by his incredible generosity, kind personality, and superb mentorship, where his prior fellows would return to visit and to spend time in his lab. He always was willing to help others intellectually or experimentally.
Mike was born in London, England, on December 4, 1936, obtaining his B. Pharmacy and Ph.D. in Medicinal Chemistry at the University of London. He began at the NIH as a Visiting Fellow in the National Heart, Lung, and Blood Institute (NHLBI), but rapidly rose through the ranks to become a tenured scientist and eventually Deputy Chief, Laboratory of Molecular Immunology, NHLBI. He formally retired in 2010 after more than 47 years at NHLBI, but he then became an NIH Scientist Emeritus and continued to work essentially full time.
In the past seven years during his formal "retirement," Mike remained incredibly productive, coauthoring more than 20 primary publications as well as a number of reviews; and he continued to perform experimental work as well as being the "go to" scholar in a range of areas. Mike was known for his being an avid runner (he ran the Boston marathon three times, with a fastest time of just 3:03) and swimmer (where he continued to swim multiple days per week until his passing). He also was an avid reader, particularly related to World War II, with his having lived through the bombing of London, and had a most distinctive sense of humor and special glint in his eye. Mike is survived by his loving wife, Vida, of 53 years.
---
Tags:
stem cells
,
immunology
,
mast cells
,
FceRI
,
TLR ligands
,
adenosine
,
glucocorticoids
,
phospholipase D
,
BTK
,
PI 3-kinase
,
PTEN
,
mentoring
,
remembrances
Related Blog Posts
This page was last updated on Wednesday, July 5, 2023