Remembrances: Claude B. Klee (1931-2017)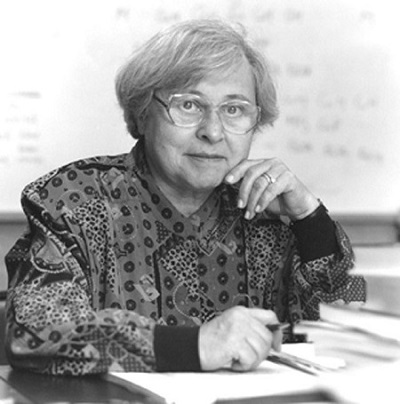 Claude Klee, a true giant among the many great NIH biochemists, died on Monday, April 3, after suffering a heart attack. She was 85 years old. Claude was a pioneer in the biochemistry of calcium-binding proteins and calcium-dependent signaling. Although retired for more than a decade, she remained an active mentor and advisor at the NIH in the National Cancer Institute (NCI) and a consistent presence on the Bethesda campus until her death.
Claude's signature accomplishments were in the study of the regulation of cellular processes by calcium. She extensively studied calmodulin, a calcium-binding protein of central importance to a wide spectrum of calcium-dependent functions, and she also discovered and characterized calcineurin, a calcium-regulated protein phosphatase that has become a primary target of immunosuppressive therapies to prevent transplant rejection. Her achievements in this field earned her worldwide recognition, including election to the Institute of Medicine in 1992.
A native of France, Claude received her medical degree from the University of Marseille in 1959 and got hooked on biochemistry during a one-year visit to the NIH National Institute of Mental Health (NIMH) in 1959–1960. She returned to Europe for a year to work in Basel, Switzerland, where she became acquainted with the purification of proteins. During this time, she met her future husband, Werner Klee, a fine biochemist in his own right who settled at NIMH (and who died in 2004). Claude returned to the NIH in late 1961, working with Herbert Tabor at the NIH National Institute of Arthritis and Metabolic Diseases (NIAMD, a precursor to NIDDK and NIAMS), with Louis Sokoloff at NIMH, and then with Maxine Signer at NIAMD. She started her own lab in 1966 at NIAMD. In 1974, she joined the newly-formed Laboratory of Biochemistry (LB) at the NCI, where she spent the rest of her scientific career, ultimately serving as Laboratory Chief from 1987 to 2002.
Since her retirement, Claude remained closely associated with the LB, now Laboratory of Biochemistry and Molecular Biology in NCI, where she actively participated in advising and mentoring and maintained an office in Building 37. In addition to her election to the IOM, now referred to as the National Academy of Medicine, Claude was elected to the American Academy of Arts and Sciences, and she received the Women in Science and Engineering (WISE) Lifetime Achievement Award, the FASEB Excellence in Science Award, and numerous meritorious achievement awards from NIH and HHS, including a 1991 Presidential Executive Rank Award.
Those who knew Claude will remember her vigorous advocacy for biochemistry and for scientific rigor, but also her unstinting generosity in collaboration, in sharing reagents and materials, and in promoting the careers of those who worked for and with her. Claude is survived by her children, Ann and Charles, and her grandchildren, Mirea and Arno.
---
Tags:
remembrances
,
calcineurin
,
calcium
,
signaling
,
proteins
,
binding
,
mentoring
,
calmodulin
,
phosphatase
,
immunosuppression
,
therapy
,
transplant
,
rejection
,
France
,
Europe
,
Switzerland
,
biochemistry
,
reagents
,
generosity
,
materials
,
careers
Related Blog Posts
This page was last updated on Wednesday, July 5, 2023