A Golden Injection for Christmas
This past holiday season, 14-year old Gillian Copejans was the second person in the world to get an incredible gift: leading-edge gene-therapy treatment at the NIH Clinical Center.
According to his mom, Annemie Pasmans, that single moment when he received "the golden injection," transformed everything for her son and his family. "Now, Gillian gets to have a life," she said.
Wheelchair-bound—but brimming with energy, nonstop smiles, and radiant red curls—Gillian received the experimental therapy, a one-time "dose" of 35 trillion cells, each carrying a properly spelled, replacement version of the gigaxonin gene, into Gillian's spinal cord. The treatment is designed to counter his giant axonal neuropathy, or GAN.
GAN is an extremely rare neurodegenerative condition caused by one or more of 52 different misspellings in the gigaxonin gene. GAN limits Gillian's ability to walk, use his hands, speak, and also restricts his vision and ability to think.
Gillian is Annemie's fourth child so she is quite familiar with how kids should develop. Although she knew something was wrong with her child by the time he was 2 years old, Gillian's condition wasn't diagnosed until he was 7, after many visits to doctors failed to identify the very rare condition.
Gillian's new gene-therapy treatment at NIH stemmed from research begun in 2008 by Dr. Steven Gray of the University of North Carolina, Chapel Hill. Dr. Gray has been searching for a cure for GAN, working in cells and mice to pave the way for future treatments for people.
Recently, Dr. Gray connected with pediatric neurologist Dr. Carsten Bönnemann and his colleagues at the NIH Clinical Center, who took over the project in order to test the new treatment in children like Gillian. If the next several months go well, Dr. Bönnemann is hopeful that the approach will open doors for delivering a range of properly functioning genes via the spinal cord to people with neurodegenerative conditions such as Lou Gehrig's disease, spinal muscular atrophy, or others.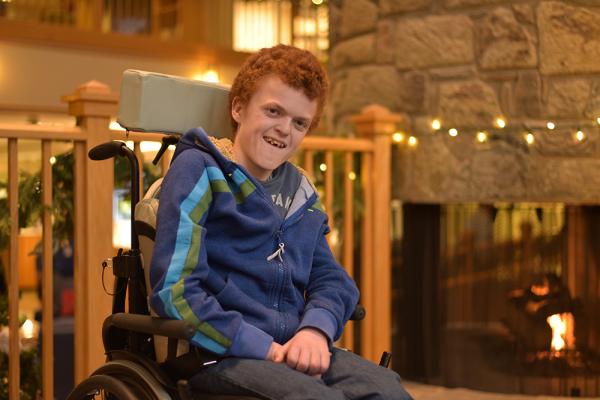 According to Dr. Bönnemann, the new gene will start producing replacement gigaxonin protein within 3 weeks of the injection. Although the protein can't be traced because it disappears within nerve cells, he and other researchers will be monitoring Gillian's symptoms closely over time to look for improvement in his ability to move, speak, and see.
Gillian will also require intensive rehabilitation therapy that will start as soon as he goes back to his hometown of Antwerpen, Belgium. He is looking forward to plenty of French fries, his favorite food, and maybe some chicken wings, which he can order in restaurants in English now thanks to lessons provided at The Inn.
Like every winter holiday season at The Inn, nearly every day featured a special treat or event, including countless appearances from Santa. On December 16, the cheerful holiday hero arrived with much fanfare via motorcycle, thanks to the Montgomery County Police Department.
Gillian says the best part of this year's holiday season at The Inn was a trip to the North Pole, a "fantasy flight" that transports Inn children on a 30-minute airplane ride from a local airport, along with Santa's helpers.
Dr. Bönnemann praised Gillian's tenacity and cheerfulness, saying he is a true champ, agreeing without protest to undergo the many required treatment-related tests and procedures. "His spirit is just so great," he says.
Gillian doesn't see himself as any kind of a hero. Although, with a brand-new set of genes flowing throughout his nervous system, he does admit to feeling "maybe just a little bit special."
Without a doubt, Gillian's new gene "gift" superseded any offering Santa could provide, says Annemie. "This has been our best Christmas ever."
---
Related Blog Posts
This page was last updated on Wednesday, July 5, 2023