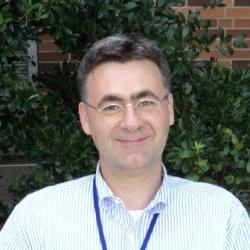 Carsten G. Bönnemann, M.D.
Senior Investigator
Neuromuscular and Neurogenetic Disorders of Childhood Section
NINDS
Research Topics
The overall clinical and laboratory interests of the Section (NNDCS) focus on early onset neuromuscular disorders of childhood, on their genetic and molecular pathogenesis, the pathways involved, and on developing preclinical translational models to lead to actual clinical trials. In the clinical part of the NNDCS we are leveraging next generation genomic technology towards the diagnosis and gene discovery in children with complex neuromuscular and neurogenetic conditions, identifying new genetics entities as well as establishing phenotypic spectra and defining the natural history of selected genetic entities. NNDCS has contributed significantly to the knowledge about the genetic bases, natural history and outcome measures in the congenital muscular dystrophies and has initiated a first clinical trial in this patient group (using omigapil). Research in the NNDCS lab further focuses on the molecular pathogenesis of early onset muscle disorders using cellular and newly generated animal models, with the goal of defining opportunities for therapeutic interventions. A particular effort is devoted to gene editing approaches as well as RNA directed therapeutics directed at allele specific knockdown of dominantly acting mutations. We are also determining natural history and outcome measures in giant axonal neuropathy and in this condition have initiated the first intrathecal AAV9 mediated gene transfer trial in human.
Biography
Dr. Bonnemann received his MD from Freiburg University, Germany. He completed pediatric training and venia legendi (Habilitation) in Germany. Residency in pediatric neurology at MGH/Harvard was followed by postdoctoral work with Dr. Louis Kunkel at Children's Hospital Boston working on the molecular genetics of muscular dystrophy. In 2002 he joined the Children's Hospital of Philadelphia/University of Pennsylvania as Assistant Professor, Co-Director of the Neuromuscular Program, and Director of the Neurogenetics Clinic. He joined NINDS in 2010 as Senior Investigator and Chief of the Neuromuscular and Neurogenetic Disorders of Childhood Section. Dr. Bonnemann was a Pew Fellow in the Biomedical Sciences. He received the 2009 Derek Denny Brown Neurological Scholar Award. Research in Dr. Bonnemann's laboratory revolves around molecular mechanisms underlying early onset muscle disease (congenital muscular dystrophies, congenital myopathies, and reducing body myopathy). The laboratory's goal is to identify the genetic and cellular mechanisms in these conditions in order to develop strategies for molecular-based treatments.
Related Scientific Focus Areas
This page was last updated on Wednesday, September 15, 2021