Need a Mentor? FELCOM Can Help
Once you've earned that Ph.D. and are entering the first stage of a professional scientific career, the challenges are many—but you are not alone. Postdoctoral fellowships at the NIH IRP are unique in that fellows in training have countless opportunities to engage with established scientists and clinicians across a broad range of scientific focus areas.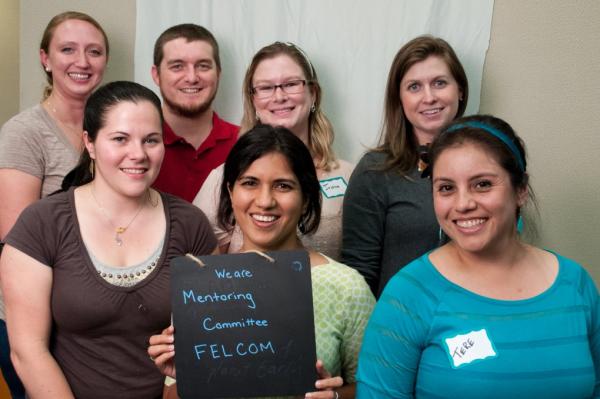 According to the National Postdoctoral Association, the postdoctoral fellowship is a "period of mentored research and training for the purpose of acquiring professional skills needed to pursue a career path of his or her choosing." While the primary goal for NIH IRP fellows is to perform excellent scientific research, a key component of the postdoctoral fellowship is to establish mentoring relationships with senior-level scientists or advisors. Not only can a good mentor help you be productive during your time at NIH, but she or he can also help you successfully navigate your next career step.
A key resource available to NIH fellows in establishing their professional relationships is the Mentoring Committee, part of the Fellows Committee (FELCOM). Our goals are to educate the postdoctoral community about the benefits of mentoring at NIH and ensure that fellows' mentoring needs are being met. As NIH represents the best of biomedical research, we should also lead in terms of providing the best training environment for each new wave of young scientists, including high standards for mentoring. Therefore, the Mentoring Committee is also involved in advocating for best practices in mentoring for all of NIH.
In future "I Am Intramural" blog entries, we will share thoughts on mentoring issues for fellows and tips for how to improve your mentoring relationships. If you are a mentee, one of the first steps towards effective mentoring is setting your own goals, as well as understanding your strengths and weaknesses. So our next blog topic to come will cover self-assessments and tools you can use to help start a conversation with your mentor. Be on the lookout for it soon!
And, in the meantime, check out the Mentoring Committee website. You'll find links to a number of resources at both the NIH and beyond. The Mentoring Committee meets the second Friday of every month to discuss examples of excellence in mentoring and areas that can be improved. All fellows are welcome to join!
---
Related Blog Posts
This page was last updated on Wednesday, July 5, 2023