Let's Collaborate! 10 Elements for Building Successful Teams
What attracts talented scientists to the IRP? And, once they are here, why do they stay? One major factor is the proximity to brilliant colleagues and collaborative relationships across the spectrum of biomedical research.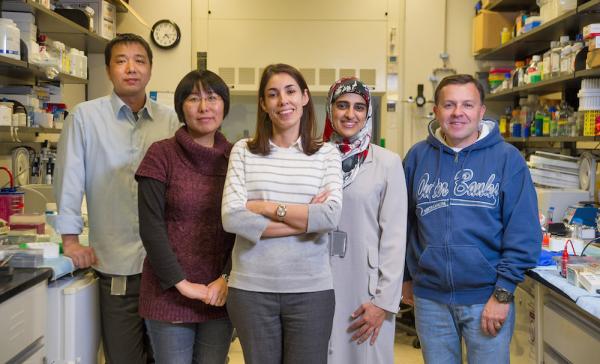 Seeking to understand the key elements that contribute to successful team science, we studied a number of NIH research teams to discover the secrets of their success. The results are examined in the second edition of Collaboration and Team Science: A Field Guide, which contains new insights from individuals, teams, and organizations around the world.
While the characteristics of thriving teams often do not surprise people, it can be extremely difficult to change habits and behavior so as to put them into practice every day. Below are the top ten elements we found that contribute to successful research teams.
10 Elements of Successful Teams
Trust
It is not possible to have a successful collaboration without trust. Trust provides the foundation for the team. It underpins psychological safety, candid conversation, and successful conflict management.
Vision
A strong vision attracts people to the team and provides a substrate for achieving team goals and objectives. Without a captivating vision, people will have trouble developing their interests and contributing.
Self-awareness and EQ
Successful development of emotional intelligence (EQ) and self-awareness among team members contributes to effective team functioning and increases the chances of building sustainable relationships.
Leadership
Collaborative leadership elicits and capitalizes on team members' strengths. Leadership opportunities abound in teams because new ideas and directions can be easily spun-off to provide junior members opportunities to lead.
Mentoring
Good mentoring is synchronous with strengthening team dynamics. Didactic training or skills workshops may introduce the concepts of collaboration to junior colleagues and give them opportunities to experience it for themselves.
Team Evolution and Dynamics
Research teams form and develop through four critical stages to achieve peak performance. When individuals from diverse backgrounds come together on teams, their roles and interactions must evolve over time in order to become highly functional groups.
Communication
Candid discussions are only possible in a safe environment where nobody will suffer negative consequences from stating their views. Having difficult conversations in a respectful manner enables the team to discuss new, and even risky, scientific ideas.
Recognition and Reward
Individual contributions should be recognized, reviewed, and rewarded in the context of a collaboration, which can be achieved by integrating collaborative language into the review criteria.
Conflict and Disagreement
Conflict can be both a resource and a challenge—a resource because disagreement expands everyone's thinking, if they are open to it, and a challenge because if it is not handled skillfully, conflict will impede effective team functioning.
Navigating and Leveraging Networks and Systems
Highly collaborative teams can transcend organizational structures, extending their reach across and beyond the organization, and they can help establish strong networks of researchers who together can accomplish more than they could as individuals.
Over the next year, we'll share more detailed information on a number of these. But if you don't want to wait and are ready to explore engaging in team science, begin by downloading the Field Guide and looking for opportunities to put the recommendations into effect towards your current and future collaborations.
---
Related Blog Posts
This page was last updated on Wednesday, July 5, 2023