Restoring Body and Mind
How Bonnie Hodsdon is Expanding the Reach of Occupational Therapy Research
"Man, through the use of his hands, as they are energized by mind and will, can influence the state of his own health." —Mary Reilly (1916–2012), an occupational therapist visionary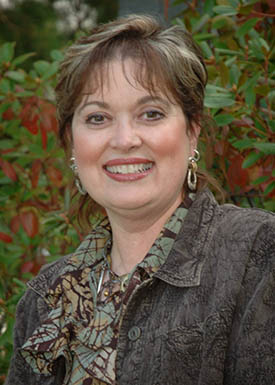 "Linda" couldn't write her name, and Bonnie Hodsdon, an NIH occupational therapist, was trying to help her.
Like many of the patients Hodsdon sees at the NIH Clinical Center, Linda had writer's cramp, a neurological disorder in which the hand muscles involuntarily contract, making daily fine-motor tasks such as writing nearly impossible. Often, just thinking about writing triggered the debilitating muscle contractions. Linda had become accustomed to using a stamp and inkpad to sign consent forms because she couldn't hold a pen. Hodsdon, the chief of the Rehabilitation Medicine Department's Occupational Therapy Section (OTS), was working on a clinical research protocol to test a new assistive-writing device—a hand splint that helped to control muscle contractions in people with writer's cramp as well as other types of focal hand dystonias (hand-movement disorders). After four weeks of training and practice with the device, most patients saw improvement in their ability to write.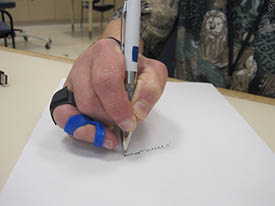 And Linda? She was able to write entire pages without stopping.
Developing innovative ways to treat motor disabilities
Physical therapy and occupational therapy, often lumped together, are distinct fields. Physical therapy helps patients recover from an injury, cope with pain, and increase muscle strength, flexibility, range of motion, and endurance. Occupational therapy, on the other hand, aims to improve the quality of life of people—who have undergone surgery or who have cancer or other debilitating disorders—by maintaining or restoring their ability to perform daily, routine tasks. Occupational therapists work with a wide range of people, including those struggling with developmental delays, visual impairments, cognitive changes, behavioral health challenges, and physical disabilities.
Hodsdon first learned about occupational therapy when she was an undergraduate student at the Virginia Commonwealth University (Richmond, Virginia). The summer after her freshman year, she worked in the Lynchburg Training School and Hospital Rehabilitation Center (Lynchburg, Virginia), which housed people with severe physical and mental-health conditions. She was inspired by the occupational therapists who were helping children with cerebral palsy (CP) improve their swallowing techniques so they could eat independently. CP is a group of disorders that affects a person's ability to control their muscles, making movements such as swallowing and maintaining balance and posture difficult.
"Right then and there I thought this is what I want to do," said Hodsdon. She spent the rest of her undergraduate years pursuing a Bachelor of Science degree in occupational therapy and graduated in 1973. She arrived at NIH in 1974 as a staff occupational therapist and worked her way up to becoming chief of the OTS in 1995.
Occupational therapy—a field continuing to evolve
Occupational therapy has its roots in World War I (1914–1918), when reconstruction aides taught wounded soldiers activities like weaving, basketry, and woodworking. In the aftermath of life-changing injuries, these lessons served as new avenues for soldiers to improve their productivity and morale. Early pioneers of the field noticed that these tasks often promoted physical and emotional healing.
Hodsdon's long career in occupational therapy has given her a unique view into how the field has evolved. Licensing in the field began in the 1970s. Until 2008, one needed to earn a bachelor's degree to enter the profession. Now, master's-level training with a greater emphasis on research competency is required to become an occupational therapist. Some programs offer a doctoral degree. Moreover, the field has integrated evidence-based practice, with NIH at the forefront of research, into new, more effective, ways to improve daily functions. For example, Hodsdon designed and tested a finger orthotic (commercially available) to help support the finger joints of patients with ligamentous laxity, a condition in which hypermobile joints that are very flexible can cause pain.
OTS has grown
As chief of the OTS, Hodsdon has been developing innovative ways to help patients with motor disabilities relearn how to perform daily tasks or adapt to their situation. She specializes in the clinical care of people with arthritis and is involved with research on focal hand dystonia, women's health, congenital muscular dystrophy, and the functional effects of rare or undiagnosed diseases. She has also coordinated collaborative work between occupational and physical therapy by combining biomechanical and neurodevelopmental concepts.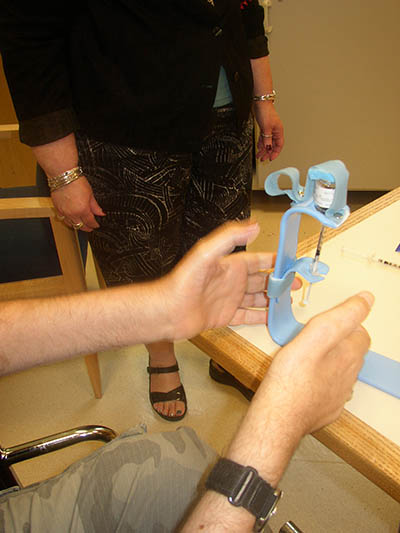 The OTS has also grown in Hodsdon's time at NIH. Previously, the OTS played only a supportive role for various research programs at NIH. Today, all OTS occupational therapists are associate investigators in collaborative research projects. Their activities include designing methods to measure the effectiveness of drug trials or phenotyping rare diseases. Hodsdon's influence has resulted in hiring occupational therapists who have specialized skills, or board certifications, that prepare them to work with patients who have physical disabilities, behavioral health challenges, pediatric diseases, low vision, and lymphedema.
She has also championed new research directions such as the Women's Health Initiative. The initiative includes research on the mental health of women who have primary ovarian insufficiency, which in many cases results in an inability to have children. She is currently working with the Eunice Kennedy Shriver National Institute of Child Health and Human Development and its patients who have androgen insensitivity syndrome and other reproductive disorders and are dealing with psychosocial, sexuality, and body-image issues.
Part of Hodsdon's job involves designing, fabricating, and modifying assistive devices that help patients adapt to their disabilities. People with certain autoimmune disorders, for example, need to wear guards to protect their enlarged spleens. But when she realized that the spleen guards were too cumbersome for children to wear, she designed and fabricated one that allowed them to return to safe and inclusive outside play and sports activities.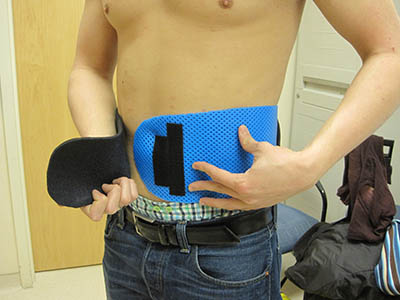 Still, there are patients who are very hard to help. In those with cancer, their bone-marrow stem cells—which are needed to produce new blood cells—may be depleted due to the toxic effects of chemotherapy. The depletion can be treated with donated stem cells, but sometimes the donor cells view the recipient's body as foreign and attack in what is known as graft-versus-host disease. In some cases, the hands may be affected and the muscles can tighten and contract over time and be difficult to use. Hodsdon has explored a variety of novel orthotics and strategies to help patients maintain normal function in their hands.
"It's almost nearly impossible [to prevent hand immobilization] in patients who have serious graft-versus-host disease," said Hodsdon. "But we keep trying to figure out what is the next-best design or exercise to do with the next patient to try and keep the hands from becoming immobilized."
Hodsdon, however, is encouraged that NIH and the Clinical Center are conducting research aimed at developing new treatments for those patients and others. She appreciates how the collaborative environment at NIH is providing hope for people with debilitating diseases. She's inspired by the patients themselves, too.
"I'm mentored daily by my patients who tell me what it's like living with their diagnosis and the functional impact from it," she said. They are "helping me understand further what it is I need to think about to help them regain function or find some meaning or purpose in their daily life."
---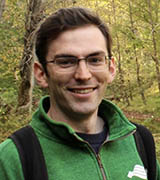 Ethan Smith is a postbaccalaureate fellow in the National Institute of Nursing Research. There, he works on clinical research aimed at developing blood-based biomarkers for traumatic brain injury in military service members and veterans. He is currently preparing applications for graduate school in clinical psychology. Outside of work he enjoys playing ultimate frisbee, cooking, and talking with friends.
This page was last updated on Tuesday, May 17, 2022