Research Briefs
Read about NIH scientific advances and discoveries by intramural scientists:
NINDS: REPLENISHING NEURONAL MITOCHONDRIA LEADS TO SPINAL CORD REGROWTH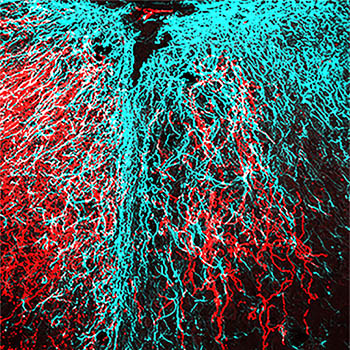 After spinal-cord injuries, many patients have difficulty recovering due to the seemingly permanent damage to their axons, or nerve fibers. In studies conducted on mice, NINDS researchers and colleagues from the Indiana University School of Medicine (Indianapolis) have discovered potential mechanisms for axonal regrowth. Many experiments have led them to identify impaired mitochondria as a key target.
The energy-generating mitochondria are critical for promoting axon growth. One of their primary functions is creating adenosine triphosphate, or ATP, our body's fuel source. But when the spinal cord axons are damaged, the nearby mitochondria are often damaged and lose their ability to produce ATP. Compounding the problem is that in adult nerves, damaged mitochondria can't be replaced because they are kept stationary by the protein syntaphilin. The scientists observed, however, that—compared with control animals—syntaphilin-knockout mice show significantly more axonal regrowth after spinal-cord injury. In further experiments, the mice were given creatine, which enhances the formation of ATP. The knock-out syntaphilin mice showed the most robust axon regrowth in the injured area. These findings suggest that enhancing mitochondrial axonal transport by depleting syntaphilin and increasing the energy supply within the injured spinal-cord nerves could promote regeneration and functional restoration after spinal-cord injuries. (NIH authors: Y. Xie, N. Huang, K.A. Chamberlain, and Z.H. Sheng, Cell Metab 31:623–641, 2020; DOI:10.1016/j.cmet.2020.02.002)
---
NEI: TOOTH-ENAMEL PROTEIN MAY BE THERAPEUTIC TARGET FOR BLINDING DISEASE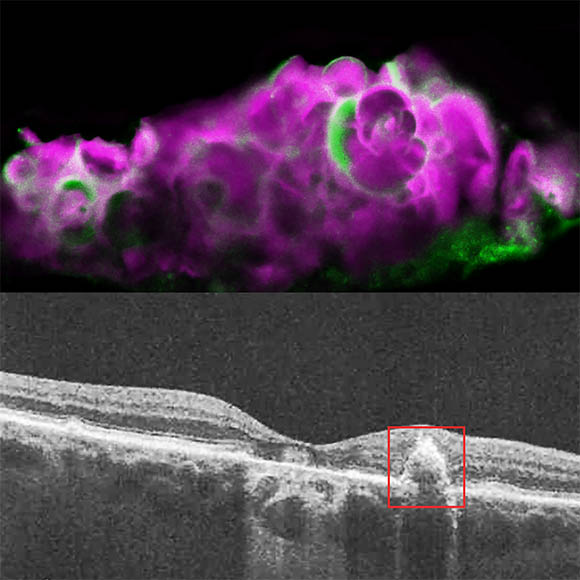 NEI researchers have discovered that the protein amelotin, which normally deposits mineralized calcium in tooth enamel, may play a role in the development of dry age-related macular degeneration (dry AMD). Dry AMD, for which there is no treatment, causes progressive loss of vision due to the death of the retinal pigment epithelium (RPE) and the photoreceptor cells. Deposits (some are called soft drusen) of cholesterol, lipids, proteins (including amelotin), and minerals accumulate at the back of the eye. Amelotin is responsible for the deposition of a calcium-containing mineral compound called hydroxyapatite (HAP), a key component in tooth enamel and bone, in the back of the eye. The researchers discovered that if they starved cultured RPE cells for nine days, the cells began to deposit HAP. The nutritional stress upregulates amelotin protein expression, which augments HAP mineralization in RPE cell culture. Inhibiting amelotin expression in the RPE cells blocks this event. By examining human cadaver eyes, the researchers verified that HAP and amelotin occur only in eyes with dry AMD.
"Conceptually, you could see coming up with drugs that specifically block the function of amelotin in eye," said Graeme Wistow, senior author of the study. "This [blocking] might delay the progression of the disease. But we won't know until we try it." (NIH authors: D. Rajapakse, K. Peterson, S. Mishra, J. Fan, J. Lerner, M. Campos, and G. Wistow, Transl Res 219:45–62, 2020; DOI:10.1016/j.trsl.2020.02.007)
---
NCI: GENETIC INSIGHTS INTO SUSCEPTIBILITY FOR OSTEOSARCOMA IN CHILDREN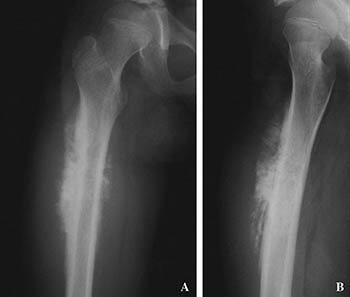 Researchers at NCI collaborated with scientists in the United States and around the world to pinpoint the genetic alterations responsible for increased susceptibility to osteosarcoma, a common bone cancer of children and adolescents. The study found that about a quarter of people with osteosarcoma carry a rare germline pathogenic or likely pathogenic variant in a cancer-susceptibility gene, and more patients carried likely damaging variants in autosomal-dominant cancer-susceptibility genes.
With a total of 1,244 patients and 1,062 cancer-free control subjects, the study represents the most people ever evaluated for variants of cancer-susceptibility genes in a rare solid pediatric cancer. The team used a combination of next-generation whole-exome sequencing and targeted sequencing methods to assess the frequency of variants in 238 cancer-susceptibility genes. The results showed that about 28% of the patients had a pathogenic or a likely pathogenic variant of a cancer-susceptibility gene. On the other hand, only 12% of control subjects had such a variant.
When looking at a subset of 166 genes known to be inherited in an autosomal-dominant fashion (one copy of a mutant gene and one copy of a normal gene on a pair of non-sex chromosomes), the researchers found that 18% of patients carried harmful variants in the autosomal-dominant genes compared with only 5% of control subjects. Importantly, the youngest patients (0–10 years) were the most frequent carriers of harmful gene variants.
The authors concluded that if a child is detected with a gene variant associated with osteosarcoma, genetic testing may be useful for the child's family members because they may be predisposed to other types of cancers. Apart from confirming the role of previously identified genes such as TP53, the researchers identified several new gene variants that can provide useful insights into the biology of osteosarcoma and act as additional tools for preventive and early detection strategies of this disease. (NCI authors: L. Mirabello, B. Zhu, R. Koster, E. Karlins, M. Dean, M. Yeager, M. Gianferante, L.M. Morton, D. Karyadi, L. Song, M. Pinheiro, B.D. Hicks, B. Zhu, M. Wang, A. Hutchinson, M. Tucker, J. Sampson, M.T. Landi, N.D. Freedman, R.N. Hoover, S.J. Chanock, and S.A. Savage, JAMA Oncol, 2020; DOI:10.1001/jamaoncol.2020.0197)
---
NIEHS: AUTOIMMUNITY MAY BE RISING IN THE UNITED STATES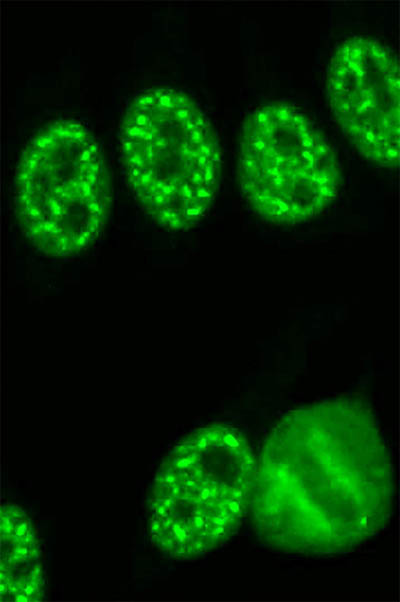 A group of NIEHS researchers has shown that autoimmunity appears to be increasing in the United States. They found that serum concentrations of antinuclear antibodies (ANAs)—a biomarker observed in most autoimmune conditions—have steadily risen over the last 25 years, particularly in males, non-Hispanic whites, adults 50 years and older, and most alarmingly in adolescents. The study included 14,211 participants, 12 years and older, in the U.S. National Health and Nutrition Examination Survey. Using immunofluorescence, a technique that uses fluorescent dye to visualize antibodies, the researchers examined the frequencies of ANAs in subjects from three time periods: 1988–1991, 1999–2004, and 2011–2012. Only 11% of participants in 1988–1991 had detectable ANAs in their serum, but ANA prevalence rose to 11.5% in 1991–2004 and to 15.9% in 2004–2012. Teenagers had the largest increases—from a twofold increase to a threefold increase over the three time periods. The scientists suggested that changes in lifestyles or the environment might be to blame. Further studies are needed to delineate possible causes and develop preventative measures. (NIH authors: C.G. Parks, C.R. Weinberg, D.C. Zeldin, and F.W. Miller, Arthritis Rheum 2020; DOI:10.1002/art.41214)
---
NICHD, NIDCR: TARGETING A CELLULAR SIGNALING PATHWAY TO PREVENT TUMOR GROWTH
NICHD AND NIDCR scientists and colleagues at other institutions developed a way to stop tumors from growing new blood vessels (angiogenesis). Cellular signaling by growth factors such as vascular endothelial growth factor (VEGF) play a vital role in tumor angiogenesis. Anti-angiogenic therapies aimed at directly blocking VEGF are overwhelmed by the tumors' ability to produce more of this growth factor. The researchers found, however, that they could thwart the tumors' response by disabling key enzymes in the VEGF signaling pathway.
Interestingly, the downstream cellular pathway of these growth factors involves enzymes that convert the compound phosphatidylinositol-(4,5)-bisphosphate (PIP2) into substrates that drive the process of angiogenesis. These substrates are converted back into PIP2 through a phosphoinositide (PI)-recycling system that enables the angiogenesis process to continue. The researchers showed they could stop the growth of tumors by blocking any of the enzymes in this PI-recycling series.
The scientists showed that disruption of the PI-recycling system significantly decreased angiogenesis in zebrafish (Danio rerio) embryos and chemically treated human endothelial cells, and slowed the growth of pre-existing tumors in mice (Mus musculus). For the first two models, the researchers either disabled the genes for one or more of the enzymes or administered drugs that that blocked the recycling enzymes. For the mouse model, they targeted the tumors with both genetic and chemical ablation of recycling enzymes. In their paper, the authors concluded that the "findings highlight the role that phosphoinositide recycling plays in tumor angiogenesis, and suggest that targeted inhibition of PI recycling may provide a useful anti-angiogenic modality for the treatment of cancer." (NIH authors: A.N. Stratman, O.M. Farrelly, C.M. Mikelis, M.F. Miller, Z. Wang, V.N. Pham, A.E. Davis, M.C. Burns, S.A. Pezoa, D. Castranova, J.J. Yano, T.M. Kilts, J.S. Gutkind, and B.M. Weinstein, Nat Commun 11:article number 1204, 2020; DOI:10.1038/s41467-020-14956-z)
---
NCI, NIA: HIGHER DAILY STEP COUNT LINKED WITH LOWER RISK OF DEATH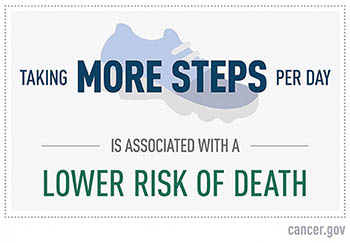 Should one strive to take more steps per day? A recent study by NCI, NIA, and CDC investigators found that higher daily step counts—but not the intensity of stepping—were associated with lower mortality risk from all causes.
This observational study was conducted through the CDC's National Health and Nutrition Examination Survey, allowing for data collection from a representative sample of U.S. adults aged 40 years and over. The participants wore accelerometers for a seven-day period (2003–2006) so researchers could track step counts and step intensity (steps/minute). The participants were then followed for mortality through December 2015 via the National Death Index. The researchers calculated associations between mortality and step number and intensity.
This study found that, compared with taking 4,000 steps, taking 12,000 steps per day (walking about six miles) was the healthiest option and associated with 65% lower risk of all-cause mortality. Taking 8,000 steps per day (walking about four miles) was associated with a 51% lower risk. The researchers were surprised that they didn't find an association between the intensity of stepping and all-cause mortality.
The study is observational and cannot prove causality. Nevertheless, more steps per day were significantly associated with lower all-cause mortality; higher step counts were also associated with lower rates of death from cardiovascular disease and cancer. The findings confirm recommendations that, to stay healthy, adults should be more physically active and sit less during the day. (NIH authors: P.F. Saint-Maurice, R.P. Troiano, B.I. Graubard, E.J. Shiroma, and C.E. Matthews; JAMA 323:1151–1160, 2020; DOI:10.1001/jama.2020.1382)
---
NINDS: MEMORY RETRIEVAL LINKED TO TEMPORALLY ORGANIZED NEURAL OSCILLATIONS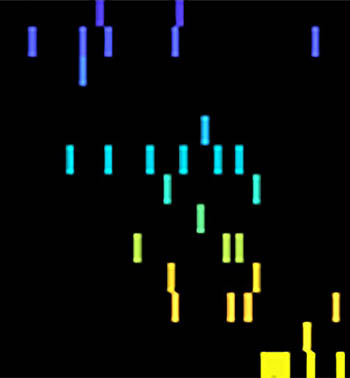 Although animal studies have suggested a replay of neuronal activity is related to memory retrieval, NINDS researchers had a unique opportunity to study this effect in humans. In a clinical trial of drug-resistant epilepsy patients, the scientists monitored the electrical activity of thousands of neurons while the patients participated in word-association tasks. (The patients had temporary surgically implanted brain electrodes intended to monitor brain activity in hopes of identifying the source of their seizures.) As participants committed pairs of unrelated words to memory, scientists recorded unique firing patterns of individual neurons associated with each new word pattern. Later, when a patient was shown one of the words, a similar firing pattern was replayed milliseconds before the patient recalled the paired word.
Further research can help uncover more clues about the mechanisms underlying memory consolidation and retrieval. Additionally, it can help us understand what goes wrong when neuronal circuits break down in memory disorders. (NIH authors: A.P. Vaz, J.H. Wittig, S.K. Inati, and K.A. Zaghloul, Science 367:1131–1134, 2020; DOI:10.1126/science.aba0672)
[BY EMILY MEYER, NEI]
---
NEI, NIMH: VISUAL EVENTS HAVE 100 MILLISECONDS TO HIT BRAIN TARGET OR GO UNNOTICED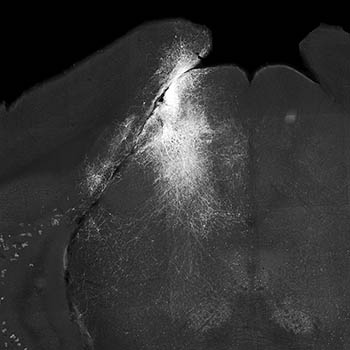 NEI scientists have defined a 100-millisecond window that determines whether the brain notices or ignores visual events. The researchers used genetically modified mice in which the superior colliculus (SC)—a major center in the brain for processing basic visual events—could be controlled via optogenetics. Optogenetics is the technique of using a beam of light to turn neurons on and off. Those mice were shown a Gabor patch (a pattern used as a visual stimulus) and trained to lick a spout when they perceived a change in the patch's orientation. When the researchers used optogenetics to temporarily turn off neurons in the SC, they found that the inhibition had to occur within a specific 100-millisecond interval after the visual event; if the inhibition was outside that 100-millisecond timeframe, the mouse's decisions were mostly unaffected. Understanding these mechanisms by which visual information is processed has implications for conditions that affect visual perception and attention, such as attention-deficit hyperactivity disorder. (NIH authors: L. Wang, K. McAlonan, S. Goldstein, C.R. Gerfen, and R.J. Krauzlis, J Neurosci, 2020; DOI:10.1523/JNEUROSCI.2642-19.2020)
---
NCI: SELUMETINIB IMPROVES OUTCOMES FOR CHILDREN WITH NEUROFIBROMATOSIS
Neurofibromatosis type 1 (NF1) is a genetic disorder characterized by changes in skin pigmentation and the growth of inoperable tumors—called plexiform neurofibromas—along nerves in the skin, brain, and other parts of body. The tumors, which grow quickly and may eventually constitute 20% of a child's body weight, can cause disfigurement, motor dysfunction, and pain. No effective therapies exist. Promisingly, an NCI-led phase 2 clinical trial has shown for the first time that the drug selumetinib can sometimes shrink the inoperable tumors.
The trial enrolled 50 children ages 3 to 17 who had NF1 and inoperable plexiform neurofibromas in 2015 and 2016 and took place at four sites: NIH Clinical Center (Bethesda, Maryland), Children's Hospital of Philadelphia (Philadelphia), Cincinnati Children's Hospital Medical Center (Cincinnati), and Children's National Hospital (Washington, D.C.). As of March 2019, 35 children (70%) had a confirmed partial response with at least a 20% shrinkage of the tumor volume. Patients and their parents also reported improved range of motion and strength, a better quality of life, and less pain.
The study's lead, Brigitte Widemann, who has been in search of a drug for NF1 since 2001, is excited about the results but believes a lot more needs to be done to help these children. (NIH authors: A.M. Gross, P.L. Wolters, E. Dombi, A. Baldwin, P. Whitcomb, S. Martin, M.C. Roderick, D.C. Pichard, A. Carbonell, S.M. Paul, J. Therrien, O. Kapustina, K. Heisey, C.J. Peer, W.D. Figg, M. Smith, J. Glod, S.M. Steinberg, D.J. Venzon, L.A. Doyle, and B.C. Widemann, N Engl J Med 382:1430–1442, 2020; DOI:10.1056/NEJMoa1912735)
[BY SUNITA CHOPRA, NCI]
---
NCI: COMBINED BIOPSY METHOD PROVIDES MORE ACCURATE PROSTATE CANCER DIAGNOSIS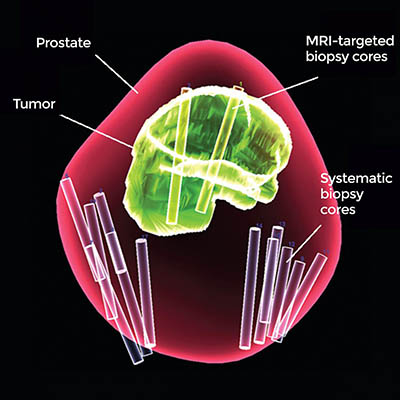 Currently, the most common method for diagnosing and grading prostate cancer is 12-core systematic biopsy, which is a non-targeted method of taking systematically spaced samples from the prostate gland to find cancer. Because these biopsies are not targeted to specific areas of suspected cancer, areas of cancer may be missed. Unlike systematic biopsy, MRI-targeted biopsy uses imaging to direct biopsies to regions of suspicion. While MRI-targeted biopsy is known to detect more high-grade cancers than systematic biopsy, debate persists regarding whether MRI-targeted biopsy should replace systematic biopsy or if both techniques should be used together. In a large study of 2,103 men conducted by NCI researchers, combined biopsy proved to be more accurate and increased the detection of clinically significant prostate cancer compared with either strategy alone. The authors concluded that the increased diagnostic certainty made possible with combined biopsy should help reduce both the overtreatment and undertreatment of prostate cancer patients. (NIH authors: M. Ahdoot, A. Wilbur, S. Reese, A. Lebastchi, S. Mehralivand, P. Gomella, J. Bloom, S. Gurram, P. Pinksy, H. Parnes, W.M. Linehan, M. Merino, P. Choyke, J. Shih, B. Turkbey, B. Wood, P. Pinto; N Engl J Med 382:917-928, 2020; DOI 10.1056/NEJMoa1910038)
This page was last updated on Thursday, March 24, 2022