Announcements
NOTE
In support of the Office of Personnel Management guidance to strengthen our efforts to protect the federal workforce and to ensure continuity of operations during the COVID-19 pandemic, most lectures and events are being held virtually or have been cancelled or postponed. Please check event details to determine status.
OITE RESOURCES FOR TRAINEES
Now Online
OITE is here to help NIH fellows and staff enhance their training experience through wellness, career exploration, and many other professional development activities. Due to the current situation and pandemic, OITE has moved many of their resources online. Check out the list if resources below and visit https://www.training.nih.gov/ to see what OITE is offering now.
The Career Services Center can help trainees with transitioning between different life and career stages, developing new professional skills, and getting to know oneself. To schedule a virtual career or wellness advising appointment, please visit https://www.training.nih.gov/career_services/appointments.
There are also three job boards that get updated with new positions every Friday available online at:
https://www.training.nih.gov/career_services/jobs
https://www.training.nih.gov/career_services/postdoc_jobs_nih
https://www.training.nih.gov/career_services/postdoc_jobs
The OITE staff and wellness advisors also host virtual workshops, discussion groups, and other events that support building resilience and community, developing professional skills as well as various wellness activities like mindfulness meditation and stress management including how to cope with the new stresses of the COVID-19 pandemic. Many of the past events are available through videocast:
Job Search Strategies - https://attendee.gotowebinar.com/register/6165081949173474059
Career Planning for Scientists - https://attendee.gotowebinar.com/register/204120341187104779
Strategies and Tools for Dealing with Stress During The Coronavirus Pandemic -https://attendee.gotowebinar.com/register/640637452789607693
Succeeding in Graduate School (For Future & Early Graduate Students) -https://attendee.gotowebinar.com/register/3757016244647170572
Using Linkedin for Career Success - https://attendee.gotowebinar.com/register/8801536010762884878
Creating and Presenting Dynamic Posters -https://attendee.gotowebinar.com/register/3639458660428498444
Stress Management and Self-Care for Scientists: During Covid-19 and Beyond - https://attendee.gotowebinar.com/register/460492368472098571
The Academic Job Search: Evaluating Positions and Negotiating Offers - https://attendee.gotowebinar.com/register/301564559104110348
Upcoming events can be found at https://www.training.nih.gov/events/upcoming.
For more information on the current NIH response to the coronavirus visit the NIH Intranet page at https://employees.nih.gov/pages/coronavirus/index.aspx. Please also feel free to reach out to OITE staff for additional support through https://www.training.nih.gov/staff.
---
INTRAMURAL TARGETED ANTI-COVID-19 PROGRAM (ITAC)
The Office of Intramural Research (OIR) is pleased to announce the Intramural Targeted Anti-COVID-19 (ITAC) funding program. NIAID has generously provided OIR with funding to support COVID-19 research activities for intramural investigators in NIH institutes and centers (ICs) other than NIAID. We seek applications for ongoing or new COVID-19 research efforts. The ITAC can provide up to two years of funding.
Eligibility: NIH intramural principal investigators (senior investigators, investigators, senior clinicians, senior scientists, assistant clinical investigators) from ICs other than NIAID are eligible to apply. NIAID investigators cannot receive funds through this program but can participate as unfunded collaborators on applications submitted by others. Applicants can submit only one proposal for which they request funding but can serve as unfunded collaborators on other proposals. Applicants must obtain approval in advance from their Scientific Director. The proposals may be submitted concurrently for an exception request from the Central Exceptions Committee for Mission-Critical Research, chaired by Steve Holland.
Funding: ITAC can provide up to two concurrent years of funding. Proposals can request FY20 and FY21 funding, or can request FY21 and FY22 funding. Funds can be used for personnel, equipment, supplies, and clinical expenses. Since only two years of funding is available for personnel, if longer appointments are desired, the applicant will have to provide funding for the extension years. Applicants agree that if funded, or if their project proceeds without ITAC support, they will submit their information into the project inventory and reagent registry maintained by the COVID-19 Scientific Interest Group (SIG) and COVID-19 Trans-NIH Preclinical Therapeutic Discovery Working Group:
Project inventory – questionnaire Form link
Reagent registry – questionnaire Form link
Evaluation of proposals: Applications will be evaluated for their expected contribution to understanding and/or combatting COVID-19, including the innovation, significance, expected impact, and feasibility of the proposal.
We expect that funds should be available by early June, 2020. We realize that some projects may be ready to proceed before then. Applicants who are urgently in need of funds for their research should contact their Scientific Director to discuss options within their IC.
For additional information: Address programmatic questions to Charles Dearolf, OIR Director of Program Development and Support, at dearolfc@od.nih.gov. Customer support with online submissions for proposals will be provided by Altum ProposalCentral. Contact information is: pcsupport@altum.com; (800) 875-2562 (toll-free), Monday through Friday, 8:30 a.m.-5:00 p.m. Eastern Time.
---
COVID-19 VIRTUAL LECTURE SERIES
The COVID-19 SIG and the Office of Intramural Research have organized a virtual lecture series for Wednesday afternoons. All are welcome to watch the live videocasts or the archived ones (they will be archived a day after the talk). The following talks have been given or are scheduled:
---
NIH CAREER SYMPOSIUM GOES VIRTUAL
The NIH Office of Intramural Training and Education invites all NIH graduate students and postdoctoral trainees, both basic scientists and clinicians, to participate in a virtual presentation of the 13th Annual NIH Career Symposium. The symposium provides an opportunity for fellows and graduate students to learn about scientific career options and to explore factors that lead to career success. This virtual program will include pre-recorded interviews, panels, and live sessions highlighting career opportunities available to biomedical scientists. Panel sessions cover academic, government, policy, industry, and nonprofit career paths. Speakers will provide insights into their careers: what their current job entails, its pluses and minuses, and how they got there. For questions, contact OITE@mail.nih.gov.
---
20 FOR 2020: PRESERVING THE NIH IN THE 21ST CENTURY
DONATIONS OF SCIENTIFIC INSTRUMENTS SOUGHT
The COVID-19 pandemic has forced us to assess what are the most essential elements in our offices and labs, as well as in our lives. In visualizing your lab and your plans for a full return to normalcy, what scientific instruments from the recent past should we preserve to document the work that NIH has done in the past two decades? Throughout 2020, the NIH Stetten Museum will be collecting 20 essential instruments from the past 20 years. Contact Curator Michele Lyons (lyonsm@od.nih.gov) if you have an item or an idea of what to add to the collection.
---
PREGNANCY AND MATERNAL CONDITIONS THAT INCREASE RISK OF MORBIDITY AND MORTALITY WORKSHOP
May 19-20, 2020; 8:00 a.m. to 5:30 p.m
Videocast: Day 1: https://videocast.nih.gov/summary.asp?live=36359&bhcp=1
Videocast Day 2: https://videocast.nih.gov/summary.asp?live=36363&bhcp=1
Email questions to NICHDConferences@mail.nih.gov before the event.
In response to increasing U.S. maternal mortality rates, workshop participants will develop a research agenda targeted at the clinical causes of maternal morbidity and mortality. An interdisciplinary team of experts will explore why women die from certain conditions (e.g., postpartum hemorrhage, hypertension, cardiovascular disease, infection, etc.), what can be done to identify patients at risk, and what interventions are required to reduce maternal morbidity and mortality.
---
NLM HISTORY OF MEDICINE TALKS
The History of Medicine Division at the National Library of Medicine (NLM) announces its 2020 NLM History Talks. All talks are free, open to the public, and held in the NLM Lister Hill Auditorium, building 38A located on the campus of the National Institutes of Health in Bethesda, Maryland. Lectures are also live-streamed globally and archived by NIH VideoCasting, which is made possible through support of the Michael E. DeBakey Medical Foundation.
The centerpiece of the 2020 series will be When People are Data: How Medical History Matters for Our Digital Age, to be delivered on June 9, 2020, by Joanna Radin, PhD, Program in History of Science and Medicine, Yale University, and co-sponsored by the National Endowment for the Humanities, Office of Digital Humanities, as part of the partnership between NLM and NEH to collaborate on research, education, and career initiatives.
The NLM History Talks promote awareness and use of NLM historical collections for research, education, and public service in biomedicine, the social sciences, and the humanities. The series also supports the commitment of the NLM to recognize the diversity of its collections—which span ten centuries, encompass a range of digital and physical formats, and originate from nearly every part of the globe—and to appreciate the individuals of various disciplines who value these collections and use them to advance their research, teaching, and learning. Interviews with the speakers in this series of talks are published in Circulating Now, the blog of the NLM History of Medicine Division. Explore interviews with past speakers on the blog and stay informed about NLM History Talks on Twitter at #NLMHistTalk.
---
ORWH PUBLISHES CAREERS ISSUE OF WOMEN'S HEALTH IN FOCUS AT NIH
Website: https://orwh.od.nih.gov/about/newsroom/orwh-quarterly-publication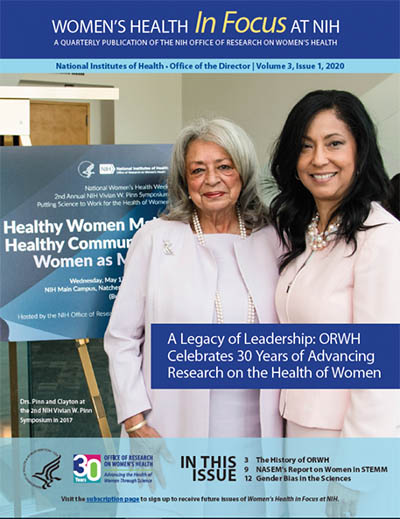 The NIH Office of Research on Women's Health (ORWH) recently published issue 3.2 of Women's Health in Focus at NIH. This issue focuses on two aspects of ORWH's mission—to support women in biomedical and biobehavioral careers and to support the career development of researchers interested in sex differences. The cover story features an overview of ORWH's career mission and highlights the NIH Building Interdisciplinary Research Careers in Women's Health (BIRCWH) program as well as some important initiatives of the NIH Working Group on Women in Biomedical Careers. Additional articles discuss current efforts to support junior investigators in postdoctoral programs, research trends linked to investigator gender, increasing the retention of minority women in technology careers, initiatives addressing gender inequities in medicine, and other topics related to biomedical careers. Please visit the In Focus webpage to read the issue, and follow this link to subscribe.
---
WEDNESDAY AFTERNOON LECTURE SERIES
The series will resume in September.
---
WATCH VIDEOCASTS OF PREVIOUS NIH LECTURES
Many lectures have been cancelled, but you can watch past episodes online.
This page was last updated on Thursday, March 24, 2022