Research Briefs: Coronavirus Research
Highlights
When COVID-19—a respiratory disease caused by the novel coronavirus severe acute respiratory syndrome coronavirus (SARS-CoV-2)—was first detected in December 2019 in Wuhan, Hubei Province, China, NIAID intramural and extramural scientists mobilized quickly to study the virus. Key areas of investigation include conducting basic research on its origins and how it causes disease, and developing animal study models, new treatments, and vaccines. For more information on the coronavirus, go to https://www.nih.gov/health-information/coronavirus.
---
COVID-19 A REMINDER OF THE CHALLENGE OF EMERGING INFECTIOUS DISEASES
In a New England Journal of Medicine commentary, NIAID Director Anthony S. Fauci, NIAID Deputy Director for Clinical Research and Special Projects H. Clifford Lane, and CDC Director Robert R. Redfield shared their observations about COVID-19. The authors pointed to the many research efforts now underway including numerous vaccine candidates proceeding toward early-stage clinical trials as well as clinical trials already underway to test candidate therapeutics, including an NIAID-sponsored trial of the experimental antiviral drug remdesivir that began enrolling participants on February 21, 2020. "The COVID-19 outbreak is a stark reminder of the ongoing challenge of emerging and re-emerging infectious pathogens and the need for constant surveillance, prompt diagnosis and robust research to understand the basic biology of new organisms and our susceptibilities to them, as well as to develop effective countermeasures," the authors concluded. (A.S. Fauci, H.C. Lane, and R.R. Redfield, N Engl J Med, 2020; DOI:10.1056/NEJMp2002387)
---
NIH CLINICAL TRIAL OF REMDESIVIR TO TREAT COVID-19 BEGINS
In February 2020, a randomized, controlled clinical trial to evaluate the safety and efficacy of the investigational antiviral remdesivir in hospitalized adults diagnosed with coronavirus disease 2019 (COVID-19) has begun at the University of Nebraska Medical Center's biocontainment unit (Omaha, Nebraska). NIAID is the trial's regulatory sponsor. This is the first clinical trial in the United States to evaluate an experimental treatment for COVID-19. The first participant is an American who was repatriated after being quarantined on the Diamond Princess cruise ship in Japan. For more information go to https://www.nih.gov/news-events/news-releases/nih-clinical-trial-remdesivir-treat-covid-19-begins or visit http://www.ClinicalTrials.gov and search identifier NCT04280705.
---
STRUCTURAL BIOLOGY POINTS WAY TO CORONAVIRUS VACCINE
Excerpts from the NIH Director's Blog (posted on March 3, 2020)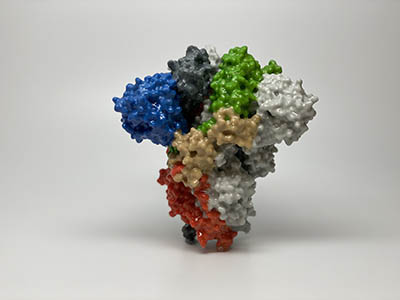 NIH-funded researchers including Jason McLellan, an alumnus of the NIAID's Vaccine Research Center (VRC) and now at The University of Texas at Austin, have been studying coronaviruses in collaboration with NIAID investigators for years, with special attention to the spike proteins. Just two weeks after Chinese scientists reported the first genome sequence of the virus, McLellan and his colleagues designed and produced samples of its spike protein. Importantly, his team had earlier developed a method to lock coronavirus spike proteins into a shape that makes them both easier to analyze structurally via the high-resolution imaging tool cryoelectron microscopy and to use in vaccine-development efforts.
After locking the spike protein in the shape it takes before fusing with a human cell to infect it, the researchers reconstructed its atomic-scale 3D structural map in just 12 days. Their results, published in Science, confirm that the spike protein on the virus that causes COVID-19 is quite similar to that of its close relative the SARS virus. It also appears to bind human cells more tightly than the SARS virus does, which may help to explain why the new coronavirus appears to spread more easily from person to person, mainly by respiratory transmission. (NIH authors: K.S. Corbett, O. Abiona, B.S. Graham, and J.S. McLellan (NIH alum), Science pii:eabb2507, 2020; DOI:10.1126/science.abb2507)
McLellan's team and his NIAID VRC counterparts also plan to use the stabilized spike protein as a probe to isolate naturally produced antibodies from people who've recovered from COVID-19. Such antibodies might form the basis of a treatment for people who've been exposed to the virus, such as health-care workers.
The NIAID is now working with the biotechnology company Moderna (Cambridge, Massachusetts) to use the latest findings to develop a vaccine candidate. The goal is to direct the body to produce a spike protein in such a way to elicit an immune response and the production of antibodies. An early clinical trial of the vaccine in people is expected to begin in the coming weeks. Other vaccine candidates are also in preclinical development.
This page was last updated on Tuesday, March 29, 2022