Research Briefs
NIAID: CEREBRAL ORGANOID MODEL PROVIDES CLUES ON HOW TO PREVENT VIRUS-INDUCED BRAIN-CELL DEATH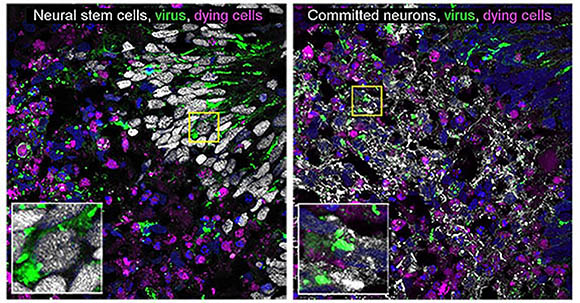 NIAID scientists at the Rocky Mountain Laboratories in Hamilton, Montana, have determined that La Crosse virus (LACV), which can cause inflammation of the brain in children, affects brain cells differently depending on their developmental stage. Neurons evolve from neural stem cells and during development commit to becoming neurons. The study shows that uncommitted neural stem cells generally survive LACV infection, whereas LACV often kills neurons. The study also shows that neurons infected by LACV can be rescued by interferon.
LACV, which is spread by mosquitoes, usually causes only mild infections, but sometimes in children, it can infect neurons and cause problems ranging from learning and memory difficulties to paralysis, seizures, and death. Luckily, according to the CDC, there's an average of only 68 cases of LACV encephalitis a year in the United States, most of them east of the Mississippi River. The researchers infected cerebral organoids as a model for their study and plan to continue developing the model and study the feasibility of using interferon to treat LACV infection and other viral diseases of the brain. (NIH authors: C.W. Winkler, T.A. Woods, B.R. Groveman, A.B. Carmody, E.E. Speranza, C.A. Martens, S.M. Best, C.L. Haigh, and K.E. Peterson, J Neuroinflammation 16:229, 2019; DOI:10.1186/s12974-019-1614-1)
---
NIMH: SIDE EFFECTS MILD, BRIEF WITH SINGLE ANTIDEPRESSANT DOSE OF INTRAVENOUS KETAMINE
NIMH researchers found that a single, low-dose ketamine infusion was relatively free of side effects for patients with treatment-resistant depression. Studies have shown that a single, subanesthetic-dose ketamine infusion can often relieve depressive symptoms within hours in people who have not responded to conventional antidepressants, which typically take weeks or months to work. However, widespread off-label use of intravenous subanesthetic-dose ketamine for treatment-resistant depression has raised concerns about side effects, especially given its history as a drug of abuse. The researchers compiled data on side effects from 163 patients with major depressive disorder or bipolar disorder and 25 healthy control subjects who participated in one of five placebo-controlled clinical trials conducted at the NIH Clinical Center over 13 years.
Out of 120 possible side effects evaluated, 34 were found to be significantly associated with the treatment. Eight occurred in at least half of the participants: feeling strange, weird, or bizarre; feeling spacey; feeling woozy or loopy; dissociation; floating; visual distortions; difficulty speaking; and numbness. None persisted for more than four hours. No drug-related serious adverse events, cravings, propensity for recreational use, or significant cognitive or memory deficits were seen during a three-month follow-up. To overcome the limitations associated with side effects and intravenous delivery, ongoing research efforts seek to develop a more practical rapid-acting antidepressant that works in the brain similarly to ketamine. (NIH authors: E.E. Acevedo-Diaz, G.W. Cavanaugh, D. Greenstein, C. Kraus, B. Kadriu, C.A. Zarate Jr., and L.T. Park, J Affect Disord 2019; DOI:10.1016/j.jad.2019.11.028)
---
NICHD: LIVING IN ETHNIC ENCLAVES MAY IMPROVE PREGNANCY OUTCOMES FOR ASIANS AND PACIFIC ISLANDERS
Among Asian and Pacific Islander women living in the United States, those who reside in ethnic enclaves—areas with a high concentration of residents of a similar ancestry—are less likely to have pregnancy or birth complications than those living in other areas, suggests a study by researchers at NICHD and other institutions. The researchers theorize that living in ethnic enclaves may improve health by offering easier access to health professionals of similar ancestry, access to traditional diets that are healthier than typical U.S. diets, and less incentive to engage in unhealthy habits like smoking and alcohol abuse.
To conduct the study, researchers analyzed data from more than 8,400 women of Asian or Pacific Islander heritage who took part in a study on labor and delivery at 19 hospitals throughout the United States. Compared to Asian or Pacific Islander women who lived in other areas, those who lived in ethnic enclaves were 39% less likely to develop gestational diabetes, 26% less likely to deliver preterm, and 32% less likely to have an infant small for gestational age. The authors concluded that the results suggest that improving access to culturally appropriate resources among Asian and Pacific Islander communities may improve health-promotion efforts in these populations. (NIH authors: A.D. Williams, J. Kanner, K.L. Grantz, and P. Mendola, J Racial Ethn Health Disparities 2019; DOI:10.1007/s40615-019-00650-4)
---
NCATS, NCI: PROMISING DRUG COMBINATION AGAINST LETHAL CHILDHOOD BRAIN CANCERS
NCATS and NCI researchers, along with scientists from other institutions, have devised a new plan of attack against a group of deadly childhood brain cancers collectively called diffuse midline gliomas (DMG), including diffuse intrinsic pontine glioma, thalamic glioma, and spinal cord glioma. The scientists identified a drug pair that worked together to both kill cancer cells and counter the effects of a genetic mutation that causes the diseases. The researchers showed that a combination of the two drugs—panobinostat and marizomib—was more effective than either drug by itself in killing DMG patient cells grown in the laboratory and in animal models. Their studies also uncovered a previously unrecognized vulnerability in the cancer cells that scientists may be able to exploit to develop new strategies against the cancer and related diseases. (NIH authors: K.M. Wilson, M. Ceribelli, X. Zhang, P.J. Morris, D.Y. Duveau, A.M. Michalowski, P. Shinn, R. Guha, M. Ferrer, C. Klumpp-Thomas, S. Michael, C. McKnight, Z. Itkin, E.H. Raabe, L. Chen, and C.J. Thomas, Sci Transl Med 11:Issue 519, eaaw0064, 2019; DOI:10.1126/scitranslmed.aaw0064)
---
NICHD: HIGH AMOUNTS OF SCREEN TIME BEGIN AS EARLY AS INFANCY
Children's average daily time spent watching television or using a computer or mobile device increased from 53 minutes at age 12 months to more than 150 minutes at 3 years, according to an analysis by researchers at NICHD and two institutions in New York State. By age 8, children were more likely to log the highest amount of screen time if they had been in home-based child care or were born to first-time mothers. The researchers analyzed data from the Upstate KIDS Study [https://www.nichd.nih.gov/about/org/diphr/officebranch/eb/infant-development], which was originally undertaken to follow the development of children conceived after infertility treatments and born in New York from 2008 to 2010. Mothers of nearly 4,000 children who took part in the study responded to questions on their kids' media habits when they were 12, 18, 24, 30, and 36 months of age. They also responded to similar questions when the children were 7 and 8 years old. The study compiled additional demographic information on the mothers and children from birth records and other surveys. The findings suggest that interventions to reduce screen time could have a better chance of success if introduced early. (NIH authors: M.-H. Trinh, R. Sundaram, S.L. Robinson, and E.H. Yeung, JAMA Pediatr 2019; DOI:10.1001/jamapediatrics.2019.4488)
---
NIEHS: PERMANENT HAIR DYE AND STRAIGHTENERS MAY INCREASE BREAST-CANCER RISK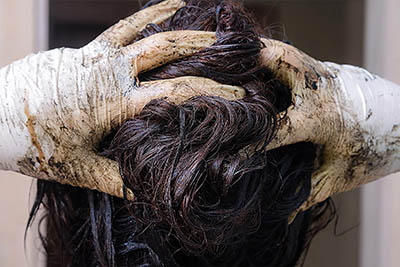 Scientists at NIEHS found that women who use permanent hair dye or chemical hair straighteners have a higher risk of developing breast cancer than women who don't use these products. Using data from 46,709 women in the Sister Study, [https://sisterstudy.niehs.nih.gov/English/index1.htm] the researchers found that women who regularly used permanent hair dye in the year before enrolling in the study were 9% more likely than women who didn't use hair dye to develop breast cancer. Among African American women, using permanent dyes every five to eight weeks or more was associated with a 60% increased risk of breast cancer compared with an 8% increased risk for white women. The research team found little to no increase in breast cancer risk for semipermanent or temporary dye use. In addition, the scientists found that women who used hair straighteners at least every five to eight weeks were about 30% more likely to develop breast cancer. (NIH authors: C.E. Eberle, D.P. Sandler, K.W. Taylor, and A.J. White, Int J Cancer 2019; DOI:10.1002/ijc.32738)
---
NICHD: VESICLES RELEASED BY BACTERIA MAY REDUCE THE SPREAD OF HIV IN HUMAN TISSUE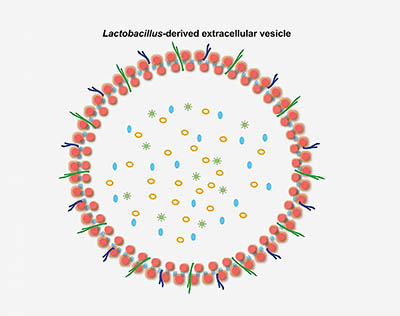 Nano-sized vesicles released by certain bacteria that inhabit the vagina may protect against HIV infection, suggests a study of human cells and tissues by researchers at NICHD and the University of Bologna (Bologna, Italy). The researchers conducted a series of experiments showing that vesicles isolated from four strains of Lactobacillus bacteria interfere with the ability of HIV to infect cells. In one experiment, researchers added vesicles to cultures of T lymphocytes and infected the cultures with HIV. HIV infection rate in the treated cells was much lower than in the untreated cells. When the researchers increased the quantity of vesicles, a much smaller proportion of cells were infected. Similarly, treatment with vesicles reduced HIV infection in human lymph and uterine cervix and vaginal tissues. The researchers found that bacterial vesicles suppressed the binding of viruses to the cell surface, an essential step before the virus can infect a cell. Further experiments showed that bacterial vesicles directly affect HIV rather than cells. Exposing the viruses to vesicles reduced the appearance of surface molecules on the virus' outer covering, which it needs to attach to cells. (NIH authors: R.A. Ñahui Palomino, C. Vanpouille, and L. Margolis, Nat Commun 10:5656, 2019; DOI:10.1038/s41467-019-13468-9)
---
NIDA: DECREASING INCUBATION OF HEROIN CRAVING IN MALE AND FEMALE RATS
NIDA researchers recently reported that operant social choice–induced voluntary abstinence prevents incubation of methamphetamine craving. (Incubation refers to time-dependent increase in drug-seeking during forced abstinence.) In a new study, the researchers investigated whether social choice–induced voluntary abstinence would prevent incubation of heroin craving. They introduced a fully automatic social reward self-administration model that eliminated the intense workload and rat-human interaction of the original semiautomatic model. In experiment 1, the scientists trained male and female rats for social self-administration (six days) and then for heroin self-administration (12 days). Next, they assessed relapse to heroin seeking after one and 15 abstinence days. Between tests, the rats underwent either forced or social choice–induced abstinence. In experiment 2, the researchers developed an automatic social self-administration procedure by introducing a screen between the self-administration chamber and the social-peer chamber; the screen allows physical contact but prevents rats from crossing chambers. Next, they compared incubation of craving in rats with a history of standard (no-screen) or automatic (screen) social self-administration and social choice-induced abstinence.
The time-dependent increase in heroin seeking after cessation of drug self-administration (incubation of craving) was lower after social choice–induced abstinence than after forced abstinence. There were no differences in social self-administration, social choice–induced abstinence, and incubation of craving in rats trained in the standard semiautomatic procedure versus the novel fully automatic procedure.
The study demonstrates the protective effect of rewarding social interaction on heroin self-administration and incubation of heroin craving and introduces a fully automatic social self-administration and choice procedure for investigating the role of volitional social interaction in drug addiction and other psychiatric disorders. (NIH authors: M. Venniro, T.I. Russell, M. Zhang, and Y. Shaham, Biol Psychiatry 86:848–856, 2019; DOI: 10.1016/j.biopsych.2019.05.018)
---
NIAID, NCI: NIH RESEARCHERS ESTIMATE 17% OF FOOD-ALLERGIC CHILDREN HAVE SESAME ALLERGY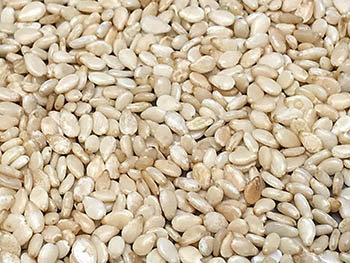 Investigators at NIAID and at the Frederick National Laboratory for Cancer Research (which is overseen by NCI) have found that sesame allergy occurs in about 17% of children with other food allergies. In addition, the study found that sesame antibody testing—whose utility has been controversial—accurately predicts whether a child with food allergy is allergic to sesame. About 1.1 million people in the United States, or an estimated 0.23% of the U.S. population, have sesame allergy, according to a recently published study funded by NIAID. Measurement of sesame‐specific immunoglobulin E concentrations may have utility in the clinical management of these patients. (NIH authors: K. Sokol, M. Rasooly, C. Dempsey, S. Lassiter, W. Gu, K. Lumbard K, and P.A. Frischmeyer-Guerrerio, Pediatr Allergy Immunol 2019; DOI:10.1111/pai.13143)
This page was last updated on Tuesday, March 29, 2022