Announcements
NEW FAES GIFT SHOP ON B1 LEVEL IN BUILDING 10
Store Hours: Monday through Friday, 8:00 a.m. to 4:00 p.m.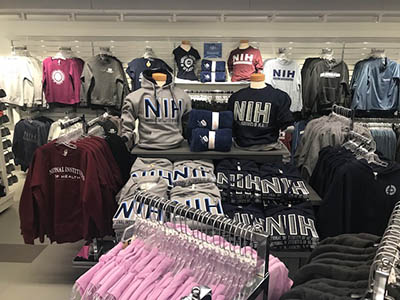 The Foundation for Advanced Education in the Sciences (FAES) has opened a third retail location in Building 10, conveniently located outside the B1 Cafeteria and near the NIH Federal Credit Union Branch. Please plan a visit to this beautiful new store, specializing in tasteful gifts for all occasions including new baby, housewarming, birthday, and seasonal. Of course, the new FAES Gift Shop will also offer a dynamic assortment of brand new NIH emblematic clothing and merchandise to celebrate and honor the NIH community.
Don't forget about the FAES Gift Shop in the North Atrium and the FAES Bookstore near Masur Auditorium as well, which are always well stocked for your shopping needs. Hours for these stores are 9:00 am to 5:00 pm, Monday through Friday. You can also shop for NIH merchandise online at www.shopfaes.com.
If you have any questions about the FAES retail stores, please contact FAES Retail Supervisor J.T. Knight-Inglesby (301-496-5272 or jt.knight-inglesby@nih.gov). The FAES loves feedback and ideas about potential new items for every occasion:
---
OPIOID OVERDOSE RESPONSE TRAINING FOR NIH STAFF
In response to the Surgeon General's 2018 Advisory on naloxone, NIH United States Public Health Service Commissioned Corps (USPHS) officers are conducting Opioid Overdose Response Training for NIH staff. These one-hour sessions include information on the opioid crisis, signs to recognize an overdose, and how the overdose-reversing drug naloxone works. There is also a hands-on training with scenarios and training devices to administer naloxone.
If you have questions, contact Leo Angelo Gumapas (leoangelo.gumapas@nih.gov or 301-832-4320). Individuals with disabilities who need sign language interpreters and/or reasonable accommodation to participate should contact Gumapas and/or the Federal Relay (1-800-877-8339).
More information about the Surgeon General's Advisory is available at: https://www.hhs.gov/surgeongeneral/priorities/opioids-and-addiction/naloxone-advisory/index.html.
---
2019-2020 PRINCIPLES OF CLINICAL PHARMACOLOGY COURSE
This free online lecture series covers the fundamentals of clinical pharmacology as a translational scientific discipline. Topics include pharmacokinetics, drug metabolism and transport, drug therapy in special populations, drug discovery and development, and pharmacogenomics. This course will be of interest to graduate students, postdocs, medical and pharmacy students, scientists, and health professionals interested in expanding their pharmacology knowledge base. No textbook is required for this course. For questions, contact the course coordinator at odpcp@mail.nih.gov
---
2019-2020 INTRODUCTION TO THE PRINCIPLES AND PRACTICE OF CLINICAL RESEARCH COURSE
This free online course trains registrants on how to conduct clinical research effectively and safely. Graduate students, post-doctoral fellows, medical, dental, pharmacy, and nursing students and other health professionals are encouraged to enroll. The course textbook, Principles and Practice of Clinical Research, Fourth Edition (2018) is available for purchase from several online book retailers and at the NIH Building 10 FAES bookstore. For questions, contact the course coordinator at ippcr2@mail.nih.gov.
---
WEDNESDAY AFTERNOON LECTURE SERIES (WALS)
The NIH Director's Wednesday Afternoon Lecture Series, colloquially known as WALS, is the highest-profile lecture program at the NIH. Each season includes some of the biggest names in biomedical and behavioral research. The goal of the WALS is to keep NIH researchers abreast of the latest and most important research in the United States and beyond. An added treat is the annual J. Edward Rall Cultural Lecture, which features top authors and other cultural icons. All speakers are nominated by the NIH community. For the full list of the speakers for the current lecture season, go to https://oir.nih.gov/wals/current-lecture-season.
January 15, 2020: Ileana M. Cristea, Ph.D., Department of Molecular Biology, Princeton University; "Dynamic Organelle Shape and Function During Herpesvirus Infection"
January 29, 2020: Gilda A. Barabino, Ph.D., The City College of New York; "A Two Act Play: The Character of Cells and The Role Of Biomechanics"
February 5, 2020: Mona Singh, Ph.D., Lewis Sigler Institute for Integrative Genomics; Topic TBD
February 25, 2020: Frances Arnold, Ph.D., California Institute of Technology; "Innovation by Evolution: Bringing New Chemistry to Life"
March 4, 2020: Kevin L. Gardner, M.D., Ph.D., Department of Pathology and Cell Biology, Columbia University Medical Center; "Race and the Molecular Biology of Breast Cancer: A Pathologist's View from the Bench to the Beside"
Postponed: March 11, 2020: James P. Allison, Ph.D., MD Anderson Cancer Center, University of Texas; "Immune Checkpoint Blockade in Cancer Therapy: Historical Perspective, New Opportunities, and Prospects for Cures"
Postponed to Fall: March 18, 2020: Lisa A. Cooper, M.D., M.P.H., Johns Hopkins University; "Deep and Wide: The Voyage to Discover Local and Global Health Equity"
Postponed to Fall: March 25, 2020: Mark T. Nelson, Ph.D., University of Vermont; "Translating Thought into Blood Flow in the Brain: Capillaries as Sensors of Neural Activity"
---
DEMYSTIFYING MEDICINE
The first Demystifying Medicine lecture of the 2020 series is on the topic of infectious diseases and the challenges of pandemic preparedness by NIAID Director Anthony Fauci, M.D., and Fogarty Director Roger Glass, M.D., Ph.D., on January 7. Ebola, swine flu, drug-resistant tuberculosis, diarrheal diseases, and just about anything carried by mosquitoes… These are but a few of the infectious diseases that keep Drs. Fauci and Glass awake at night. Oh, and ticks, too. Threats are everywhere. Every day, it seems, brings outbreaks and the potential for a pandemic. And yet, remarkably, scientists and healthcare providers on the frontlines manage to keep billions of people relatively safe. This Demystifying Medicine lecture by two of the biggest names in global health will provide a broad perspective on the myriad infectious diseases that affect each and every one of us, in countries rich and poor. Pathogens know no borders. You will learn, too, about roles for yourself in preparing for the next pandemic, in whatever form in might take. Come and learn from the best and, as always, prepare to be dazzled and demystified.
The NIH- and FAES-sponsored course "Demystifying Medicine" is designed to excite the interest of Ph.D. and M.D. students, fellows, researchers, and others in bridging the gap between amazing advances in basic science and the challenges of clinical disease. There are no formal requirements to attend as many of the weekly sessions as desired. The format involves a translational physician, a basic scientist, and usually a live patient who puts a human face on the disease.
January 7: Current Status of Emerging and Re-emerging Infectious Diseases [Anthony Fauci, MD (NIAID), Roger Glass, MD, PhD (Fogarty International Center Vaccine challenges: Example Rotovirus)]
January 14: Ebola: Then, Now and the NIH [Daniel Chertow, MD, MPH (CC), Vincent Munster, PhD (NIAID), Nancy Sullivan, PhD (NIAID)]
January 21: Biophotonics: From Light Pulses to Heart Pulses: Viewing Life on the Inside [Bruce Tromberg, PhD (NIBIB) and colleague]
January 28: Taxol: Discovery, Mechanism and Cancer Treatment [Susan Band Horwitz, PhD (Albert Einstein College of Medicine), Jung-Min Lee, MD (NCI)]
February 4: HIV: Latest Challenges in Mechanism and Management [John Coffin, PhD (NCI/Tufts), Frank Maldarelli, MD, PhD (NCI)[\]
February 11: Addiction and Pain:Are They Inseparable? [Nora Volkow, MD, PhD (NIDA), Catherine Bushnell, PhD (NCCIH)]
February 18: Autophagy: Mechanisms and Neurodegenerative Disease [Anna Marie Cuervo, MD, PhD (Albert Einstein College of Medicine), Michael Ward, MD, PhD (NINDS)]
February 25: Tracing Memories from Molecular Footprints to Alzheimer's Disease [Lorna Role, PhD (NINDS), Dimitrios Kapogiannis, MD (NIA)]
March 3: Encephalitis and the Immune System [Avindra Nath, MD (NINDS), Bryan Smith, MD (NINDS)]
March 10: Challenges of Childhood Disorders of Mood and Attention [Philip Shaw, PhD (NHGRI), Argyris Stringaris, MD, PhD (NIMH)]
March 17: Diversity and Disease in the Genomic Era [Gary Gibbons, MD (NHLBI), Anne Sumner, MD (NIDDK)]
March 24: Bone Marrow Based Therapies [Cynthia Dunbar, MD (NHLBI), Harry Malech, MD (NIAID)]
March 31: Viruses and Immunodeficiency: Mechanisms and Management [Philip Murphy, MD, PhD (NIAID), Heidi Kong, MD (NIAMS)]
April 7: Multiple Sclerosis: Advances in Pathogenesis and Treatment [Bibiana Bielekova, MD (NIAID), Alison Wichman, MD (NIAID)]
April 14: Sickle Cell Anemia: Treatable and/or Curable? [John Tisdale, MD (NHLBI), Alan Schechter, MD (NIDDK)]
April 21: Role of the Microbiome in Nutrition Inflammation and Cancer [Yasmine Belkaid, PhD (NIAID), Giorgio Trinchieri, MD (NCI)]
April 28: Biomedical Challenges in Space: Human Biology, the International Space Station and Beyond [Mark Shelhamer, DSc, (Johns Hopkins (former Chief Scientist: NASA Human Research Program)), Christopher Wanjek, MS (Science and Health Writer)]
May 5: RNA Viruses: How They Do What They Do [Karla Kirkegaard, PhD (Stanford University), Nihal Altan Bonnet, PhD (NHLB)]
May 12: Finale: Current and Future Opportunities for PhD's in Biomedical Research [Roland Owens, PhD (OD), Jonathan Yewdell, MD (NIAID), Irwin "Win" Arias, MD (CC/OD)]
---
SCHOLARLY PUBLISHING SYMPOSIUM 2020: ELEVATE YOUR RESEARCH VISIBILITY
Researchers are increasingly using author identifiers, preprints, and social media to increase the visibility and discoverability of their research products. With rapid changes in technology and publishing models, researchers have more options than ever before to place their research findings in the public arena. Join us for this NIH Library-hosted symposium as experts discuss how you can elevate the visibility of your research, make it easier to find, and have a greater impact. The NIH Library in Building 10 serves the information needs of NIH staff and select Department of Health and Human Services agencies. The NIH Library is part of the Office of Research Services in the Office of the Director. Subscribe to the LISTSERV to receive email updates on NIH Library classes, events, resources, and services: https://list.nih.gov/cgi-bin/wa.exe?SUBED1=NIHLIB-L&A=1.
---
JANUARY AT NIH:
For a complete list of NIH talks during January, click on this direct link to the NIH monthly calendar. [https://calendar.nih.gov/app/MCalWelcome.aspx?SrchType=Month]
---
CLINICAL CENTER GRAND ROUNDS FOR JANUARY
January 8: Contemporary Clinical Medicine—Great Teachers, "Taking the Job No One Else Wants: Lessons Learned in Healthcare Leadership," by Tomislav Mihaljevic, M.D., CEO and President, Cleveland Clinic
January 15: "Living with the Cure: Progress and Challenges in Chronic Graft-versus-Host Disease," by Steven Pavletic, M.D., Senior Clinician and Head, Graft-versus-Host Disease and Late Effects Section, Immune Deficiency Cellular Therapy Program, NCI; and "Site Matters: Oral Mucosal Immunity in the Context of Chronic Graft-versus-Host Disease," by Jacqueline Mays, DDS, MHSc, PhD, Assistant Clinical Investigator and Chief, Oral Immunobiology Unit, Division of Intramural Research, NIDCR
January 22: "Adventures in Autoinflammatory Genetics: From Genetically Complex Syndromes to Mendelian Diseases Systemic Juvenile Idiopathic Arthritis: One Name, Many Faces," by Michael Ombrello, MD, Tenure-Track Investigator, Head, Translational Genomics and Genomics Unit, NIAMS; and "The Deficiency of Adenosine Deaminase 2: A Master of Mimicry," by Amanda Ombrello, MD Associate Research Physician, Inflammatory Disease Section, NHGRI
January 29: "Immunotherapies for Progressive Multifocal Leukoencephalopathy," by Irene Cortese, MD, Clinic Director, Neuroimmunology Clinic, NINDS
---
NEUROSCIENCE SEMINAR SERIES FOR JANUARY
January 6: "Comparative Neurobiology of Vocal Communication," by Michael Long, Ph.D., New York University Medical Center
January 13: "Deconstructing Memory Circuits at Cell Type-specific Resolution," by Nelson Spruston, Ph.D., Janelia HHMI
January 20: no lecture, Martin Luther King Day
January 27: "Sex-dependent Neurocircuits, Estrogen and Hormone Signaling in Metabolism, Female, Age-Related Diseases, Endocrine Life Stages and Disease," by Holly Ingraham, Ph.D., University of California, San Francisco
This page was last updated on Tuesday, March 29, 2022