Singing the Same Tune
A Conversation with World-renowned Cellist Yo-Yo Ma
"How can I keep from singing?" intoned NIH Director Francis Collins as he played his guitar to the tune of the 1800s hymn, "Always Rejoicing." The lyrics had a new meaning; who wouldn't want to sing when you're accompanied by a world-renowned cellist like Yo-Yo Ma.
Ma was the featured guest at the J. Edward Rall Cultural Lecture held in December, billed as a conversation between the cellist and the NIH Director. Yet Ma punctuated the conversation, to the audience's delight, with melodies played on "Sweetie Pie," his nickname for his 1712 Stradivarius cello.
Before performing their surprise duet, the two men had been singing the praises of the connection between music and science on topics such as memory and creativity. They noted that both researchers and artists must strive to freely share information to enhance their work and society. Too much competition—whether it's among scientists or luthiers—can lead to more secretive methods, a decrease in collaboration and cooperation, and an overall reduction in quality. Ma described how the quality of stringed instruments began to decline after 1735 when instrument makers began competing and keeping secrets from one another.
"That sounds like science," laughed Collins.
Collins delighted Ma with a study that appeared in the journal Neuron about scientists who had identified distinct neural pathways in the auditory cortex that respond to music and not to other sounds (Neuron 88:1281–1296, 2015). The research was also featured in the February 8, 2016, edition of the New York Times in "New Ways into the Brain's 'Music Room,'" by science writer Natalie Angier.
Ma surprised Collins by asking detailed questions about the methods used in the study, alluding to the fact that music arouses more than just our sound detectors but speaks to our souls. Both Ma and Collins agreed that the euphoria we feel when listening to music that we enjoy is a universal experience (Nat Neurosci 14:257–262, 2011). These moments of pleasure can be found in science, too, such as the first "eureka" moment that may push people to pursue a career in research. Scientists are on a perpetual search to replicate that euphoria, while Ma hypothesized that "musicians are people looking for a particular state of mind for society."
The conversation twisted and turned among topics, but Ma's pathway through life and music was a topic that resurfaced several times. Born in Paris to Chinese parents and raised in America, Ma has always sought to find his place in the world as an immigrant between cultures and, by extension, between European and Chinese music. His interest in the "edge effect," where cultures meet, serves as a starting point for creating new music. When asked what drove him to explore music beyond the traditional Bach for the cello, Ma responded, "confusion, curiosity, pigheadedness." Collins and the crowd agreed that those are traits that serve scientists well, too.
But those traits alone aren't enough. Ma emphasized the importance of incorporating artistic elements into our everyday thinking. The current educational focus on analytical thinking via STEM programs (science, technology, engineering, and math) leaves out an important letter: A for the arts. "The arts, culture, and humanities give us perspective and the capacity for empathy and humility," said Ma at the Nancy Hanks Lecture on Arts and Public Policy in 2013. "We know that the best decision makers employ great critical thinking skills with a great capacity for empathy."
Beyond Ma's passion for creating new music as a "venture culturalist," he is on a mission to incorporate the arts into education, business, and everyday life. He created a nonprofit called Silkroad, a nod to his exploration of music made along the Silk Road trade route between Europe and China. Silkroad and its ensemble of musicians create and perform cross-cultural music, develop educational programs, and collaborate with Harvard Business School to enhance education in the arts by training teachers.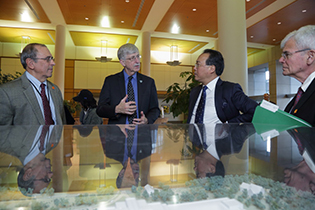 Ma takes every opportunity to practice what he preaches. Right after he left NIH, he visited Duke Ellington High School for the Performing Arts in Washington, D.C., for a community discussion about arts in education as part of his role as Artistic Advisor at Large for the Kennedy Center of the Arts.
Self-proclaimed Ma superfan Ronald Kohanski, deputy director of the National Institute on Aging, compared the cellist to the Dalai Lama. "I saw the Dalai Lama on his visit to New York years ago, and I had the feeling of a kind person with profound intelligence, humor, and wisdom," said Kohanski. After Ma's NIH appearance, "I felt I had seen the Dalai Lama with a cello."
---
The J. Edward Rall Cultural Lecture, part of the Wednesday Afternoon Lecture Series, honors Joseph Edward Rall, who helped to define NIH's modern intramural research program and, in the 1950s, to establish a stable academic-like community within a rapidly expanding government agency. The videocast of the lecture featuring Yo-Yo Ma (held on December 5, 2016) can be viewed at https://videocast.nih.gov/launch.asp?20036 (NIH only).
This page was last updated on Monday, April 11, 2022