From the Deputy Director for Intramural Research
Let the Cores Roar
CREx Will Enable Access to Core Services across the IRP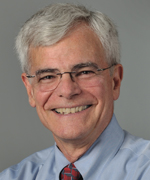 Scientific resources abound in the Intramural Research Program (IRP) from cores creating antibodies to those growing zebrafish. There are so many resources, in fact, that it can be difficult to know what they are and how you can use them. One of the action items arising from the IRP's long-term plan is finding ways to make most core resources, equipment, and facilities more accessible to all scientists throughout the NIH.
We have made a big step in this direction with the adoption of the National Cancer Institute's (NCI's) "CREx"—originally the CCR Research Exchange but now available NIH-wide as the Collaborative Research Exchange. CREx (colloquially pronounced "C-Rex," and it is a big deal) is an online research marketplace to identify the capabilities of thousands of external vendors as well as more than 100 NIH cores.
The IRP has many state-of-the-art core facilities with excess capacity that could be shared among investigators. About a dozen of these facilities operate at an NIH-wide level and include such diverse offerings as the Imaging Probe Development Center, the NIH Intramural Sequencing Center, and high-throughput RNAi screening services. Dozens of others are housed within Institutes and Centers (ICs), including the NCI's nanotechnology core, the National Institute of Child Health and Human Development's zebrafish core, and the National Eye Institute's genetic-engineering core. Access to these facilities and many others could help our researchers pursue scientific investigations that they might never have dreamed of undertaking on their own. Check out the fast-paced IRP video that features some of these gems on the IRP web site, at https://irp.nih.gov/our-research/research-resources .
The trouble is that there has been no central catalog characterizing all of these core services. Researchers have been hard pressed to find them…until now! NCI has been using the CREx system successfully since 2013; about 400 NCI scientists—including principal investigators, postdocs, and staff scientists—have road-tested it. More importantly, NCI has realized substantial cost savings by using CREx to compare the cost and quality of NIH-based services to outside vendor-based services. CREx's robust reporting feature facilitates the making of strategic decisions such as whether to sunset core services that are available externally at a lower cost or to redirect funds to new technologies (and new core laboratories).
CREx is an easy-to-use, one-stop shop for research services and core facilities. You can use the Google-like search field to quickly find the desired research services and technologies, and filter the results to identify cores, other resources, and qualified vendors. The platform also enables users to look at multiple cores and vendors simultaneously, assess capabilities and gather quotes, and exchange files and project reports. Investigators can also rate and review vendors and services and share their experiences with the rest of the NIH.
NCI generously offered to open CREx to the entire IRP. In January 2016, the scientific directors concurred and approved a financial plan to support the expansion. The Office of Intramural Research's (OIR's) Director's Challenge Fund is funding the initial phase through fiscal year 2017. Then the ICs and the OIR have committed to keeping CREx going for the foreseeable future.
CREx includes a dozen NIH-wide cores, 110 cores in 10 ICs including NCI, and more than 10,000 commercial vendors. And as time goes on, CREx will be adding more cores to its catalog of services.
In the months to come, we plan to have detailed instructions about how all labs can take advantage of CREx, including how any additional cost of supporting some activities in core facilities will be reimbursed. NCI scientists have lauded the system, describing it as a perfect mix of Google, eBay, Amazon.com, and Yelp in getting quality services quickly and at a good price. You can get a sense of how CREx works by pointing your web browser to https://nih.scientist.com. (You just need your NIH user name and password to access it, and then you can sign up for an account if you wish).
We hope that IRP researchers will use CREx to become aware of shared scientific resources throughout NIH including those embedded within the ICs. We anticipate that CREx will help foster collaborations, too. The more of us who use it, the better the system will be. Stay tuned.
---
For more information on CREX, visit its website at https://nih.scientist.com or contact Lakshmi Darbha (lakshmi.darbha@nih.gov or 301-496-2593).
This page was last updated on Monday, April 11, 2022