NIEHS Science Days Festival Celebrates Research
Nuclear Hormone Receptors Featured
Not to be outdone by the NIH Research Festival, which takes place in Bethesda each fall, the National Institute of Environmental Health Sciences (NIEHS) holds its own annual celebration of science: Science Days, which took place November 3–4, 2016. This year's theme was nuclear hormone receptors, which mediate environmental impacts on the body. Speakers included NIEHS researchers, trainees, a grantee, and a former trainee who now directs her own lab. Scientists throughout NIEHS presented nearly 100 posters. And awards were presented for best trainee talk and poster as well as for mentor and trainee of the year.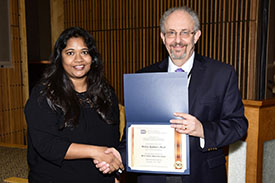 Spotlight on trainees: "Science Days gives us a chance to spotlight trainees and give them opportunities to present their research in talks and posters," said Joel Abramowitz, special assistant to the NIEHS scientific director and lead organizer of the event. New to the festival this year were offerings from the Division of Extramural Research and Training (DERT) grant experts, including three talks and a resource room for people with questions about grants.
"We wanted to provide our trainees [with] the same information that we share at scientific society meetings," said Kimberly McAllister, who organized the DERT presentations.
Nuclear hormone receptors mediate environmental impacts: The science talks explored nuclear hormone receptors as mediators of environmental impacts on the body. This family of transcription factors, which regulate gene expression, can be disrupted by chemicals that mimic hormones or by diseases, such as diabetes and obesity, that alter hormonal signaling.
"The minisymposium really showed the breadth of NIEHS research," said NIEHS Scientific Director Darryl Zeldin. "We heard outstanding scientists talk about state-of-the-art topics and novel approaches to understanding how the environment affects our health."
Sex differences in endocrine disruptors: NIEHS grantee Heather Patisaul, from North Carolina State University (Raleigh, North Carolina), studies endocrine disruptors and social behavior in prairie voles, whose behaviors are closer to that of humans than other animal models are. "We and others have reported behavioral effects of developmental BPA [bisphenol A] exposure, including elevated anxiety and exploratory behavior, and many of those effects are sexually dimorphic," she explained. In future research, Patisaul wants to further study exposure timing and focus on the placenta as a target for the chemicals.
Endometriosis, BPA, and BPAF: Former NIEHS trainee Katie Burns, now a grantee at the University of Cincinnati College of Medicine (Cincinnati), studies connections between endometriosis and exposures to endocrine disruptors, especially bisphenol AF (BPAF), a substitute used in products advertised as BPA-free.
Using a mouse model of endometriosis that she developed at NIEHS, Burns's findings are consistent with other researchers, who have shown that BPAF is more estrogenic than BPA. She shared early results of a study in which BPAF increased the size of endometrial lesions. In future studies, Burns hopes to characterize the molecular processes involved.
Computational approaches speed chemical screening: "Now I'm going to take you up to the 30,000-foot view, to figure out how we tackle the fact that we are living in a sea of chemicals," said Nicole Kleinstreuer, deputy director of the National Toxicology Program Interagency Center for the Evaluation of Alternative Toxicological Methods.
Computational toxicology enables scientists to study more chemicals faster, and with fewer animals, than with traditional approaches. Kleinstreuer discussed predictive models of hormone signaling pathways, highlighting the U.S. Environmental Protection Agency's approval of new endocrine assays. "This is the first time any regulatory agency has accepted high-throughput screening data and computational model output as an alternative to an animal test," Kleinstreuer said. "That's pretty exciting."
---
Trainee talks represent breadth of NIEHS research
Trainees from NIEHS laboratories, branches, and research programs presented science ranging from epidemiology and clinical studies to cell signaling and DNA repair.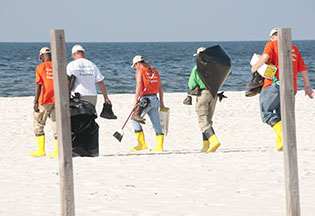 Mahita Kadmiel, in the Signal Transduction Laboratory (STL), won the best talk award for her lecture explaining that glucocorticoids are critical for proper formation of the cornea.
Sara Andres, in the Genome Integrity and Structural Biology Laboratory, described how citrate-transfer protein–1 forms filaments critical for DNA repair.
Natasha Catlin, in the Division of the National Toxicology Program, discussed whether developmental exposure in animals to the dietary supplement vinpocetine, marketed as a memory-enhancing compound, leads to effects in offspring.
Vanessa Flores, in the Clinical Research Branch, discussed the Body Weight and Puberty Study, which is using breast ultrasound and other robust methods to clarify whether obesity is linked with earlier breast development.
Kaitlyn Gam, in the Epidemiology Branch, is filling research gaps in data on the health of workers involved in the Deepwater Horizon oil-spill response by studying lung function in relation to exposures to oil and dispersants.
Takuyu Hashiguchi., in the Reproductive and Developmental Biology Laboratory (RDBL), studies phosphorylation in nuclear receptors' DNA-binding domain, which appears to be involved in nuclear receptor communication and coordination.
Jackson Hoffman, in the Epigenetics and Stem Cell Biology Lab, is studying how the glucocorticoid receptor interacts with chromatin remodelers to influence gene expression in response to hormones.
Kilsoo Jeon, in the Immunity, Inflammation, and Disease Laboratory, demonstrated how the Glis-3 transcription factor regulates the transcription of certain genes in early development, influencing cells that become dopaminergic neurons.
Natale Sciolino, in the Neurobiology Laboratory, used a mouse line to selectively activate noradrenergic neurons of the locus coeruleus (in the brain stem) to mimic the effects of toxicant exposure. She found that activating the noradrenergic neurons suppressed eating. Her findings suggest a potential neural mechanism by which toxicants promote anorexia in humans.
---
Awards
In addition to Mahita Kadmiel being presented with the best talk award, nine trainees were recognized for their poster presentations. First place went to Matthew Quinn, of STL, for his poster "Loss of Ovarian Function Results in Metabolic Syndrome and Steatosis via a Glucocorticoid Receptor Dependent Mechanism."
The "Fellow-of-the-Year Award" went to Katie O'Brien, in the Biostatistics and Computational Biology Branch (BCBB).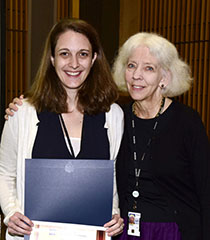 This award recognizes "an outstanding fellow, who demonstrates excellence in qualities that are important for a successful, well-rounded, independent research career," said Tammy Collins, director of the Office of Fellows' Career Development.
"Katie exemplifies a model postdoctoral fellow, in terms of her passion for the research," said O'Brien's mentor, BCBB Chief Clarice Weinberg. "In her case, it was trying to discover causes for breast cancer—but also her personal integrity and ability to think and write clearly and beautifully."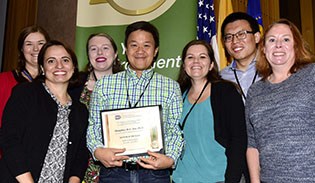 This year's mentor-of-the-year winner was Humphrey Yao, a principal investigator in the Reproductive and Developmental Biology Laboratory. Candidates for this honor are nominated by trainees and researchers alike. Yao "provides individual mentoring for each of his current trainees, as well as trainees who left his lab years ago, other people here at NIEHS, and even people he has only met briefly in a five-minute talk in the elevator," said Barbara Nicol, a visiting fellow in Yao's group. "He is setting the bar high!"
This page was last updated on Monday, April 11, 2022