News You Can Use
Calling All Broadcasters
Introducing the NIH Library Digital Production Studio
Do you need to record an interview or podcast, practice a presentation, create an online tutorial, or host a webinar? The NIH Library (Building 10) invites you to consider using its new Digital Production Studio (DPS).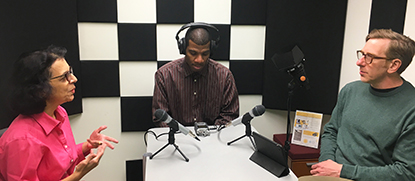 DPS is a self-service facility where you can create and produce audio and video projects. The studio is equipped with a digital audio recorder, a video camera, headphones, microphones, a lighting kit, soundproofing, a green screen, and more. In addition, editing software is available in the Technology Hub just outside the studio so you can edit and enhance your production.
How to use DPS: The DPS is available at no charge to all NIH staff who have a valid ID card. A reservation is required, however, for the use of the studio, equipment, and the Technology Hub editing suite. Library staff will instruct you on how to use the equipment and provide other assistance if requested. Group and individual training sessions and tours are also available.
You need to bring your laptop, iPhone, iPad, or Android device to save your finished product. You can edit your product using the Technology Hub computers and editing software—Adobe Creative Cloud suite (Premier Pro, After Effects, Adobe Audition, Photoshop, InDesign, and more) as well as Camtasia and Captivate.
The DPS is part of the library's Technology Hub, a physical and virtual space where NIH and Health and Human Services staff can explore new technologies and discover how they can enhance their research. The Technology Hub also features three three-dimensional printers that NIH staff can use for free; collaboration pods equipped with basic and specialty software, a PC, plasma screen, headphone sockets, and a whiteboard; high-performance bioinformatics and data-service computing workstations; and a data-visualization touch screen. Come explore the Digital Production Studio and Technology Hub at the NIH Library today.
---
For more information go to https://www.nihlibrary.nih.gov/services/technology-hub or send an e-mail to NIHLTechHub@nih.gov; call 301-496-1080; or visit the NIH Library Information Desk.
---
Nephele: NIAID's Newest Resource for Microbiome Data Analysis

Generating microbiome data is challenging, and analyzing it can be even harder. But the National Institute of Allergy and Infectious Diseases (NIAID) has developed a resource, called Nephele [https://nephele.niaid.nih.gov/#home], that may help. You can upload data quickly and easily; choose from a variety of standardized analysis pipelines assembled using tools that include QIIME, mother, and bioBakery; and then download visualizations and easy-to-interpret results. Once you perform standardized microbiome analyses on your data, you can compare it to the Human Microbiome Project's Healthy Human Subjects data, too.
The NIAID Office of Cyber Infrastructure and Computational Biology (OCICB) has sponsored the public use of Nephele, which runs on the Amazon cloud. NIAID hopes that Nephele will help to address the challenges surrounding biomedical big data and make digital research objects more accessible through the use of cloud computing.
Once processing is complete, results can be interpreted with help from Nephele's tutorial videos or Nephele's Pipeline Output Guide. Typical outputs include BIOM files, heat maps, bar plots, taxonomy tables, and other reports and visualizations.
Nephele is targeted to intramural and extramural researchers, sequencing facilities, students, and citizen–scientists. To register for free access to Nephele and start analyzing data right away, go to https://nephele.niaid.nih.gov/#request.
---
For more information, go to https://globalbiodefense.com/2016/11/07/nephele-niaids-newest-resource-microbiome-data-analysis/ or contact Nick Weber at nick.weber@nih.gov.
This page was last updated on Monday, April 11, 2022