An Equation for Global Health Equity
Dr. Paul Farmer Gives 2016 Barmes Lecture
To improve global health equity, "what you really need are the staff, stuff, space, and systems," said physician Paul Farmer, co-founder of the nonprofit Partners in Health and professor and chair of the Department of Global Health and Social Medicine at Harvard Medical School (Boston). "Research has to be linked to training, [to] local capacity building, and to actually taking care of people."
This was a recurrent theme for Farmer, who delivered the 2016 David E. Barmes Global Health Lecture on November 16. Farmer "has been one of the leading voices for opportunities in health to the whole globe," noted NIH Director Francis Collins in his introductory remarks.
Partners in Health provides health care to the poor in 10 developing countries, including Haiti and Rwanda, and supports health-care systems by building medical facilities, conducting research, and training local staff in those countries. In addition to lending a hand during a crisis, Partners in Health provides help over the long term.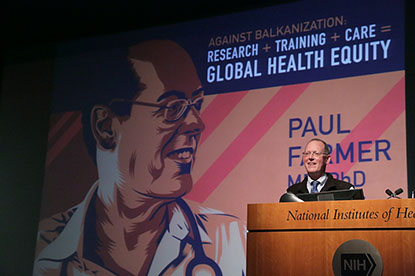 During the early years of his career, Farmer traveled frequently back and forth between Boston, where he was training, and Haiti. At that time, the 1990s, antiretroviral therapies (ART) were just becoming available, and the differences between care for those with human immunodeficiency virus or AIDS in Boston versus those in Haiti were striking.
Some protested that providing drugs like ART in low-resource countries was unsustainable, recalled Farmer. "But think about the absurdity of trying to use the word 'sustainability' as a diagnosis to decide whether yes or no, that person should receive the only treatments we have for a particular lethal infection or one that causes great suffering."
After the 7.0 earthquake rocked Haiti in 2010, the country's health-care system and already weak medical infrastructure were hit hard. "When the nursing school collapsed, killing all, when the dental school collapsed, killing many faculty members and many dental students, when Haiti's teaching hospitals fell apart, I said, 'We're going to build a major medical center in central Haiti,'" said Farmer. Today, University Hospital in Mirebalais serves patients from across Haiti and helps train new health-care providers.
During the most recent Ebola outbreak in West Africa, Farmer and his Partners in Health colleagues assisted with research and care in Sierra Leone. Arriving in Port Loko, a city 45 miles east of the Sierra Leone capital of Freetown, they were sent to an abandoned building that was serving as an Ebola treatment unit.
"There is no electricity, there's no walls. Walls? We can live without walls. Electricity is good though. No running water, no drainage," said Farmer. Sick and dying people were already there. But while other groups in places like Liberia spent a great deal of time and money on custom-built buildings that arrived too late to house patients, Partners in Health and the other groups at Port Loko worked with what was already there.
Farmer and colleagues have continued to work in Sierra Leone and recently published a study investigating whether there may have been asymptomatic, undiagnosed cases of Ebola (PLoS Negl Trop Dis DOI:10.1371/journal.pntd.0005087). The researchers identified a significant number of people (14 in one village) with previously undetected Ebola virus infection, suggesting that transmission events may have gone undetected during the outbreak.
When it comes to doing research in poor areas such as those hit hard by Ebola, "we never had any trouble," said Farmer. "Nobody threw rocks at us or threatened us for saying, 'Hey, we're trying to find out if this rapid diagnostic works as well as [the polymerase chain reaction]," said Farmer. "What do they care? We're taking care of them."
Partners in Health has also been bringing the combination of research, training, and care to Rwanda for several years, supporting its health-care system in a variety of ways.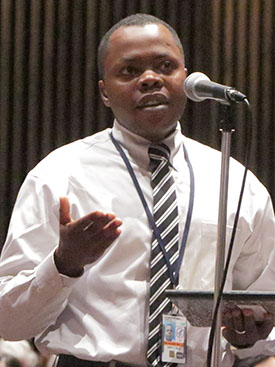 In Rwanda, "people are suffering from not having access to research, advanced technologies, [or] advanced treatments, not only because they're expensive, but also because of the lack of information and lack of research," said Jean Utumatwishima, a visiting fellow at the National Institute of Diabetes and Digestive and Kidney Diseases. Utumatwishima was the director of the Kinihira Provincial Hospital in Rwanda, which works closely with a cancer center for excellence run by the Partners in Health. "Partners in Health has brought a new dynamic of training people," said Utumatwishima. It's providing "on-the-job training on specific diseases and specific skills."
Farmer and Partners in Health are launching a new initiative in Rwanda—the University of Global Health Equity, which will support the training of new health-care providers in the region. "There are plenty of young people from across [Africa] who want a chance to be health-care providers, to be researchers, to understand quantitative methods, and [to] be part of this great effort to generate new knowledge," said Farmer.
"There's an urgency to address [health-equity] issues quickly, and we can't wait; we need to do it now," said Martha J. Somerman, director of the National Institute of Dental and Craniofacial Research (NIDCR), which, along with the Fogarty International Center (FIC), sponsors the Barmes Lecture. NIDCR, she said, is hoping to work with FIC Director Roger Glass as well as Farmer to generate new global health-equity initiatives.
"We live in one body. We live in families, and we live in communities. We're connected across borders," said Farmer. "When you have the staff, stuff, space, and systems that you need, not only can you do better research to find out what's going on, you can actually make a great difference in people's lives.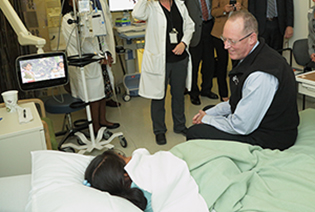 ---
The annual David E. Barmes Global Health Lecture was established in 2001 to honor the late David Edward Barmes, an ardent and lifelong supporter of global health. A special expert for international health at the NIDCR and a longstanding World Health Organization employee, Barmes devoted his life to research aimed at improving health for people in low-income countries. This annual lecture is sponsored by NIDCR and FIC. To watch a videocast of Paul Farmer's talk, "Against Balkanization: Research + Training + Care = Global Health Equity," held on November 16, 2016, go to https://videocast.nih.gov/launch.asp?20007.
This page was last updated on Monday, April 11, 2022