News You Can Use
New Freezer Policy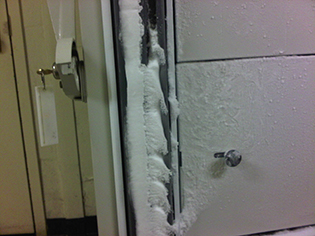 In an ongoing effort to phase out older, non-energy-efficient freezers that use an overwhelming amount of energy, NIH's Division of Environmental Protection (DEP) in the Office of Research Facilities Development and Operations (ORFDO) has issued a new policy—and manual chapter—that covers the selection, placement, maintenance, and inspection of ultralow-temperature (ULT) freezers.
Selection: This policy encourages ICs to use the New Equipment Sales and Rental Program through the Division of Scientific Equipment and Instrumentation Services (DSEIS), Office of Research Services, to acquire energy-efficient ULT freezers. Advantages to using DSEIS for these acquisitions include competitive pricing and options such as monthly rentals and rent-to-purchase agreements. For more information, contact Anju Vergheese (Branch Chief) at anju.vergheese@nih.gov or Mary McKeehan at rental@ors.od.nih.gov. The DEP will develop and annually update a list of energy-efficient ULT-freezers. This list is available on the NIH Energy Management Systems (NEMS) website (https://nems.nih.gov/programs/Pages/NIH-Ultra-Low-Temperature-Freezer-Policy.aspx) or by request to the DEP director.
Inventory: All ULT freezers are accountable property and therefore must have a barcode decal affixed to the front and the information entered into NIH Business System within five working days of receipt of equipment. When no longer needed, the freezers must be disposed of according to property-disposal requirements.
Placement: ULT freezers will be placed only in locations that are adequately ventilated, temperature controlled, and away from excessive foot traffic.
Maintenance: ICs shall perform regular preventative maintenance on all ULT freezers twice a year. Note: The Division of Scientific Equipment and Instrumentation Services in the Office of Research Services is available to provide this service. For information on pricing and contracts, contact Glenn Simons (simonsgd@mail.nih.gov) or Jerry Tyus (jerry.tyus@nih.gov).
Inspections and Compliance: ORFDO personnel will inspect the freezers to ensure compliance with the new policy, note deficiencies, and remedy noncompliant occurrences.
To review the chapter ("26101-16 – Management of Ultra-Low Temperature Freezers to Promote Energy Efficiency in Cold Storage for Biomedical Research"), go to https://oma1.od.nih.gov/manualchapters/acquisitions/26101-16/. For further information, contact Susan Hinton (hintons@mail.nih.gov). To read an article on NIH's energy-efficient freezer initiative that appeared in the September–October 2012 issue of the NIH Catalyst, go to https://irp.nih.gov/catalyst/v20i5/news-you-can-use.
---
NIAID Announces Redesign of ClinRegs Website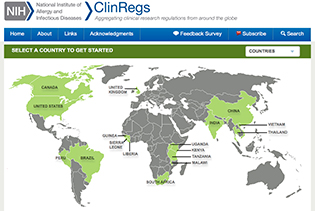 ClinRegs, an online database that helps researchers sort through country-specific clinical-research regulatory information, is making it even easier for researchers who want to conduct clinical trials around the world. The National Institute of Allergy and Infectious Diseases (NIAID), which launched the website in 2014, has released a new version of the ClinRegs website designed to make it easier and faster for users to find the information they're seeking. The site now covers 17 countries (it used to cover 14).
New or improved features of the new ClinRegs include:
An interactive homepage map of the countries included
A table of contents on each country page for easier navigation
Drop-down menus to switch among countries for comparison
A Quick Facts table for each country
In-context links for users to submit updates or comments
NIAID continues to strive to make ClinRegs a useful resource for intramural researchers and welcomes comments, insights, and suggestions via the feedback survey on the website.
To visit the site, go to http://clinregs.niaid.nih.gov. To read an article on the same topic that appeared in the January–February 2015 issue of the NIH Catalyst, go to https://irp.nih.gov/catalyst/v23i1/news-you-can-use.
This page was last updated on Tuesday, April 12, 2022