Announcements
THE NIH LEAVE BANK: BECOME A 2017 MEMBER!
Open enrollment: November 14–December 12, 2016
Memberships will be effective January 8, 2017
The Office of Human Resources is pleased to announce open enrollment for the 2017 NIH Leave Bank, which is a pooled bank of donated annual leave available to eligible members. It acts like an insurance policy for your paycheck and provides paid leave for members who experience a personal or family medical emergency and have exhausted all of their leave.
To become a 2017 member, access ITAS during the open enrollment period and enroll under the "Leave Bank Membership" screen. If you are already a 2016 Leave Bank member, your membership will automatically continue into 2017 unless you take action in ITAS during the open enrollment period to opt-out. For each membership year, there is a membership contribution requirement. The annual membership contribution is only one pay period's worth of annual leave accrual (that is, four, six, or eight hours). You can still become a Leave Bank member even if you do not have annual leave to contribute—your contribution will be waived! Use-or-Lose donations can be made using ITAS on or before January 7, 2017. ITAS is available at https://itas.nih.gov.
For information visit http://nihleavebank.od.nih.gov. Questions may be directed to the NIH Leave Bank Office at 301-443-8393 or LeaveBank@od.nih.gov.
---
Barmes Global Health Lecture
"Against Balkanization: Research + Training + Care = Global Health Equity"
Wednesday, November 16, 2016; 12:00–1:00 p.m.
Masur Auditorium (Building 10)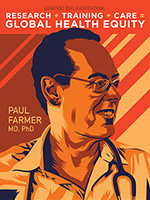 Paul Farmer, who is a founding director and chief strategist of the international nonprofit Partners In Health, will deliver the 2016 David E. Barmes Global Health Lecture. A medical anthropologist and physician, Farmer conducts research, provides health-care services, and advocates on behalf of those who are sick and living in poverty. He is the Kolokotrones University Professor and the chair of the Department of Global Health and Social Medicine at Harvard Medical School (Boston), chief of the Division of Global Health Equity at Brigham and Women's Hospital (Boston), and United Nations Special Adviser to the Secretary-General on Community-based Medicine and Lessons from Haiti. Farmer holds an M.D. and Ph.D. from Harvard University.
The event honors the late David Barmes, a public-health dentist and epidemiologist, for his career spent improving health in low- and middle-income countries. The National Institute of Dental and Craniofacial Research and the Fogarty International Center are co-sponsors. For more information, see https://www.nidcr.nih.gov/NewsAndFeatures/Announcements/2016-David-E--Barmes-Global-Health-Lecture.htm. The event will be videocast live on the web and archived at http://videocast.nih.gov.
---
"IN FOCUS! SAFE WORKPLACES FOR ALL" PHOTO CONTEST
Accepting entries until December 31, 2016
Website: https://www.ors.od.nih.gov/sr/dohs/Events/infocus/Pages/default.aspx
The NIH is hosting the 2016 "In Focus! Safe Workplaces for All" photo contest. The contest challenges anyone with a passion for photography to capture an image of workplace safety and health and share it with the Office of Research Services, Division of Occupational Health and Safety. The goal of the contest is to further efforts to reduce personal injuries and illnesses; educate and underscore the importance of safety; foster innovation to create shared solutions; and achieve community involvement by relying on your talent, imagination, and creativity to raise awareness of workplace safety and health. You can interpret "image of workplace safety and health" in any way you choose; you are not restricted to particular subjects or themes. Pictures can be taken of a variety of workplaces and is not limited to the NIH workplace. For information, go to https://www.ors.od.nih.gov/sr/dohs/Events/infocus/Pages/default.aspx.
---
NIH MISSION FIRST! SAFETY ALWAYS AWARD
Nominations accepted until 11:59 p.m., December 31, 2016
Website: https://www.ors.od.nih.gov/sr/dohs/Events/SafetyAwards/Pages/NIH-Mission-First,-Safety-Always.aspx
The Office of Research Service's Division of Occupational Health and Safety salutes a group of professionals making a difference in safety. The NIH Mission First, Safety Always award was created to recognize NIH personnel who have demonstrated leadership, innovation, and involvement in their organization's safety culture and promoted safety in the workplace. Nominations submitted after the deadline will not be considered. For information or questions, e-mail ORSSafetyDay@mail.nih.gov.
---
DEMYSTIFYING MEDICINE 2017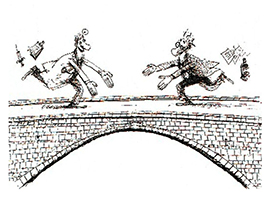 Tuesdays, January 10–May 23, 2017; 4:00–6:00 p.m.
Ground floor auditorium, Building 50 (unless otherwise noted)
To sign up and for more information, go to https://demystifyingmedicine.od.nih.gov
The NIH- and FAES-sponsored course "Demystifying Medicine" is designed to excite the interest of Ph.D. and M.D. students, fellows, researchers, and others in bridging the gap between amazing advances in basic science and the challenges of clinical disease. There are no formal requirements to attend as many of the weekly sessions as desired. The format involves a translational physician, a basic scientist, and usually a live patient who puts a human face on the disease.
January 10: "Mitochondria, Aging, and Chronic Disease" (Richard Hodes, NIA; Toren Finkel, NHLBI)
January 17: "Addiction and Habituation: Drugs and Food" (Nora Volkow, NIDA; Kevin Hall, NIDDK)
January 24: "New Approach to Atherosclerosis from Studies of Chronic Granulomatous Disease" (John I. Gallin, CC)
January 31: "Glycoproteins, Allergy, and Other Diseases" (John Hanover, NIDDK; Michelle Bond, NIDDK; Jonathan Lyons, NIAID)
February 7: "Inflammation: Cytokine Storm" (Irini Sereti, NIAID; Richard Childs, NHLBI)
February 14: "Inflammation: One Gene at a Time" (Dan Kastner, NHGRI: TBA)
February 21: "Inflammation and Pancreatic Cancer" (S. Perwez Hussain, NCI; Christine Alewine, NCI)
February 28: "HIV: Frontiers and Vaccine Development" (John Coffin, NCI; Jeffrey Lifson, NCI)
March 7: "Hepatocellular Cancer and Liver Transplantation" (T. Jake Liang, NIDDK; Lynt B. Johnson, MedStar Georgetown University Hospital)
March 14: "Genetic Disease Testing: Current Status and Future Prospects" (Robert Nussbaum, Invitae Corporation; Leslie Biesecker, NHGRI)
March 21: "Fibrosis: Inflammation and Cirrhosis" (Thomas Anthony Wynn, NIAID; Theo Heller, NIDDK)
March 28: "Obesity: Brown and Other Fat" (Aaron Cypess, NIDDK; Rebecca Brown, NIDDK)
April 4: "Sight-threatening Uveitis: A 2-way Street between Research and Clinic" (Rachel Caspi, NEI; Hatice Nida Sen, NEI)
April 11: "Alzheimer: What, When and How" (Mark Mattson, NIA; Dimitrios Kapogiannis, NIA)
April 18: "Bioengineering: Bridging Brain, Computer, and Neurologic Disease" (Jonathan Wolpaw, National Center for Adaptive Neurotechnologies; TBA)
April 25: "Addison's Disease Meets Chromatin Biology" (Lynnette Nieman, NICHD: Daniel Larson, NCI)
May 2: CANCELLED--RESCHEDULED TO MAY 16
May 9: "Schizophrenia: From Childhood to Genomes" (Judy Rapoport, NIMH; Joshua Gordon, NIMH)
May 16: "Current Infectious Disease Challenges" (Anthony S. Fauci, NIAID; TBA); NOTE: "Immunotherapy of Cancer" (James Gulley, NCI; James Yang, NCI) is rescheduled for 2018.
May 23: Topic to be announced (Michael M. Gottesman, NCI; TBA)
---
WEDNESDAY AFTERNOON LECTURES
Wednesdays, 3:00–4:00 p.m.
Masur Auditorium (Building 10)
Website: https://oir.nih.gov/wals
November 2: Ronald Falk (University of North Carolina, Chapel Hill), Astute Clinician Lecture, "Perspective on Autoimmunity: A View from the ANCA Vasculitis Looking Glass"
November 7 (Monday): Laurie Glimcher (Weill Cornell Medical College), Inaugural William Paul Lecture
November 9: Xuetao Cao (Peking Union Medical College), "Innate Molecules in the Inflammation and Cancer"
November 16: Cisca Wijmenga (University of Groningen), "Germs, Genes, and Host Defense"
November 30: Hopi Hoekstra (Harvard University), "Digging for Genes that Affect Behavior
December 7: Wendy A. Suzuki (New York University), "Adventures in Brain Plasticity: From Memory Palaces to Soulcycle"
December 15: Douglas Melton (Harvard University), "Using Human Stem Cells to Understand and Treat Diabetes"
January 11, 2017: Jeffrey Friedman (The Rockefeller University), "Leptin and the Neural Circuit Regulation Food Intake and Glucose Metabolism"
January 18, 2017: Hollis Cline (The Scripps Research Institute), "The Dynamic Connectome"
This page was last updated on Tuesday, April 12, 2022