News Briefs
NCI Embraces Scientific Road Map to Achieve Cancer Moonshot Goals
National Cancer Institute (NCI) Acting Director Douglas Lowy accepted the recommendations of a Blue Ribbon Panel (BRP) on 10 recommendations most likely to make a decade's worth of progress against cancer in five years, a key goal of the White House Cancer Moonshot. The report was presented by the BRP and approved by the National Cancer Advisory Board. With this road map in hand, NCI is poised to move forward in investing in these critical areas of research.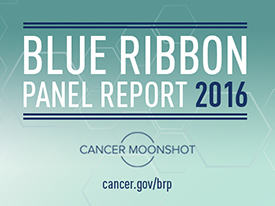 Along with the 10 scientific recommendations, the road map has additional specific, special projects. These include a demonstration project to test for Lynch syndrome, a heritable genetic condition that increases risk of several types of cancer, to improve early detection and prevention; the establishment of a nationwide pediatric-immunotherapy clinical-trials network to enhance the speed with which new immunotherapies can be tested in children; the exploration of patient-derived organoids; and the use of "microdosing" devices to test drug responses in living tumors.
Lowy will share these recommendations with the Cancer Moonshot Task Force. "I am deeply indebted to the 28 outstanding individuals who have served on the Blue Ribbon Panel and to the 150 working group members who put aside business as usual to contribute their years of expertise to this once-in-a-lifetime opportunity," said Lowy. "NCI is also greatly appreciative of Vice President [Joe] Biden's leadership and passion for the Cancer Moonshot and for motivating all who have been working so hard to make it a reality."
To view the 10 recommendations and read the full report, visit http://www.cancer.gov/BRP.
---
Space Station, This is Bethesda Calling
More than 58,000 people from all over the United States and at least 53 countries watched Facebook-Live on October 18 as Earth-bound NIH Director Francis Collins engaged in a lively conversation with NASA astronaut–scientist Kate Rubins, who was aboard the International Space Station (ISS). And there were more than a quarter-million additional views after the live broadcast ended.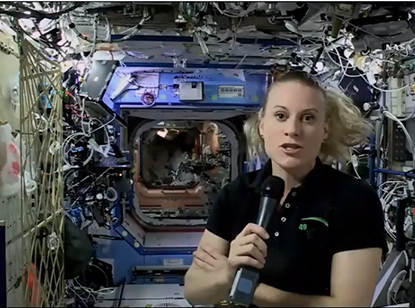 Rubins, who has a Ph.D. in cancer biology from Stanford University School of Medicine (Stanford, California), was the first person to sequence DNA in space using a device the size of a thumb drive. She answered Collins's questions—including ones submitted via social media beforehand—about the challenges of doing research at the station.
It's important to have equipment that is "compact, portable, robust, and independent of much power generation," she explained. "Much of our power is from solar arrays."
Many of the ISS experiments are designed to determine how space radiation and the microgravity environment would affect astronauts on long-duration space journeys. Rubins described several experiments including one that is looking at the effects of radiation on human cardiomyocytes (heart cells); another that is using identical twins—one on the space station for 340 days and the other on Earth—to see how humans respond to the microgravity environment; and still another that is exploring differences in how heart cells develop and interact in a microgravity environment versus on Earth—in space, they can't grow on a tissue-culture plate but build up on each other to form three-dimensional structures.
Collins mentioned that NIH is building human tissue chips–representing human organs such as the lung, liver, and heart—that will be sent to the ISS for experiments that will measure the effects of living in space.
To wrap up the chat, Collins asked Rubins what advice she would give students interested in science. "Find something they are incredibly passionate about," she replied.
To view the space chat on the NIH YouTube channel, go to http://bit.ly/2ekYNo0.
---
Clinical Center Update: Coming Into Focus
At the Clinical Center (CC) Town Hall meeting held on September 7, 2016, interested NIH staff and contractors were invited to sign up for focus groups to discuss the environment for patient care and safety in the CC and ways to improve both the practice and the process of carrying out NIH's research mission.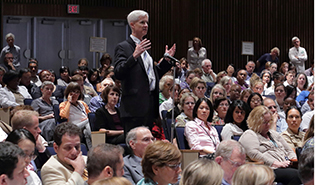 So far, there have some 30 focus groups, each with 15 to 20 participants, and many more are planned. The meetings have brought together a diverse group of NIHers. The idea is to hear from all staffing levels, particularly those in and about the CC who interact directly with patients (principal investigators, staff clinicians, clinical fellows, admission staff, hospitality, nurses, social workers, technicians, etc.) and even indirectly (facility crews, unit clerks, medical records staff, and so on). People outside the CC are encouraged to participate, too, as they may also have insight into how to improve clinical services.
Stewart Simonson (former assistant secretary for public health emergency preparedness at the U.S. Department of Health and Human Services, 2001–2006), who is facilitating these focus groups, has been impressed by the dialogue. The newly formed Hospital Board met on October 21 to hear the recommendations and concerns raised in the focus groups.
Several themes have emerged including the need to improve communications, improve infrastructure, provide more resources, develop a better-defined system of identifying people responsible for key tasks, and ensure consistency in patient-care practices and procedures.
If you haven't already participated in a focus group, there is still time. These groups will continue for the foreseeable future in order to give as many people as possible the chance to share their ideas and concerns. This process is extremely helpful as the NIH looks for ways to improve patient care and safety. To sign up for a focus group, go to http://intranet.cc.nih.gov/focusgroups.html.
This page was last updated on Tuesday, April 12, 2022