News You Can Use
NIAID Launches ClinRegs Web Site
Navigating International Clinical Trial Regulations Couldn't Be Easier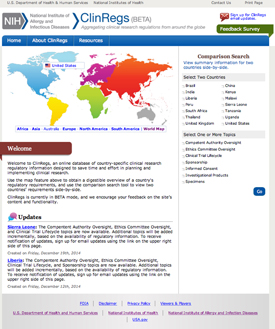 The National Institute of Allergy and Infectious Diseases (NIAID) has launched a new Web site, ClinRegs, to help researchers explore and compare country-specific clinical-research regulatory information.
The idea for ClinRegs originated under NIAID's "Barriers to Clinical Research" project, which determined that finding and complying with regulations of other countries was a common challenge to launching and implementing clinical research abroad. Interviews with NIAID researchers revealed that NIAID-supported researchers would save time and resources if they had a centralized tool that could provide summaries of the regulatory requirements in multiple countries. "ClinRegs is another way we are supporting investigators to advance immunology, allergy, and infectious-disease research around the globe," said NIAID Director Anthony S. Fauci.
The NIAID ClinRegs Web site provides an easy-to-use online database of country-specific clinical-research regulatory information that is designed to enable users to explore regulations within a country and compare requirements across countries. By providing well-documented, up-to-date regulatory information for multiple countries in a single place, ClinRegs serves as a central resource and time-saver for people who are planning and implementing international clinical research.
ClinRegs provides an overview of—and links to—country-specific regulations in the following topic areas: clinical-trial lifecycle, competent authority oversight, ethics committee review, informed consent, investigational products, specimens, and sponsorship.
"While researching and deciphering countries' regulations is rather unglamorous, we knew our efforts had the potential to greatly benefit the clinical research efforts of NIAID and other stakeholders," said ClinRegs Project Leader Jonathan Kagan, the assistant director for NIAID's Division of Clinical Research. "The positive response we have received from the research community has confirmed the value of this project."
The countries, based on priorities from within NIAID's research portfolio, currently include Brazil, China, India, Kenya, Liberia, Malawi, Peru, South Africa, Sierra Leone, Tanzania, Thailand, Uganda, the United Kingdom, and the United States. The ClinRegs team plans to expand its country list in alignment with NIAID's research priorities.
NIAID is striving to make ClinRegs a useful resource for all intramural researchers and welcomes comments, insights, and suggestions via a feedback survey on its Web site.
For more information including a user guide, visit http://clinregs.niaid.nih.gov.
This page was last updated on Tuesday, April 26, 2022