From the Deputy Director for Intramural Research
The Important Role of Staff Clinicians at the NIH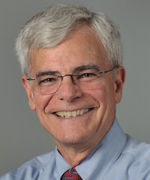 There are some 260 care providers employed by the NIH who have the professional designation of "Staff Clinician." Most of the institutes' and centers' (ICs') intramural programs and the Clinical Center employ staff clinicians, who play critical roles: They have important responsibilities in the conduct of NIH research; as parts of teams, they facilitate their own research and the research of other clinician-scientists; they are essential for the care of Clinical Center patients and consult on difficult clinical problems; and they lead the training of the next generation of clinician-scientists.
A subcommittee of the Advisory Board for Clinical Research—a Clinical Center oversight group consisting of NIH leadership and outside experts in clinical research, clinical care, and hospital management—recently completed a review of the Staff Clinician position and made three important recommendations that are currently being implemented.
This "Clinical Research Career Opportunities Working Group," then chaired by Josephine Briggs (director of National Center for Complementary and Integrative Health, formerly NCCAM) included Stephen Katz (director of NIAMS), Richard Wyatt (Office of Intramural Research), and Steven Holland (a senior investigator in NIAID and deputy director for Intramural Clinical Research). The subcommittee's report was presented to the Scientific and Institute Directors, by whom it was unanimously endorsed.
The report's three recommendations were:
Develop titles for all staff clinicians that appropriately reflect their work. Although "Staff Clinician" is the official intramural professional designation for clinicians with this varied group of responsibilities, each IC will develop more-appropriate titles to better define what they do as physician-scientists such as "Director of Training" or "Head, Division of Clinical Care" or "Chief, Diagnostic Development Unit."
Each IC will organize a regular review of the activities of each staff clinician that are relevant to his or her roles and responsibilities. These reviews will reflect the needs of the intramural programs. In most cases they will include a Board of Scientific Counselors' review of any independent research activities, as well as a review of patient care and mentoring and training activities by peers.
Ensure that the recruitment of Staff Clinicians is done with complete transparency: The nature of the work they will perform and their research resources will be accurately portrayed during the advertisement and recruitment process.
A town hall meeting was held on December 5, 2014, to discuss these recommendations with the community of staff clinicians. The meeting included presentations by Briggs; Holland; Clinical Center Director John Gallin; the chair of the subcommittee, Jake Liang (a senior investigator in NIDDK); and me. The meeting was well-attended and stimulated a discussion of many ideas to help facilitate the work of staff clinicians.
Gallin pointed out that staff clinicians are absolutely essential for NIH clinical-research activities and that there needs to be broad flexibility within this category of scientists for them to both facilitate NIH research and develop their own careers.
Liang suggested that a committee of staff clinicians be established to help develop further refinements of this position. The staff clinicians at the town hall welcomed this idea. There were recommendations for improved resources to help staff clinicians contribute to team science across the NIH institutes, and the expectation that positive reviews would result in greater appreciation of the quality and value of the work that they do at the NIH.
Most important moving forward is the creation of a LISTSERV to allow for the development of a community that can elect a staff clinician to represent their interests to the Medical Executive Committee and the Intramural Clinical Research Steering Committee. It is hoped that a staff-clinician community will allow better sharing of information across the NIH and lead to a more cohesive group of essential clinicians.
As always, please me send any comments you might have about how better to recognize the important contributions of our staff clinicians and how to enable the important work that they do.
---
To watch a videocast of the December 5, 2014, staff clinician town hall meeting, visit http://videocast.nih.gov/launch.asp?18763 (NIH and HHS only).
This page was last updated on Tuesday, April 26, 2022