Colleagues: Recently Tenured
AVINASH BHANDOOLA, PH.D., NCI-CCR
Senior Investigator; Head T-Cell Biology and Development Section, Laboratory of Genome Integrity, National Cancer Institute-Center for Cancer Research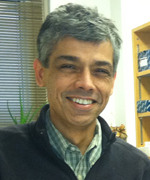 Education: Grant Medical College, Bombay, India (M.B., B.S. in medicine); University of Pennsylvania, Philadelphia (Ph.D. in immunology)
Training: Postdoctoral fellowship in pathology and laboratory medicine, University of Pennsylvania; postdoctoral fellowship, NCI's Experimental Immunology Branch (EIB)
Before coming to NIH: Professor, University of Pennsylvania
Came to NIH: From 1995 to 2000 for training in NCI's EIB; returned in 2014 to join NCI's Laboratory of Genome Integrity
Selected professional activities: Enjoys reviewing interesting manuscripts (editorial board member, PLoS Biology; section editor, Journal of Immunology) and teaching; teaches T-cell development for the American Association of Immunologists Advanced Courses in Immunology
Outside interests: Fishing (fresh and salt water), especially in the nearby Potomac River
Web site: https://ccr.cancer.gov/avinash-bhandoola
Research interests: I have always wanted to understand the rules that underlie the development and deployment of a functional immune system. In my lab at Penn we initially focused on early T-cell development. We eventually realized that the transcriptional mechanisms we worked on were shared by precursors of adaptive T cells and precursors of innate lymphocytes. Innate lymphocytes and T cells have very similar effector functions, and one attractive idea is that the factors we've worked on somehow program this ability of innate lymphocytes and T cells to access these effector functions. Our long-term goal is to understand the shared as well as the unique features and functions of these apparently closely related cell lineages.
A new area of interest is the epithelial cells that make up the thymus and that support T-cell development. Our knowledge about these cells lags greatly behind our knowledge of T cells. Thymic epithelial cells make the chemokines that attract blood-cell progenitors to the thymus, and they also attract many other signaling molecules that are essential for almost every subsequent step of T-cell development and T-cell quality control. Their numbers reduce with aging (age-related thymic involution), and they are damaged by irradiation and other conditioning regimens used in cancer treatments and in bone-marrow transplantation. Perhaps for this reason, many bone-marrow transplant patients have poor T-cell reconstitution. We would like to understand how these epithelial thymic cells develop and how their numbers and function are maintained through life.
---
ROBERTO WEIGERT, PH.D, NIDCR
Senior Investigator, Intracellular Trafficking Section, Oral and Pharyngeal Cancer Branch, National Institute of Dental and Craniofacial Research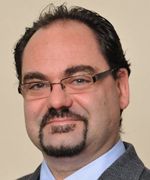 Education: University of Catania, Catania, Italy (B.Sc. in chemistry); Open University of London (Ph.D. in cell biology)
Training: Research fellow in the Laboratory of Cell Biology, NHLBI
Came to NIH: In 2001 for training; in 2006, joined NIDCR as chief of the Intracellular Membrane Trafficking Unit
Selected professional activities: Editor in-chief of Intravital; member of the American Society of Cell Biology
Outside interests: Cooking; playing volleyball
Web site: https://irp.nih.gov/pi/roberto-weigert
Research interests: Membrane trafficking plays a key role in many basic cellular processes. Unraveling its complex regulation at a molecular level is a fundamental step in understanding the physiological and pathological events in different organs. My group is investigating the basic mechanisms that regulate trafficking events in mammalian tissues, with a particular emphasis on their impact on the physiopathology of the oral cavity. Specifically, we are deciphering the machinery that regulates membrane remodeling during secretory processes. In order to study these events in live organisms, we have developed subcellular intravital microscopy, a series of light-microscopy-based techniques that enable the real-time observation of intracellular processes in live animals.
Our studies have underscored the importance of the tissue environment in regulating cellular events. We have shown that several processes cannot be recapitulated in reductionist model systems. We have unraveled novel roles of the actin cytoskeleton during regulated exocytosis, invasion, and metastasis in head-and-neck cancer. We also unraveled a novel modality of mitochondrial metabolism in vivo.
In our current research, we are further exploring the principles that regulate the temporal and spatial coordination among cell signaling, actin cytoskeleton, and cellular bioenergetics and their relation to modifications of the composition and biophysical properties of membranes. We envision that our work will provide novel insights into the cell biology of secretory systems and provide valuable information for the treatment of various diseases of the oral cavity.
---
CUILIN ZHANG, M.D., M.P.H., PH.D, NICHD
Senior Investigator, Epidemiology Branch, Division of Intramural Population Health Research, National Institute of Child Health and Human Development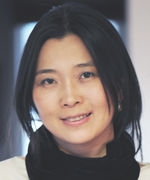 Education: Beijing Medical University, Beijing, China (M.D.); University of Washington School of Public Health, Seattle (M.P.H. and Ph.D. in epidemiology)
Training: Research associate in genetic and nutritional epidemiology, Harvard University School of Public Health (Boston)
Before coming to NIH: Research scientist, Harvard University School of Public Health
Came to NIH: In 2007 as a tenure-track investigator in NICHD
Selected professional activities: Associate editorial board, International Journal of Molecular Epidemiology and Genetics; academic editor, PLoS ONE; grant reviewer for the Health Research Council of New Zealand, Research Grants Council of Hong Kong, the Royal Society of New Zealand, and the Medical Research Council of UK
Outside interests: Playing the guqin (an ancient stringed instrument); playing sports (running, hiking, tennis); and cooking
Web site: http://1.usa.gov/14uk9V9
Research interests: My research focuses on the determinants and health consequences of diabetes and obesity. My group and I are trying to determine how pregnancy complications, such as gestational diabetes, may be understood in the context of pre- and peri-conceptional factors and linked with later-onset diseases, and what the health implications for "exposed" offspring are. Our research group determined that prepregnancy risk factors are critical for the development of gestational diabetes. Collectively, our findings suggest that a large percentage of cases of gestational diabetes could be prevented through prepregnancy lifestyle modifications. Importantly, these findings apply to both normal-weight and obese or overweight women.
In addition, our research group is seeking to identify novel biomarkers based on both targeted and nontargeted approaches, such as nontargeted metabolomics, that may enhance our capacity for understanding etiology and improving prediction, screening, and diagnostic protocols of diabetes in pregnancy.
Our research also goes beyond the pregnancy time window. I am leading the Diabetes and Women's Health Study (http://www.dwhstudy.org), which applies a hybrid design among approximately 4,000 women—from the United States and Denmark—who had diabetes in pregnancy. The study is focusing on the identification of determinants (medical, lifestyle, and genetic factors and their interactions) for the progression from gestational diabetes to type 2 diabetes and its complications and the investigation of biochemical markers that may predict these complications among the high-risk population.
Moreover, we are planning to establish a cohort of offspring aged from early childhood through reproductive age to investigate the short-term and long-term trans-generational impact of diabetes and obesity and to decipher underlying mechanisms. The ultimate goal of our research is to improve maternal and child health at multiple critical times of human development and to disrupt the vicious cycle of diabetes-begetting-diabetes.
---
Read this section in upcoming issues of the NIH Catalyst to learn about other recently tenured colleagues, including:
Swee Lay Thein (NHLBI)
Janet Hall (NIEHS)
Michele K. Evans (NIA)
Ivan Ovcharenko (NLM)
Xiaohong (Rose) Yang (NCI)
Daphne Bell (NHGRI)
Lisa Cunningham (NIDCD)
Jon Lorsch (NIGMS)
Martin Meier-Scheller (NIAID)
Elissa Lei (NIDDK)
Francesco DeMayo (NIEHS)
Ludmila Prokunina-Olsson (NCI)
Rajeshwari Sundaram (NICHD)
Hannah Valantine (NHLBI)
This page was last updated on Tuesday, April 26, 2022