News Briefs
K.T. JEANG MEMORIAL AND GARDEN
On May 15, 2014, the first annual memorial lecture was held to honor the memory of the late Kuan-Teh Jeang, the accomplished retrovirologist who died in January 2013. Jeang was the chief of the Molecular Virology Section of NIAID's Laboratory of Molecular Microbiology. His research focused on gene regulation of the human immunodeficiency virus (HIV) and how human T-cell lymphotrophic virus type 1 (HTLV-1) causes leukemia.
The lecture was given by Yuan Chang (University of Pittsburgh), who along with her husband and research partner, Patrick Moore, discovered the viral causes of four different human cancers. In 1994, the Chang-Moore lab identified and isolated Kaposi's sarcoma-associated herpesvirus, the cause of Kaposi's sarcoma, a cancer epidemic among HIV/AIDS patients.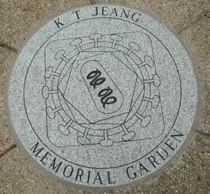 After the lecture, a ceremony was held to dedicate the Jeang Memorial Garden, located between NIH Buildings 31 and 6.
---
DATA SCIENCE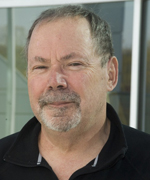 Welcome to Philip E. Bourne, Ph.D., NIH's first permanent associate director for data science. Based in the Office of the Director, he will lead an NIH-wide priority initiative to take better advantage of the exponential growth of biomedical research datasets, which are an area of critical importance to biomedical research.
Before coming to NIH, Bourne was at the University of California at San Diego (La Jolla, California), where he was the associate vice chancellor for innovation and industry alliances of the Office of Research Affairs and a professor in the Department of Pharmacology and the Skaggs School of Pharmacy and Pharmaceutical Sciences. He also was the associate director of the Research Collaboratory for Structural Bioinformatics Protein Data Bank. He trained as a physical chemist and obtained his Ph.D. from Flinders University in South Australia. Bourne's professional interests focus on relevant biological and educational outcomes derived from computation and scholarly communication. This work involves the use of algorithms, text mining, machine learning, metalanguages, biological databases, and visualization applied to problems in systems pharmacology, evolution, cell signaling, apoptosis, immunology, and scientific dissemination. He has published over 300 papers and five books. He is interested in furthering the free dissemination of science through new models of publishing and better integration and subsequent dissemination of data and results.
---
NIH BEAR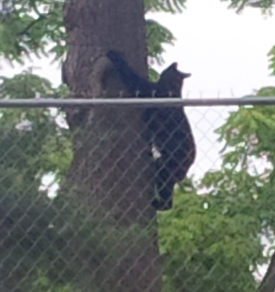 There was a lot of nervous (and frivolous) chatter throughout NIH and on Twitter on Thursday, June 19, when a 125-pound young-adult black bear (Ursus americanus) clambered up a tree near the Medical Center Metro station. Authorities erected a fence around the base of the tree and then fired rounds of miniature firecrackers in an effort to scare him down. When he finally climbed down, he scampered onto the wooded NIH campus (the fence was only intended to steer him away from Rockville Pike traffic). He was located about 25 minutes later, shot by a trained wildlife biologist with a tranquilizer dart, and then loaded onto a stretcher and into a small truck. He was taken to a forest in western Montgomery County in Maryland and released.
Somehow in all the fuss, he managed to find time to tweet about his experiences. You can find the tweets—and see whether he's still tweeting—on Twitter at @NIH_Bear.
This page was last updated on Wednesday, April 27, 2022