NIH in History
The Centennial Anchor
A Symbol of NIH's Maritime Origins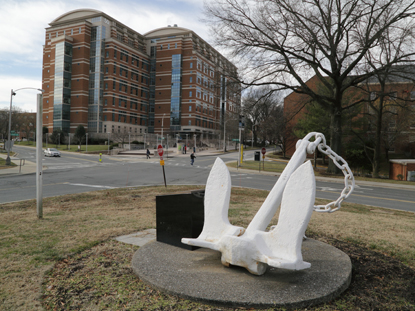 Ever wonder why there's a huge white anchor at the intersection of Center and South Drives on NIH's Bethesda campus? The Centennial Anchor, so named for the 100th anniversary of NIH's founding, symbolizes the maritime origins of the Public Health Service and NIH. Originally from a Coast Guard cutter, the anchor rested for many years in front of the Staten Island Marine Hospital (Staten Island, N.Y.), where the NIH began in 1887 as the Hygienic Laboratory, headed by Joseph Kinyoun. The laboratory moved from Staten Island to Washington, D.C., in 1891; changed its name to the National Institute of Health in 1930; moved to Bethesda in 1938; and became the National Institutes (plural) of Health in 1948.
As NIH approached 1987, its centennial year, then–Associate Director for Intramural Affairs Philip Chen got a call from an official at the Staten Island Marine Hospital who said that it was about to become the privatized Bayley Seton Hospital. "There's an anchor here," the hospital official told Chen. "Would you like it?" Not wanting to miss an opportunity to secure a piece of NIH's history, Chen wasted no time in arranging for a flatbed truck to bring the anchor to Bethesda.
"The anchor provides some link to the maritime history of [the Public Health] Service and NIH," said Chen. It "is a visible reminder of the original one-room Hygienic Laboratory to which NIH traces its origins."
To celebrate NIH's centennial, the anchor was set unadorned on the grassy traffic island at South and Center Drives and then temporarily in front of Building 1. Shortly thereafter, on instruction by the NIH Director, it was put into storage. Then in 1989, it re-appeared in the traffic island, was given proper identification and a pedestal, and has remained there ever since.
The anchor is a "powerful, enduring symbol," said Richard Wyatt, deputy director of the Office of Intramural Research, who collaborated with Chen and John Eberhart (then senior advisor to the deputy director for intramural research)—who prepared the text for the plaque—to bring about this monument to NIH history and its maritime origins.
One mystery remains, however. No one has been able to determine the exact Coast Guard cutter from which the anchor came. The lettering on the anchor should provide a clue to its origins: US NAVY; B 1860; PSI 5-45 (see photo below). If you can shed any light on this mystery, contact the NIH Catalyst at catalyst@nih.gov or 301-402-1449.
---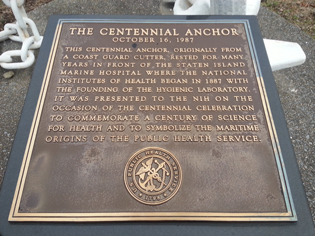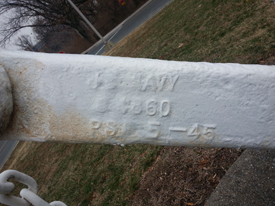 This page was last updated on Wednesday, April 27, 2022