News You Can Use
The NIH 3D Print Exchange
Exploring Molecules and Building Labware
It's not quite a Star Trek replicator, but it comes close: a three-dimensional (3-D) printer. The fictional replicator rearranges subatomic particles to make food, water, spare parts, and more. The very real 3-D printer translates digital computer files into custom laboratory equipment as well as models of biomolecules, cells, organisms, and anatomical features. Using an additive manufacturing process, the printer spits out successive thin layers of material onto a platform until an object is formed.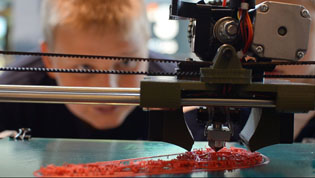 You may have heard whispers about 3-D printing at NIH or visited the exhibit at the NIH Research Festival in November and witnessed objects materializing, as if by magic, before your eyes. With these complex 3-D models, researchers can often examine and explain their work better than they can with 3-D models on computer screens.
"Over the last several years, 3-D printing has…allowed our scientists to gain invaluable insight into [the] structure and function of…molecules," said Deputy Director for Science Management John J. McGowan, of the National Institute of Allergy and Infectious Diseases (NIAID). "When they hold the different molecules in their hands, they have been able to see important aspects of how they bind [and] expose a surface that is not always easily detected by looking at a computer model on a computer screen."
The 3-D technology is already widely used in industry to build prototypes. In the world of contemporary art, design, and architecture, 3-D printing is playing an increasingly important role, too. But in the world of biomedicine, 3-D printing is just beginning to take hold. Currently, however, there's a shortage of the expertise required to generate and validate scientific digital models that can be converted into 3-D objects.
The new NIH 3-D Print Exchange, set to open this spring, aims to fill this gap by creating an online portal where researchers and educators can download biomolecular digital files that can be printed on a desktop 3-D printer or via a 3-D printing service provider. A few institutes already have their own printers. Soon the NIH Library—through its Technology Sandbox, where people can collaborate to explore, develop, and share new technology—plans to offer access to a 3-D printer, too.
The Exchange is a collaborative effort led by NIAID in partnership with the Eunice Kennedy Shriver National Institute for Child Health and Human Development and the National Library of Medicine. It received initial funding from the U.S. Department of Health and Human Services' HHS Ignite program. HHS Ignite, which was launched in 2013, supports early-stage projects that can be completed in three to six months (http://www.hhs.gov/open/initiatives/ignite). The NIH initiative was one of 13 proposals chosen out of 65 submitted for consideration.
The NIH 3-D Print Exchange provides a growing database of high-quality, scientific 3-D digital models of biomedical and biomolecular structures derived from microscopy, crystallography, and imaging. "We hope that users will share and use custom lab equipment and gadgets," too, said Darrell Hurt, leader of the Exchange and head of NIAID's Computational Biology Section. "The added value of our Web site is that it is a trusted resource for sharing and that it has tools built in to easily create printable objects from primary scientific data."
Researchers at NIH are saving time and money using 3-D prints in the laboratory in a variety of applications that have saved hundreds of research animals and precious samples, tens of thousands of dollars, and weeks of downtime, according to Hurt.
"It has been well worth the small investment made to provide this service to the intramural programs at NIH," said McGowan.
One day 3-D printers may be able to make things that even Star Trek replicators can't. Scientists have already begun to use 3-D technology to make body parts, such as ears, as well as replicas of human organs for research purposes. The technology is too new to create transplantable organs, but perhaps some day….
So for now, if you are looking for new ways to visualize the molecules you're studying or to explain your research to others or you want to create customized labware, 3-D printing is an avenue you might want to explore.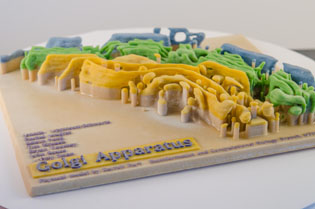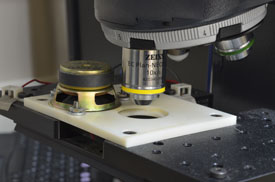 ---
To learn more, visit:
This page was last updated on Wednesday, April 27, 2022