Four Generations of Mentors and More
Great mentoring produces great scientists, great science, and more great mentoring.
Nowhere is this adage more evident than at the National Institute of Drug Abuse (NIDA), where four successful mentors were recognized at its annual Poster Day and Mentoring Awards Ceremony, held on May 8, 2013, in Baltimore. And three of the awardees represent a line of four generations of mentors.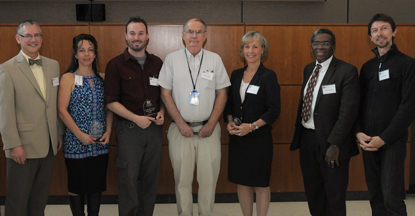 "Mentoring provides the core of a postbac, graduate, or postdoc training experience," said Stephen Heishman, director of NIDA's Office of Education and Career Development (https://irp.drugabuse.gov/training.php). NIDA has several mentoring programs—a Mentoring Plan, a four-week Mentoring Seminar, and these Mentoring Awards—that Heishman hopes "will foster a successful mentoring experience for our trainees."
Mentoring is "doing for my mentees what was done for me," said Investigator Mentoring Award winner Kenner Rice (https://irp.nih.gov/pi/kenner-rice). He thanked his mentor, the late Everette May, an NIH chemist noted for his work on analgesics and drug abuse, for being a "gentleman [who] led by example." Rice was recognized for being "generous with his time, often working in the lab for hours, elbow-to-elbow with his trainees."
Rice in turn mentored Amy Newman (https://irp.nih.gov/pi/amy-newman), recipient of this year's Investigator Diversity Mentoring Award. Mentoring has been "a lifelong lesson that I hope to pass on to the next generation," said Newman, who was acknowledged in the citation for her ability to give feedback that is "sympathetic to the personal needs of her mentees." She also understands that good mentoring often requires a commitment to the mentee's career that lasts beyond the fellowship. Newman was recognized for mentoring individuals from groups that are under-represented in the biomedical sciences.
She has already passed the lesson of good mentoring on to her mentee Thomas Keck, who received the Postdoctoral Fellow Mentoring Award. Keck considers mentoring as "creating a new generation of scientists that I want to work with."
Jennifer Bossert, the recipient of the 2013 Staff Scientist Mentoring Award, is starting her own mentoring lineage with postbaccalaureate fellows like Robyn St. Laurent, whose poster ("Context-induced Relapse after Suppression of Heroin Seeking by Adverse Consequences and an Alternative Palatable Food Reward") was one of 37 presented at the annual event.
The mentors honored on this day represented well the legacy of Everette May, who had all the attributes of a good mentor. May "had a keen interest in our science," said Rice. Furthermore, he "encouraged and helped all his students achieve their full potential."
---
RESOURCES ON MENTORING
"A Guide to Training and Mentoring in the Intramural Research Program at NIH"
http://sourcebook.od.nih.gov/ethic-conduct/TrainingMentoringGuide_7.3.02.pdf
"Guidelines for Mentors at the National Institutes of Health"
http://sourcebook.od.nih.gov/ethic-conduct/guidelines-mentors.htm
"Thoughts on Choosing a Research Mentor"
https://www.training.nih.gov/mentoring_guidelines
Career services for NIH Trainees
https://www.training.nih.gov/career_services
This page was last updated on Thursday, April 28, 2022