Helping Native Americans
NIDDK Research Clinic in Arizona Aims to Lessen Health Disparities
On a dusty road just south of Phoenix, a small one-story building has completed its first year open for research. The building sits on the Avenida del Yaqui in Guadalupe, a town made up primarily of Yaqui Indians and Hispanic Americans. The Yaqui who first settled in the town were from Sonora, Mexico; descendants have preserved many elements of their culture, including elaborate Easter and Lent ceremonies with dancing, costumes, music, and masks.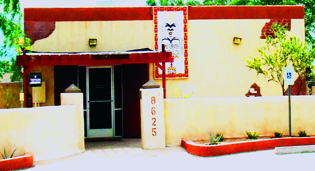 "Guadalupe is very accessible for members of the Yaqui tribe as well as for other Native Americans living in the greater Phoenix area," said Jennifer Weil, a physician at the PECRB. "We know that the burden of type 2 diabetes is great in that community as well as in other Native American communities in and near Phoenix."The facility, called the NIH Research Clinic, opened in summer 2011 with the goal of helping to understand and lessen health disparities in obesity, type 2 diabetes, and complications of diabetes including blindness, amputations, and kidney failure in Native Americans. NIDDK researchers from the intramural Phoenix Epidemiology and Clinical Research Branch (PECRB) hope that participation in clinical research by people from Guadalupe and surrounding communities will help make this goal achievable.
The close-knit community may enable better research. "We are conducting the Family Investigation of Nephropathy in Diabetes (FIND) to determine genetic factors that contribute to diabetic kidney disease," said PECRB physician Robert Nelson. "In this protocol, we try to see many members of each family. The Guadalupe research clinic has enabled us to get to know whole households."
The facility may soon begin adding studies. "We would like to expand our research there to other protocols, including our longitudinal study of obesity, impaired glucose regulation, type 2 diabetes, and complications of diabetes," said PECRB investigator Bill Knowler. "We hope to get to know more members of the Guadalupe community as they come in to participate in our studies."
The clinic's "studies are [also] open to all Native Americans in both of our current research clinic locations, Guadalupe and … the NIH building on the grounds of the Phoenix Indian Medical Center," said PECRB's Jeff Curtis.
---
For more information on the clinic or PECRB research, go to http://www2.niddk.nih.gov/NIDDKLabs/AllLabs/Branches/PhoenixEpidemiologyandClinicalResearchBranch.htm.
This page was last updated on Friday, April 29, 2022