From the Deputy Director for Intramural Research
Stadtman: A Rose by Any Other Name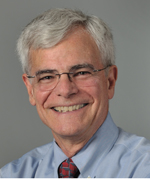 Earl Stadtman, renowned NIH biochemist and mentor to two Nobel laureates and many elected members of the National Academy of Sciences, loved to cultivate his gardens. He was a serious horticulturist who had an azalea named after him—the yellow Stadtman azalea (Rhododendron 'Stadtman'). He also mulched, pruned, watered, and fertilized the intellects of two generations of students and fellows who remember with gratitude "the Stadtman way" of doing rigorous, creative research.
So who better to become the namesake of our trans-NIH program to recruit some of the best, brightest, and most diverse early-career scientists as tenure-track investigators? Elsewhere in this issue of the Catalyst there is an article describing the program, which started in 2009, and introduces the second year's outstanding recruits, known as Stadtman investigators. I thought I would provide the backstory to this successful program.
Since I became DDIR in 1993, it has been my dream to do trans-NIH searches for tenure-track investigators, in contrast to the individual programmatic searches that occur in the institutes and centers. It would be a great way to cast a wider net for the next generation of scientific leadership at NIH. But the idea didn't attract any champions.
Four years ago, at a retreat of the NIH scientific directors (SDs), NHLBI SD Bob Balaban ran a session on recruitment and made a compelling case for trans-NIH undifferentiated searches to increase the talent pool. He had been doing such undifferentiated searches in NHLBI for a few years and noticed a big increase in the number and diversity of applicants. Bob and NHLBI Deputy SD Michelle Bennett became the needed champions for the Stadtman program and volunteered their time and experience to get it off the ground.
Subsequently, several deputy SDs—Juan Rivera (NIAMS), Kathy Carbone (NIDCR), Karyl Barron (NIAID), and Michael Krause (NIDDK), recently promoted to SD—have done an incredible job of organizing this search process; Paul Liu, NHGRI deputy SD, is our leader-in-waiting.
From my office, Roland Owens has been manning the rudder and providing fuel for this mission. I must also mention the dedicated work of our search committees (20 at last count) that evaluate the candidates and make recommendations to the SDs. Our scientific faculty has embraced this process with enthusiasm; it is, after all, an opportunity to recruit prized colleagues into fields that might not be at the top of the list of programmatic requirements.
In addition to engaging our entire research faculty in these searches, the Stadtman program is an excellent way to broaden the talent pool applying for NIH jobs. When we are not looking for specialists, the number of applicants increases dramatically (averaging over 600 per year), and so does the diversity of the applicant pool. If we bring in enough candidates to interview (80 per year plus other highly qualified candidates whom interested SDs might want to interview), we find that some nontraditional choices (those without publications in single-name journals) turn out to be spectacular scientists.
Each year the NIH Deputy Director, Larry Tabak, and I remind search committees to explore all avenues in looking for talent. The result has been recruitment of a more diverse group of scientists.
Finally, the Stadtman searches save money on ads and allow efficiencies that result from recruiting 10 people at once rather than one at a time during the year.
Should we insist that all tenure-track searches be part of the broader, trans-NIH Stadtman search process? There are some downsides to this approach including the problem of finding individuals with specific skills who might not apply to a general search and the difficulty of recruiting people when they do not know whether a job is available or in what institute they are likely to be working. One solution will be initiated in the coming year: We will include many of our programmatic searches in the listings when the Stadtman search is announced. Thus, we will attract not only undifferentiated scientists but also those with specific research interests for whom there is a good match.
One disappointment has been the failure to recruit M.D., D.M.D., nurse-Ph.D., and D.V.M. scientists through the Stadtman process. The NIH-Lasker Clinical Research Scholars Program was started to meet this need at a trans-NIH level, and so far it has recruited two clinician-scientists. We are looking for a way to encourage more applicants to this program as well.
As always, your comments and ideas are welcomed. And, if time permits, take a Stadtman Investigator or a Lasker Scholar to lunch!
This page was last updated on Friday, April 29, 2022