An Eye for an Ear
Learning Ally Volunteers at NIH Open Up the World of Science to Reading-Impaired Students
Ever dream of becoming a recording artist? If so, there's a studio in Building 31 that could use your voice. It's the NIH satellite of Learning Ally, a nonprofit organization that converts books into audio recordings for reading-disabled students of all ages.
Learning Ally, formerly Reading for the Blind and Dyslexic (RFB&D), records books for K-12, college, and graduate students who cannot read standard print due to blindness, visual impairment, or dyslexia or other learning disabilities. Some 6,000 volunteers in 19 production studios across the nation are responsible for reading 70,000-plus books and making them accessible to more than 300,000 Learning Ally members.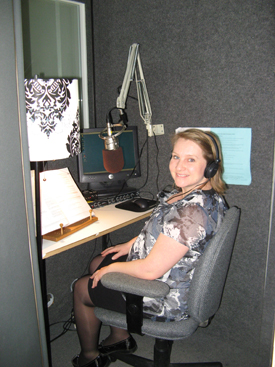 Although Learning Ally provides audio versions of all book genres, ranging from novels to math textbooks, volunteers at the NIH satellite record science and medical textbooks for high school, college, and graduate students.
The satellite was started in 2000 in response to an urgent need for volunteers capable of reading science, mathematics, medical, and technology texts. Learning Ally, then RFB&D, used the NIH radio-news recording studio for six hours each week. By 2001, the NIH Office of Equal Opportunity had provided Learning Ally with its current space on the B4 level of Building 31. So far, more than 30 college-level textbooks on microbiology, biochemistry, human anatomy, genetics, and medical physiology have been recorded at the NIH studio. On average, there are 25 volunteers who each record at the studio for a minimum of one hour a week.
"It's a great way to pass on your knowledge and expertise as a scientist to someone who's growing into a scientist," said Learning Ally production manager Kathryn Sparks, who trains new volunteers.
Scientist Emeritus Henry Metzger, former scientific director of the National Institute of Arthritis and Musculoskeletal and Skin Diseases, has been a Learning Ally volunteer for 10 years. "It's [a not] very demanding way of doing something very helpful to people," he said. Metzger has also been a member of the Washington, D.C., Chapter of Learning Ally's board of directors for the past nine years and has been impressed by the students who have been recognized at Learning Ally's annual national awards ceremonies. "That is an inspiring experience—to see how people who are either blind or severely reading-disabled have been able to not only get through college and in one case medical school, but [also] have really achieved a tremendous amount," said Metzger. "And they are so grateful."
One of the awardees, Henry Wedler, is pursuing a Ph.D. in organic chemistry at the University of California, Davis (Davis, Calif.). Born blind, Wedler has used Learning Ally since he was 10. "I can assure you that without accessible textbooks, and certainly without Learning Ally, I would not have made it to graduate school," he said in a recent interview with Learning Ally (https://www.learningally.org/southern-california-art-auction-day).
Ashley Griswold, a research assistant at Suburban Hospital (Bethesda, Md.) and a volunteer in the National Institute of Neurological Disorders and Stroke, relied on Learning Ally to get through her undergraduate and graduate science classes. She received a B.S. in neuroscience and chemistry at Boston College (Chestnut Hill, Mass.) in 2011 and a master's in neuroscience at Georgetown University (Washington D.C.) in 2012.
A book Griswold requested–Guyton and Hall's Textbook of Medical Physiology—was assigned to the NIH satellite. The pronunciation and variety of voices represented by NIH volunteers stood out to Griswold, who has listened to books read at other satellites. "There's a 10 times better chance of getting it right with someone who has a science background than someone else who's just kind-of guessing," she said. Griswold, who is planning to attend medical school, hopes NIH will continue to accrue Learning Ally volunteers.
---
To become a volunteer reader for Learning Ally at NIH, contact Katherine Sparks at ksparks@Learningally.org or 202-244-8990. To learn more about Learning Ally, visit http://www.learningally.org.
This page was last updated on Friday, April 29, 2022