Coffee May Boost Learning Potential
Caffeine Strengthens Neural Connections in Brain
As an avid coffee drinker, Serena Dudek looks forward to the bursts of energy that her three cups of java provide each day. It turns out that her regular caffeine consumption may bring an added benefit, strengthening the neural connections in one small area of her brain.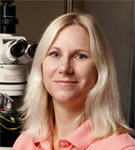 Dudek, a senior investigator at the NIEHS Neurobiology Laboratory in Research Triangle Park, N.C., is interested in the molecular mechanisms that regulate the strength of neural connections in the hippocampus. The hippocampus is buried deep within the brain and is important for learning and memory. She and her group found that caffeine dramatically increased the synaptic strength, or neuroelectrical signaling between neurons, in the cornu ammonis 2 (CA2) region of the rat hippocampus. The findings appeared recently in the journal Nature Neuroscience and suggest that caffeine worked specifically on CA2 neurons by blocking the inhibitory effects of the neurotransmitter adenosine on the neurons [Nat Neurosci DOI:10.1038/nn.2962 (2011)].
Dudek said that scientists have known for years that caffeine enhanced certain kinds of memory and cognition. Within the past decade, researchers discovered that caffeine blocked the activation of the adenosine A1 receptor by adenosine. Five years ago, Dudek's research group discovered that synapses on CA2 neurons are much more resistant to strengthening than synapses in other areas of the hippocampus. Although the A1 receptors for adenosine are more highly concentrated in CA2 than in any other area, no one had documented caffeine's effect on this particular group of nerve cells. Therefore, she focused on the effects of caffeine on synaptic responses in CA2 after caffeine exposure in rodents.
"In general, the function of adenosine throughout the brain is to suppress neuronal synaptic transmission," Dudek explained. "But we expect the effects to be most acute in the CA2 because adenosine A1 receptors are so enriched there."
To get a sense of what was going on in the brain after caffeine exposure, Dudek's research team divided rats into three groups and orally administered one of three doses of caffeine: the equivalent of two large cups of coffee, a highly caffeinated energy drink, or a dose of caffeine that exceeded most people's daily consumption. Regardless of the dose, caffeine produced a sustained increase in synaptic responses in CA2, but not in the CA1 area of the hippocampus.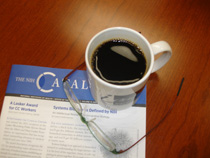 According to Dudek, levels of the inhibitor adenosine are thought to build up in the human brain during the day and drop during sleep. When a person ingests caffeine, the stimulant competes with adenosine at A1 receptors and strengthens the activity of CA2 synapses of the hippocampus. Dudek suggests that as a result of this increase in synaptic strength, the person could experience an increase in mental sharpness. Dudek was quick to point out, though, that her studies didn't address whether the animals were actually smarter after consuming caffeine, but her data add support to that hypothesis.
She also added that she didn't find a dose of caffeine that inhibited synaptic strength, so theoretically, more caffeine could lead to better memory. However, there is a downside to this approach.
"Caffeine obviously speeds up the heart rate, so we should keep its cardiac effects in mind before suggesting that anyone take caffeine as a cognitive enhancer," she said.
For future work, Dudek wants to look at other molecules that are enriched in CA2 neurons. One good example is work she collaborated on last year with John Hepler, a professor of pharmacology at Emory University School of Medicine in Atlanta, Ga. Hepler's group knocked out a CA2-enriched gene (RGS14) in mice and, in doing so, enhanced the capacity to increase synaptic strength in CA2. As a result of this gene knockout, the mice also learned faster.
Dudek said that no one really knows which brain functions CA2 neurons control, but finding that unknown is one of her top research priorities.
"We think CA2 neurons are involved in learning and memory, but our group will continue to look for the answer," she said. "We're super excited about this research because it's been like finding a new area of the brain to study."
This page was last updated on Monday, May 2, 2022