See NIH through Branson Brothers' Lenses: Bill
Images can symbolize a place, like the iconic photo below of the Clinical Center rising behind Building 1 on the main campus of the National Institutes of Health in Bethesda, Maryland. NIH photographer Bill Branson took this photo early in the morning one February day in 1986 with a long-range lens. It's one of his favorite photos—and ours too.
This month we'll look at a few of the wonderful photos taken by Bill and Ernie Branson, brothers who are the current NIH photographers. Up first: Bill.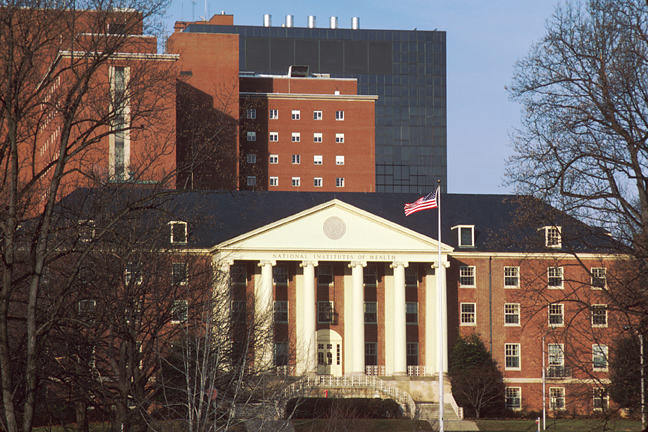 Bill Branson has been a photographer at the National Institutes of Health since 1984, when he left the Armed Forces Institute of Pathology at Walter Reed. There, he had photographed the necropsy of the first chimpanzee in space, "Ham," named for Hollomon Aero MED Air Base. This photo shown on his computer is of his younger brother Ernie, who shares an office with him. They are often confused on campus and generally just go by "The Bransons."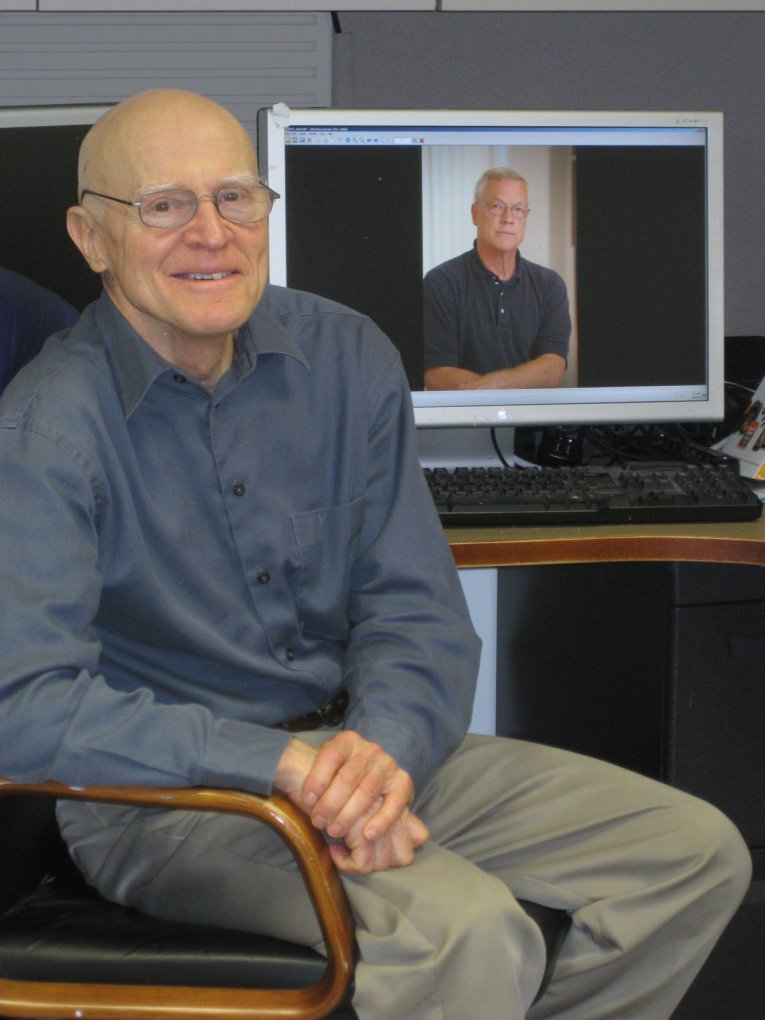 Photographers go where few others dare, including the top of a 270-foot crane on the NIH Clinical Center's roof. Bill Branson took this scenic view while documenting the delicate work of moving thousands of pounds of material without mishap in 1997. Read a story about crane operator George Simmons and see more photos taken from the crane by intrepid photographer Bill Branson.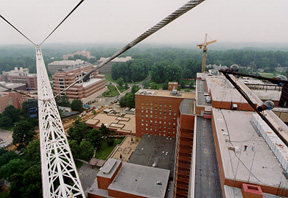 NIH photographers also can't be afraid of blood—they often shoot surgeries. In August 2011, Bill Branson took this wide angle view of Dr. Peter Pinto's National Cancer Institute (NCI) team using a surgical robot called the "da Vinci" to help remove the prostate and lymph nodes of a patient. Read more about the surgery and see more photos.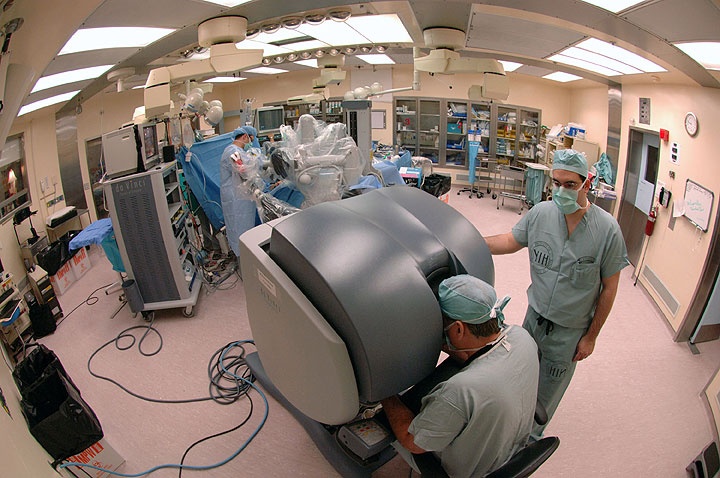 Artful photography often takes a dry subject and makes it beautiful. In this October 1985 photo, Bill Branson makes red blood cells on agar plates, used by NCI researchers to diagnose staphylococcus infections in chemotherapy patients, pleasing to look at instead of a harbinger of complications.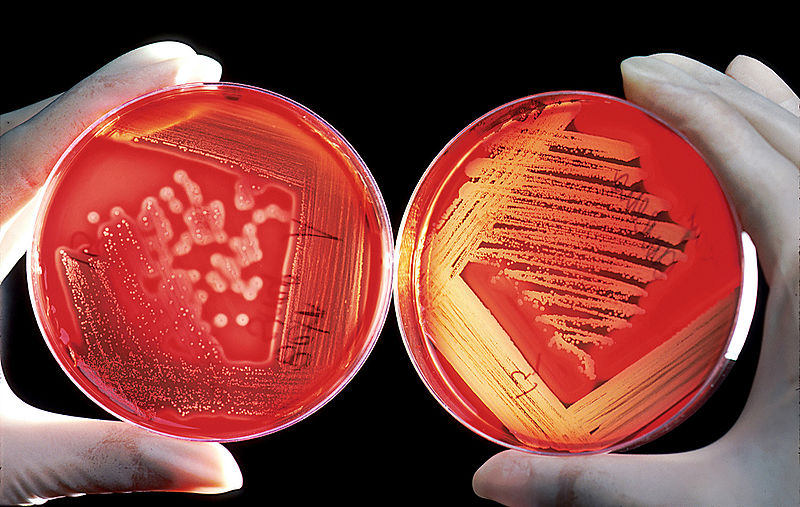 Nobel Prize Winner and former NIH and NCI Director Harold Varmus posed for Bill Branson on December 1, 1995, in the stairwell of Bldg. 49, looking out at the Clinical Center. Despite his many accomplishments, Varmus was one of Branson's more modest posers. Learn more about Varmus.
"I remember setting up electrically powered strobe lights in this very cold room," Bill Branson says, of the photo below, captured in Dr. Joseph Gibbs' cold room at NINDS. "My plastic umbrella had to be thawed out before I could close the thing. Everything froze solid… A good old Nikon F3 with motor drive was an excellent camera for the severe cold. It contained 8 Double AA batteries." Read Gibb's oral history about his work on prion disease with Nobel winner D. Carleton Gajdusek.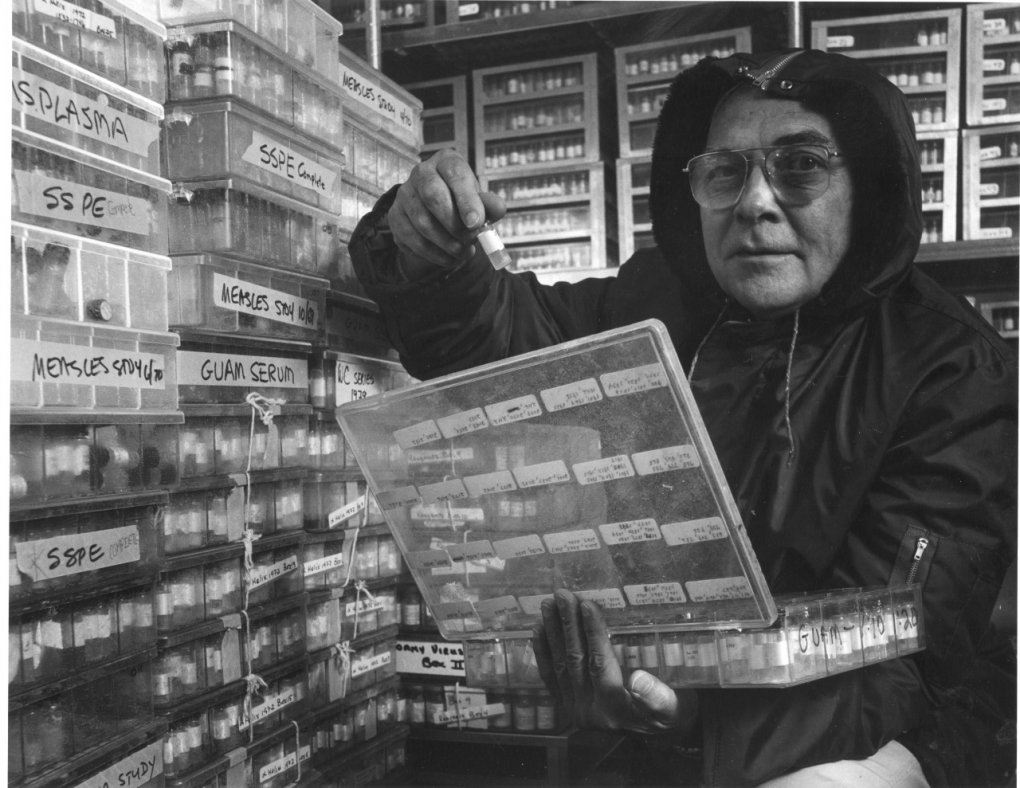 Check in next week on the I Am Intramural Blog for photos by Bill's fellow NIH photographer and brother, Ernie Branson.
---
Related Blog Posts
This page was last updated on Wednesday, July 5, 2023