Great IRP Events: How Do You Make Medical Decisions?
The Intramural Research Programs within 24 NIH Institutes and Centers offer a rich calendar of events highlighting research by people who are often leaders in their fields. One of this year's great lectures is available to watch in the video linked below—its content very compelling, considering the social science research that many of our IRP scientists conduct.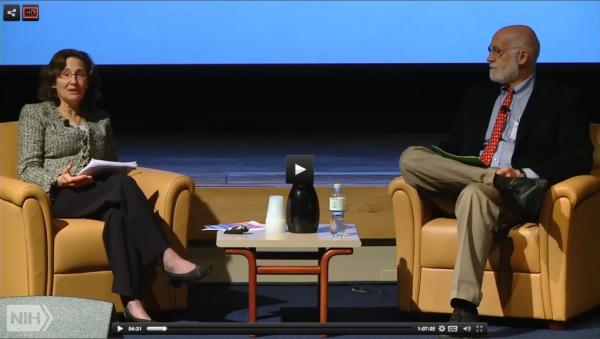 On May 11, 2015, the NIH National Center for Complementary and Integrative Health (NCCIH) hosted the Stephen E. Straus Distinguished Lecture in the Science of Complementary Health Therapies. Drs. Jerome Groopman and Pamela Hartzband, both of Harvard Medical School and Beth Israel Deaconess Medical Center, discussed the medical decision-making process, offering insights into the factors that influence decisions to treat a health condition and adhere to a medication regimen, as well as understanding of risk and the differences between population health and an individual's wellbeing.
The duo's lecture captivated the audience and may inspire you to reconsider your relationship with your healthcare providers and the healthcare system as a whole.
The full lecture can be viewed on the NIH Videocast site.
To attend or watch future events on NIH campuses, bookmark the IRP Events page. Many sessions are also archived for later viewing in the past events section of the NIH Videocast website.
---
Related Blog Posts
This page was last updated on Thursday, May 5, 2022