NIH Research Festival Buzz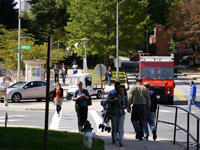 Walking around the NIH's Bethesda Research Campus is a stimulating experience on any day. The cluster of National Institutes and Centers (ICs) within a 1.5-mile radius is a hive of activity, with researchers walking and talking as they move from building to building to use centralized resources, meet with collaborators, or learn the latest in techniques and news from the other ICs.
But during the NIH Research Festival, campus activity levels peak to annual highs as PIs, senior scientists, clinical staff, postdocs and postbacs rush from seminar to seminar, through mazes of posters, and across field-sized exhibitor booths, over a three-day celebration of all things research.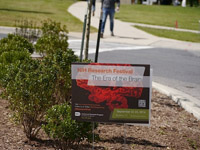 The NIH Research Festival started in 1986 and has been a high point of the Bethesda campus calendar every year since (except for 1987, when the NIH focused on celebrating its centennial). Each Festival has a theme that runs through the multi-day celebration, and this year was no different, with its focus on the brain. The choice of theme in 2014 was in part due to national attention on the recently-announced BRAIN Initiative, as well as to the sad fact that more Americans will suffer from neurodevelopmental and neurodegenerative brain disorders in this century than from any other ailment. It's clearly time for a call to action to better understand this last frontier of the human body.
As researchers navigated this year's Festival exhibits, posters, and seminars, it was easy to be struck by the heightened buzz of conversation and the constant stream of introductions—to new people and new technologies.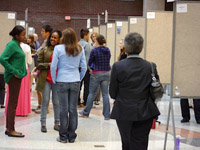 Research Festival seminars are almost always followed by a flood of questions—"did you test receptor X too?", "have you thought about antibody Y?" And with each question comes the almost as excited answer, sometimes (of course) being "we don't yet know."
Festival posters are guarded by enthusiastic postbacs and postdocs who are willing to take you through every line of their research, where both their delight and the typical frustrations of science are discussed at length with strangers who may one day become future collaborators.
And of course there are the exhibitors. The 18,000-square-foot exhibitor tent is stuffed full of the latest reagents, plastics, and devices you could ever dream of to support the conduct of science in the labs and clinics.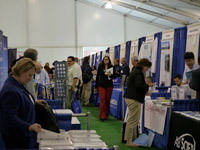 Despite the challenges that exist in conducting science today, the Research Festival continues to be a high point where researchers can come together with renewed purpose and spirit. Based on this year's Festival, it's apparent that while the stream of science research dollars may be smaller, the stream of good ideas certainly isn't.
---
Related Blog Posts
This page was last updated on Wednesday, July 5, 2023