The Training Page
FROM THE FELLOWS COMMITTEE
Getting to Know Us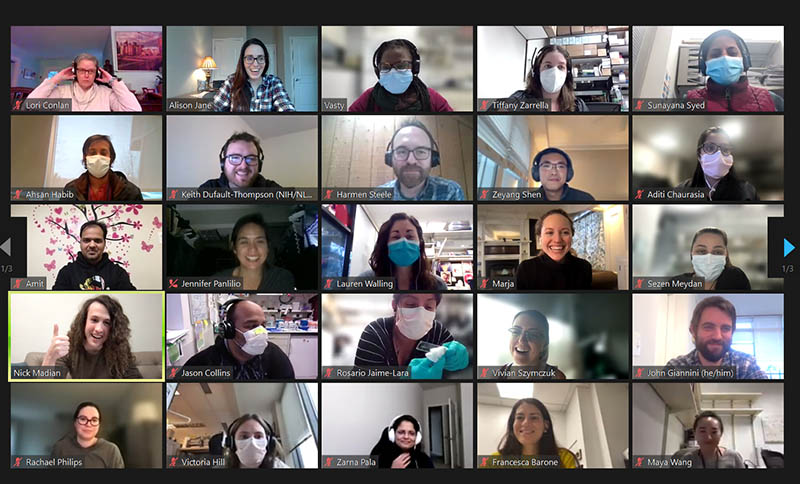 Are you an NIH postdoc or clinical fellow? Do you have an idea, or an issue, or just want to meet fellows outside of your own institute or lab? The NIH Fellows Committee (FelCom) is here to represent you. FelCom is NIH's local postdoc association (you may be more familiar with these groups from university campuses). I recently spoke with FelCom Clinical Fellows Co-chair Marja Brolinson (National Institute of Child Health and Human Development) and FelCom Basic Science Co-chair Vasty Osei-Amponsa (National Cancer Institute) to find out how FelCom seeks to improve the training experience of all fellows.
"FelCom plays a vital role at NIH," said Brolinson. "It serves as the voice of postdoctoral and clinical fellows and functions as a wealth of knowledge, experience, and connection for all fellows at NIH."
FelCom comprises postdoctoral representatives from each of NIH's 24 institutes and centers (ICs) that have intramural programs (NIH has 27 ICs, but not all of them have intramural programs.) FelCom representatives meet once a month to share ideas for improving the fellow experience and raise concerns with relevant subcommittees and FelCom liaisons. Lori Conlan from the Office of Intramural Training and Education and Charles Dearolf from the Office of Intramural Research also join Felcom meetings to share information and to hear and discuss the concerns of fellows.
But you don't have to be an official representative to attend FelCom meetings. All fellows are welcome—and encouraged—to attend monthly meetings.
Building a community
"I believe FelCom presents a great opportunity to build a community," said Osei-Amponsa. "Fellows feel comfortable enough to express their concerns as trainees and share their visions for a strong NIH fellows community."
FARE awards
FelCom organizes the Fellows Award for Research Excellence that recognizes the outstanding scientific research performed by intramural postdoctoral fellows. In addition, FelCom organizes events, helps to develop policy, and advocates for fellows within and outside of NIH. Liaisons and subcommittee chairs sit on a variety of internal and external boards to advocate for fellows. For example, FelCom representatives who sit on the NIH Child Care Board have recently been advocating for improved child-care cost support for trainees. FelCom is also represented in a variety of external organzations such as the National Postdoctoral Association.
Interacting with NIH leaders
"FelCom provides the opportunity to interact with leadership at the NIH," said Brolinson, who has sat in quarterly meetings with the director of the NIH Clinical Center to address issues of concern related to clinical fellows.
With fellows rotating in and out of NIH regularly, vacancies occur frequently, giving many fellows the opportunity to serve as liaisons or on subcommittees they care about. Elections for vacant FelCom positions are held at monthly FelCom meetings.
Many ways to get involved
There are many other ways to get involved with FelCom, including attending organized events or joining as an ad hoc (nonvoting) member of one of the subcommittees. Recent events include "International Movie Night" run by the Visiting Fellows Committee, a seminar on "Careers in Data Science" organized by the Career Development Subcommittee, and "Palentine's Day" (like Valentine's Day, but for friends) run by the Health and Recreation Subcommittee.
"As for me, personally, I joined FelCom through being a co-chair for the Clinical Fellows Committee," Brolinson told me.
"Getting involved in FelCom not only expands your network, exposing you to different opportunities, career- and lifestyle-wise, but it also builds your marketable soft skills," said Osei-Amponsa. Being involved with FelCom "is a privilege that I think all fellows should take advantage of."
Serving as a representative, as a liaison, and/or on a FelCom subcommittee can be fun. Why not come to the next FelCom meeting to find out what it's all about? Meetings are held on the first Thursday of every month from 4:00 to 5:00 p.m. and will continue to be virtual for the foreseeable future.
FelCom subcommittees
Consider joining. If the chair position is vacant, you can volunteer to run for election to that position.
Career Development Subcommittee: Organizes a year-long seminar series about how to survive postdoc training and teaches skills needed for making the transition to various professional positions.
Clinical Fellows Subcommittee: Addresses concerns related to clinical fellows, clinical fellowships, patient care, and research at the NIH Clinical Center.
Fellows Award for Research Excellence (FARE) Subcommittee: Organizes the FARE competition to recognize the outstanding scientific research performed by intramural postdoctoral fellows.
Health and Recreation Subcommittee: Promotes health and well-being among trainees; plans and manages activities centered on fitness, self-care, and health habits.
Service and Outreach Subcommittee: Provides an opportunity for NIH Fellows to give back to the NIH and greater Washington, DC, communities.
The Mentoring Subcommittee: Ensures that the mentoring system at the NIH creates strong mentor-mentee relationships that allow fellows to develop and achieve their career goals.
Social Activities Subcommittee: Promotes the social interaction of NIH fellows through organizing a wide variety of networking and social events.
Visiting Fellows Subcommittee: Composed of NIH postdoctoral visiting fellows from around the world, this subcommittee works to make their experience here worthwhile.
Wednesday Afternoon Lecture Series (WALS) Subcommittee: Seeks to improve fellows' participation in the nomination of WALS speakers and to increase opportunities for fellows to interact with WALS speakers.
---
Subscribe to the FelCom LISTSERV for meeting information at https://list.nih.gov/cgi-bin/wa.exe?SUBED1=fellow-l&A=1. For more information about FelCom and how to get involved, go to https://www.training.nih.gov/felcom_officers_and_committee_chairs.
---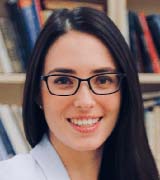 Alison Jane Martingano is a postdoctoral fellow in the Immersive Stimulation Research Program, Social and Behavioral Research Branch, at the National Human Genome Research Institute. Her research involves using virtual reality to evaluate how providers communicate genomic concepts and show empathy during physician-patient interactions. In August, she will be joining the University of Wisconsin at Green Bay as an assistant professor of psychology. Outside of work, she enjoys backyard campfires and playing board games.
This page was last updated on Tuesday, May 17, 2022