How Community-Engaged Research Combats Health Disparities
Stephen B. Thomas Talks About Building Trust in Underserved Communities
"You know what we do? We serve the people first, we build the relationship first, we build the trust first, and then the research flows naturally," said Stephen B. Thomas, director of the Center for Health Equity at the University of Maryland School of Public Health (UMD-CHE, College Park, Maryland). In a talk he gave at NIH last year, he spoke about how the United States Public Health Service Syphilis Study at Tuskegee (1932–1972)—in which Black men with syphilis were not treated even when penicillin treatment became widely available in 1943—has affected the trust and willingness of African Americans to participate in public health research. Then he offered a way forward.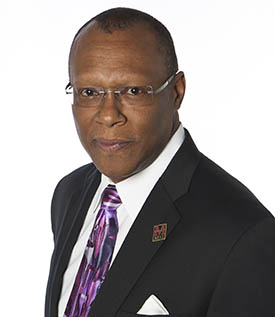 The COVID-19 pandemic has brought health disparities to the forefront of public health in the United States. Many racial and ethnic minority groups, including African Americans and Hispanics, are at higher risk of getting sick and dying from the disease. Underrepresentation of these groups in clinical research and barriers to accessing health care and preventative medicine perpetuate health inequity. Researchers are now using community-engaged research to build trust among marginalized groups and to provide access to health services and evidence-based interventions.
Thomas described how hyper-local community-engaged research can combat COVID-19 health disparities when health service systems, community-based organizations, and patient advocacy groups work collaboratively with underserved populations. Thomas' research focuses on racial and ethnic health disparities, the social determinants of health, and translation of evidence-based science of chronic disease into community-based interventions.
He and his collaborators discovered that culturally tailored community-based interventions, ethical recruitment of minorities, and provision of services and charitable events can increase the willingness of minority groups to participate in health research. (Contemp Clin Trials Commun 7:57–63, 2017; Contemp Clin Trials Commun 16:100428, 2019). His work shows the promise of authentic community-engaged approaches in building trust between researchers and underserved communities, which allows for the recruitment of underrepresented populations into medical and public health studies.
When Thomas came to the Maryland Center for Health Equity in 2010, he set out to develop innovative community-engagement initiatives to eliminate racial and ethnic health inequalities. He and a team of Center for Health Equity researchers developed the Health Advocates In-Reach and Research (HAIR) campaign, which provided an infrastructure to use salons and barbershops as trusted information centers for medical services in culturally tailored and effective ways that can be sustained beyond the life cycle of traditional time-limited grant-funding mechanisms.
"[We are] reaching within to train barbers and stylists so that the barbershops and salons could be places where our community learns about clinical trials," said Thomas. "So that the knowledge [about treatments and prevention] is not something [people] are learning about for the first time when they're in a hospital and being told that they have a cancer diagnosis." HAIR brought health professionals to underserved communities to educate and empower people and advance opportunities for clients to participate in clinical trials.
HAIR serves as the template for the Shots at the Shop campaign, a White House-endorsed national effort to increase COVID-19 vaccine uptake in minority communities through partnerships with barbershops and salons. The program trains hairstylists and barbers to dispel myths and disinformation about COVID-19 so their clients can make informed health decisions as well as provides clinicians and COVID-19 vaccines to the shops. Through this initiative, barbershops and salons in the Black community are now recognized as legitimate and safe places for engaging the population in health promotion and disease prevention. Thomas believes that the success of HAIR and Shots at the Shop can be scaled and expanded to other health services such as flu shots and diabetes screenings, so that racial and ethnic minorities can receive needed social and medical support.
Striving to make a distinction between "mentors" and "tormentors", Thomas is building a team mentoring program designed to train the next generation of health-disparities and community-engaged researchers. Through the Center of Health Equity, he promotes supportive environments for early-career scholars to successfully conduct research while maintaining trust within the community. He offers some advice for early-career scholars interested in health-disparities research. "Do not give up on your dream," he said. "Find an institution that has made a commitment to community-engaged research, so that you're not the only one cleaning up the mess that all the people who came before you left."
Thomas' methods for doing research are gaining traction. In February 2022, the National Institute on Drug Abuse Intramural Research Program signed a formal collaboration agreement with UMD-CHE that will promote health equity and improve community engagement through education, training, and evidence-based research activities. New programs to be developed by the partnership include working with underserved communities in the Baltimore and Washington, D.C., areas; enhancing research practices to be more inclusive and accessible toward developing personalized treatments for alcohol and substance-use disorders; and promoting increased diversity among future scientists in the field of addiction.
"This historic agreement is one of many silver linings of the pandemic," said Thomas. "It bends the biomedical research enterprise toward a more equitable distribution of scientific discoveries."
---
To watch a videocast of Thomas' talk, "Reframing Lessons from the Syphilis Study Done at Tuskegee (1932—1972) to Address the COVID-19 Pandemic: From Vaccine Hesitancy to Vaccine Confidence," presented on October 7, 2021, go to https://videocast.nih.gov/watch=43897. The talk was part of the Office of Human Subjects Research Protections Education Series.
---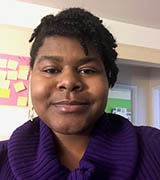 Janette Norrington, a postdoc in the Office of Intramural Training and Education, is interested in pursuing a career in science communication. In her spare time, Janette likes to read, spend time with family, cook, and write fiction.
This page was last updated on Tuesday, May 17, 2022